Styling Librarian Saturday Book Share – Some Kind of Courage
"Pull up a chair, it's a Saturday Book Share".
Here's to celebrating books that strike my fancy every week!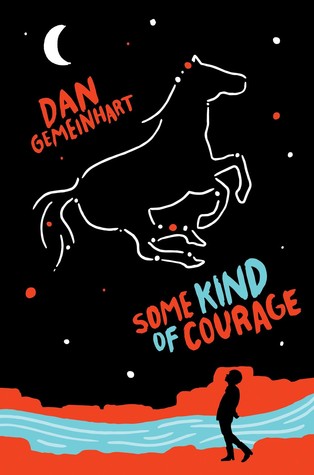 Some Kind of Courage by Dan Gemeinhart – Release date: January 26th, 2016- Historical Fiction/Adventure – 5th grade and up – This book reminded me of one of those journeys that just keeps going and going and becomes more frustrating… but instead of feeling frustrated while reading the book, I just sat in awe of the determination and confidence Joseph had… For the love of a horse… I adored how things were resolved, fascinating.
Book Talk: What would you do if something you love was stolen? Or sold without your permission? Read to find out how Joseph lost his pony Sarah and begins a journey to rescue her… he faces many terrifying situations including deadly creatures and dangerous people, will he get Sarah back?
Goodreads Summary:
"Saddle up for a life-defining, death-defying adventure.
Joseph Johnson has lost just about everyone he's ever loved. He lost his pa in an accident. He lost his ma and his little sister to sickness. And now, he's lost his pony–fast, fierce, beautiful Sarah, taken away by a man who had no right to take her.
Joseph can sure enough get her back, though. The odds are stacked against him, but he isn't about to give up. He will face down deadly animals, dangerous men, and the fury of nature itself on his quest to be reunited with the only family he has left.
Because Joseph Johnson may have lost just about everything; but he hasn't lost hope. And he hasn't lost the fire in his belly that says he's getting his Sarah back–no matter what."
About Pull up a chair, it's a Saturday Book Share: I've had many books I review that I just want to feature. Simple and easy, celebrate a new book encounter. So that's what Saturday Book Share is about for me, celebrating books! Perhaps some days I'll share the book with a short reading of a portion. Or perhaps other days I'll just share a glimpse of the book.
Want more book ideas and reviews? – Yes, I'm quite brief, but a prolific reader! Please visit me at Goodreads: http://www.goodreads.com/user/show/1941055-the-styling-librarian Also, please follow this blog through email updates – (do so to the right of this blog post), my Facebook page, comment, or meet up with me on Twitter. I appreciate all of the support, makes my day! Honored by all the wonderful followers.
FTC Required Disclosure: This site is an Amazon affiliate, and purchases made through Amazon links (including linked book covers) may result in my receiving a small commission (at no additional cost to you). Additionally this site is a Powells Books affiliate, and purchases made through the linked book covers may result in my receiving a small commission (at no additional cost to you).
© 2013 by Debbie Alvarez of The Styling Librarian. All rights reserved. You can also follow me @stylinlibrarian or at my Styling Librarian Page on Facebook.