Styling Librarian Saturday Book Share Lady Pancake and Sir French Toast
"Pull up a chair, it's a Saturday Book Share".
Here's to celebrating books that strike my fancy every week!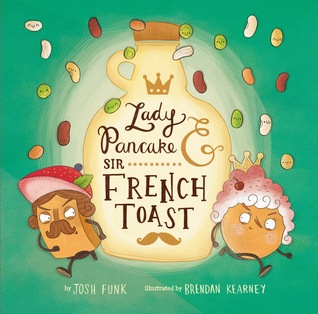 Lady Pancake & Sir French Toast by Josh Funk, illustrated by Brendan Kearney – I've waited a really long time to read this book, so thrilled to finally have it! Enjoyed reading about a friendship between leftover pancake and french toast. When they find out that there's only one drop of syrup left, they go on an epic race trying to beat one another to the syrup. Really humorous, great visits to different areas of the refrigerator, and wonderful friendship message at the end. Made me think it would be really fun to partner this book with Cheese Louise by David Michael Slater and Shivers in the Fridge by Fran Manushkin. Entertaining and special book to enjoy reading aloud, great rhyming throughout as well!
Goodreads Summary: "A thoroughly delicious picture book about the funniest "food fight!" ever! Lady Pancake and Sir French Toast have a beautiful friendship—until they discover that there's ONLY ONE DROP of maple syrup left. Off they go, racing past the Orange Juice Fountain, skiing through Sauerkraut Peak, and reeling down the linguini. But who will enjoy the sweet taste of victory? And could working together be better than tearing each other apart? The action-packed rhyme makes for an adrenaline-filled breakfast . . . even without a drop of coffee!"
About Pull up a chair, it's a Saturday Book Share: I've had many books I review that I just want to feature. Simple and easy, celebrate a new book encounter. So that's what Saturday Book Share is about for me, celebrating books! Perhaps some days I'll share the book with a short reading of a portion. Or perhaps other days I'll just share a glimpse of the book.
Want more book ideas and reviews? – Yes, I'm quite brief, but a prolific reader! Please visit me at Goodreads: http://www.goodreads.com/user/show/1941055-the-styling-librarian Also, please follow this blog through email updates – (do so to the right of this blog post), my Facebook page, comment, or meet up with me on Twitter. I appreciate all of the support, makes my day! Honored by all the wonderful followers.
FTC Required Disclosure: This site is an Amazon affiliate, and purchases made through Amazon links (including linked book covers) may result in my receiving a small commission (at no additional cost to you). Additionally this site is a Powells Books affiliate, and purchases made through the linked book covers may result in my receiving a small commission (at no additional cost to you).
© 2013 by Debbie Alvarez of The Styling Librarian. All rights reserved. You can also follow me @stylinlibrarian or at my Styling Librarian Page on Facebook.