Styling Librarian #IMWAYR It's Monday What Are You Reading?
Thanks to: TeachMentorTexts  and Unleashing Readers for the inspiration! Thanks to Jen and Kellee for the meme! Enjoying books week by week… I decided to spread out what I'm reading recently over a few weeks… so this isn't everything but I've enjoyed them all!
Hold Me Closer, Necromancer by Lish McBride – Fantasy – High School -Incredible story about a boy who is discovering that there is much he doesn't know about himself and his family. He handles stress and worry with a bit of grace. Goodreads Summary: "Sam leads a pretty normal life. He may not have the most exciting job in the world, but he's doing all right—until a fast food prank brings him to the attention of Douglas, a creepy guy with an intense violent streak.
Turns out Douglas is a necromancer who raises the dead for cash and sees potential in Sam. Then Sam discovers he's a necromancer too, but with strangely latent powers. And his worst nightmare wants to join forces . . . or else.
With only a week to figure things out, Sam needs all the help he can get. Luckily he lives in Seattle, which has nearly as many paranormal types as it does coffee places. But even with newfound friends, will Sam be able to save his skin?"
Hank Finds an Egg by Rebecca Dudley – wordless picture book – cute little story that is gentle and beautiful. Loved the collage art as well. Goodreads Summary: "While walking through the forest, Hank finds an egg on the forest floor. After spotting its nest high up in a tree, he uses his ingenuity to help get the egg home safe and sound, and is joyfully rewarded with newfound friends. Hank's endearing and genuine kindness will inspire readers young and old to believe in themselves and in the goodness of others."
P. Zonka Lays an Egg by Julie Paschkis – Enjoyed the originality of this book. Goodreads Summary: "Extraordinary hen P. Zonka spends her time taking in the beauty around her: shiny green grass, buttery yellow dandelions, deep blue sky. The other hens can't understand why she never lays eggs like they do. Finally, P. Zonka gives in and lays an egg. To everyone's delight, she produces a wondrous egg containing all the colors and designs that she stores in her imagination."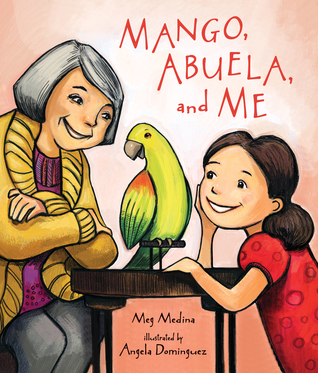 Mango, Abuela, and Me by Meg Medina, illustrated by Angela Dominguez – Enjoyed the communication development in this story, respectful and special. Goodreads Summary: "Mia's abuela has left her sunny house with parrots and palm trees to live with Mia and her parents in the city. The night she arrives, Mia tries to share her favorite book with Abuela before they go to sleep and discovers that Abuela can't read the words inside. So while they cook, Mia helps Abuela learn English ("Dough. Masa"), and Mia learns some Spanish too, but it's still hard for Abuela to learn the words she needs to tell Mia all her stories. Then Mia sees a parrot in the pet-shop window and has the perfectoidea for how to help them all communicate a little better. An endearing tale from an award-winning duo that speaks loud and clear about learning new things and the love that bonds family members."
Young Frank Architect by Frank Viva – Enjoyed how the question of what IS an architect and what DOES an architect do? Goodreads Summary: "Young Frank is an architect. He lives with his grandfather, Old Frank, who is also an architect and his spotted dog, Eddie. Using anything he can get his hands on; macaroni, pillows, toilet paper, shoes, Young Frank likes to build buildings that twist, chairs with zig zag legs and even entire cities. But Old Frank disapproves, saying architects only build buildings."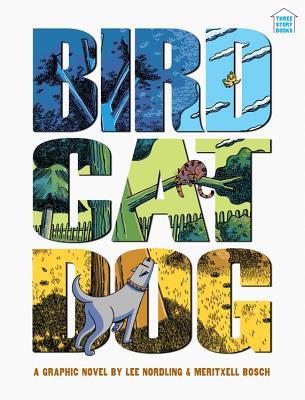 Bird Cat Dog by Lee Nordling & Meritxell Bosch, Graphic Novel – Enjoyed how the three stories could be read individually and as a group. Entertaining. Goodreads Summary: "The first book in the Three-Story Books series tells the story of a bird, a cat, and a dog through clever wordless comics. Each page is a three-by-three grid, with each row of three containing the story of each animal. Everyone is a hero in his own story and every story is connected."
This is Sadie by Sara O'Leary, illustrated by Julie Morstad – Really cute story. Special celebration of loving books and living in an imaginary world with the help of books. Goodreads Summary: "Sadie is a little girl with a big imagination. She has been a girl who lived under the sea and a boy raised by wolves. She has had adventures in wonderland and visited the world of fairytales. She whispers to the dresses in her closet and talks to birds in the treetops. She has wings that take her anywhere she wants to go, but that always bring her home again. She likes to make things — boats out of boxes and castles out of cushions. But more than anything Sadie likes stories, because you can make them from nothing at all. For Sadie, the world is so full of wonderful possibilities … This is Sadie, and this is her story."
The Sky Painter – Louis Fuertes, Bird Artist by Margarita Engle, illustrated by Aliona Bereghici – Beautiful exploration looking at the life of an artist. Goodreads Summary: "Louis loves to watch birds. He takes care of injured birds and studies how they look and how they move. His father wants him to become an engineer, but Louis dreams of being a bird artist. To achieve this dream, he must practice, practice, practice. He learns from the art of John James Audubon. But as Louis grows up, he begins to draw and paint living, flying birds in their natural habitats."
Rude Cakes by Rowboat Watkins – Hilarious story showing how a character can change when there is incentive. Goodreads Summary: "Who knew that cakes were so rude?! In this deliciously entertaining book, a not-so-sweet cake—who never says please or thank you or listens to its parents—gets its just desserts. Mixing hilarious text and pictures, Rowboat Watkins, a former Sendak fellow, has cooked up a laugh-out- loud story that can also be served up as a delectable discussion starter about manners or bullying, as it sweetly reminds us all that even the rudest cake can learn to change its ways."
If You Ever Want to Bring an Alligator to School, DON'T! by Elise Parsley – Very funny story following a girl's frustrations with bringing an alligator to school. Goodreads Summary: "Note to self: If your teacher tells you to bring something from nature for show-and-tell, she does not want you to bring an alligator! But nothing will stop Magnolia, who's determined to have the best show-and-tell of all–until her reptilian rapscallion starts getting her into some major trouble. Now it's up to Magnolia to find a way to send this troublemaker home–but what could possibly scare an alligator away?"
A Bed for Bear by Clive McFarland – really cute simple book with a bear searching for a bed to sleep in. Goodreads Summary: "It's bedtime for Bernard. The bear cave is crowded and uncomfortable. What is a bear to do when there's no good place to sleep? To find the perfect resting place, Bernard searches high and low. But what he discovers is that the perfect bed was right in front of him all along. . . ."
I am Otter by Sam Garton –  Very cute story about an otter. Goodreads Summary: "The curious, charming, playful, and internet-famous Otter makes her picture book debut in I Am Otter by author-illustrator Sam Garton. Here's what Otter has to say about her book: "Hi! I am Otter, and this is a book about me and my best friends, Otter Keeper and Teddy. And it's about the fun and messy (and little bit scary) adventure we had one day when Otter Keeper was at work. I hope you like the story! (And if you don't, it's probably Teddy's fault.)""
Squid Kid The Magnificent by Lynne Berry, illustrations by Luke LaMarca – very humorous take on a squid who wants to be a magnificent magician but his sister keeps interrupting his actions. Goodreads Summary: "Oliver isn't an ordinary squid; he's Squid Kid the Magnificent! But his sister, Stella, will tell you otherwise. While Oliver performs various feats of magic-like vanishing in ink, or making dozens of squids suddenly appear-Stella sees right through each illusion, and is far from impressed. But the show must go on and Oliver has saved his best trick for his pesky sister."
Templeton Gets His Wish by Greg Pizzoli – If you got to make a wish, would you wish for your family to disappear? Goodreads Summary: "Templeton the cat doesn't like his parents telling him to clean up, and hereally doesn't like when his brothers steal his toys. So, he makes a wish on a magic diamond, and his family disappears!
At first, Templeton is over the moon. He's free to lounge and play all day, and he never has to take a bath. But being alone might not always be as fun as he'd thought. Will another wish on the magic diamond get Templeton what he really wants?"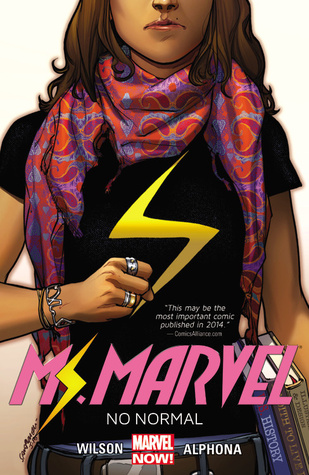 Ms. Marvel No Normal by Wilson Alphona – High School-  Fascinating cultural graphic novel- Love that the new superhero is a girl who is dealing with who she is as a person, recognizing how her culture fits with what she wants to do… fantastic book. Goodreads Summary: "Kamala Khan is an ordinary girl from Jersey City — until she's suddenly empowered with extraordinary gifts. But who truly is the new Ms. Marvel? Teenager? Muslim? Inhuman? Find out as she takes the Marvel Universe by storm! When Kamala discovers the dangers of her newfound powers, she unlocks a secret behind them, as well. Is Kamala ready to wield these immense new gifts? Or will the weight of the legacy before her be too much to bear? Kamala has no idea, either. But she's comin' for you, Jersey!"
I Yam A Donkey! by Cece Bell – Hilarious picture book. Love confusing stories. Goodreads Summary: "Even frustrated grammarians will giggle at the who's-on-first routine that begins with a donkey's excited announcement, "I yam a donkey!" Unfortunately the donkey's audience happens to be a yam, and one who is particular about sloppy pronunciation and poor grammar. An escalating series of misunderstandings leaves the yam furious and the clueless donkey bewildered by the yam's growing (and amusing) frustration. The yam finally gets his point across, but regrettably, he's made the situation a little bit too clear . . . and the story ends with a dark and outrageously funny twist."
McToad Mows Tiny Island by Tom Angleberger, illustrated by John Hendrix – Very different book. Perfect for a lesson/discussion about different forms of transportation. Goodreads Summary: "McToad likes Thursdays. Why? Because on every other day of the week, McToad mows Big Island, but on Thursdays, McToad mows Tiny Island. To do so, he puts his mower on the back of a truck, which drives to a train, which goes to a helicopter, which flies to a boat, which uses a crane to put the lawn mower onto Tiny Island. There McToad mows and drinks some lemonade, and before you know it, it's time to turn around and go back home. But first, the mower has to get lifted by a crane, to get put back on a boat, which is lifted by a helicopter, and . . . well . . . you get the idea."
Drowned City – Hurricane Katrina & New Orleans written and Illustrated by Don Brown, Graphic Novel – YA – Tough book to read with all the honest realities presented throughout. Heartbreaking situations with the devastation of the hurricane… really good to have in MS/HS libraries, helps present various perspectives in this situation. Goodreads Summary: "On August 29, 2005, Hurricane Katrina's monstrous winds and surging water overwhelmed the protective levees around low-lying New Orleans, Louisiana. Eighty percent of the city flooded, in some places under twenty feet of water. Property damages across the Gulf Coast topped $100 billion. One thousand eight hundred and thirty-three people lost their lives. The riveting tale of this historic storm and the drowning of an American city is one of selflessness, heroism, and courage—and also of incompetence, racism, and criminality."
There Was an Old Dragon Who Swallowed a Knight by Penny Parker, illustrated by Ben Mantle – Kingergarten and up – Enjoyed this new adaption, hilarious. Vrey funny book. My son chuckled his way through it as well. Goodreads Summary: "We all know that "there was an old lady" who swallowed lots of things. Now meet the old dragon who swallows pretty much an entire kingdom! Will he ever learn a little moderation?! This rollicking rhyme is full to bursting with sight gags, silly characters, and plenty of burps! Parents and kids alike will delight in Ben Mantle's precisely funny illustrations and in Penny Parker Klostermann's wacky rhymes."
Bug in a Vacuum by Melanie Watt – 3rd grade and up – Wow. This was one fascinating exploration of grief… from the persective of a bug that gets stuck in the vacuum. It would be interesting to use this book as an introduction to the 5 stages of grief. Goodreads Summary: "A bug flies through an open door into a house, through a bathroom, across a kitchen and bedroom and into a living room … where its entire life changes with the switch of a button. Sucked into the void of a vacuum bag, this one little bug moves through denial, bargaining, anger, despair and eventually acceptance — the five stages of grief — as it comes to terms with its fate. Will there be a light at the end of the tunnel? Will there be dust bunnies in the void? A funny, suspenseful and poignant look at the travails of a bug trapped in a vacuum."
The Sasquatch Escape – The Imaginary Veterinary: Book 1 by Suzanne Selfors – Fantasy, 3rd grade and up – LOVED the illustrations by Dan Santat throughout the book. Enjoyed the premise and adventures connected to the story. Very quick read. Happy it is part of Oregon Battle of the Books this year, really is going to be an appealing series for students. Goodreads Summary: "When Ben Silverstein is sent to the rundown town of Buttonville to spend the summer with his grandfather, he's certain it will be the most boring vacation ever. That is, until his grandfather's cat brings home what looks like . . . a baby dragon?
Amazed, Ben enlists the help of Pearl Petal, a local girl with an eye for adventure. They take the wounded dragon to the only veterinarian's office in town — Dr. Woo's Worm Hospital. But as Ben and Pearl discover once they are inside, Dr. Woo's isn't a worm hospital at all — it's actually a secret hospital for imaginary creatures.
After Ben accidentally leaves the hospital's front door unlocked, a rather large, rather stinky, andvery hairy beast escapes into Buttonville. Ben and Pearl are tasked with retrieving the runaway creature, and what started out as an ordinary summer becomes the story of a lifetime."
Two Mice by Sergio Ruzzier – Cute little story about two mice going on an adventure, finding their way from one dangerous situation after another, and settling back together in the end. Simple text will appeal to those beginning to read students. Goodreads Summary: "One house, two mice, three cookies . . . and the adventure begins. In gorgeously illustrated spreads and two-word phrases, this picture book takes two mice through their exciting and eventful day. Funny, lively, and easy to follow, the book offers the youngest readers the chance to count from one to three and back again.  Sergio Ruzzier's illustrations display his signature quirky, colorful, and slightly surreal view of characters and settings, and the text is a minimalist gem. It's a perfect book to share one-on-one with a young child and a lovely lead-up to bedtime."
Want more book ideas and reviews? – Yes, I'm quite brief, but a prolific reader!  Please visit me at Goodreads: http://www.goodreads.com/user/show/1941055-the-styling-librarian Also, please follow this blog through email updates – (do so to the right of this blog post), my Facebook page, comment, or meet up with me on Twitter. I appreciate all of the support, makes my day! Honored by all the wonderful followers.
FTC Required Disclosure: This site is an Amazon affiliate, and purchases made through Amazon links (including linked book covers) may result in my receiving a small commission (at no additional cost to you). Additionally this site is a Powells Books affiliate, and purchases made through the linked book covers may result in my receiving a small commission (at no additional cost to you).
© 2013 by Debbie Alvarez of The Styling Librarian. All rights reserved. You can also follow me @stylinlibrarian or at my Styling Librarian Page on Facebook.