Styling Librarian #IMWAYR It's Monday What Are You Reading?
Thanks to: TeachMentorTexts  and Unleashing Readers for the inspiration! Thanks to Jen and Kellee for the meme! Enjoying books week by week… I decided to spread out what I'm reading recently over a few weeks… so this isn't everything but I've enjoyed them all!
Touch the Brightest Star by Christie Matheson – Similar to Press Here and Tap the Mmagic Tree, this interactive book is designed to help a child get…. sleepy. Recommended for parents of toddlers thru Kindergartners. Entertaining and beautiful. Goodreads Summary: "A companion to the popular and acclaimed Tap the Magic Tree! In this interactive bedtime story, touch, tap, blink, whisper, and more to make magic happen in the nighttime sky, from sunset to sunrise.
What happens while you're sleeping? With lush, beautiful watercolors and cut-paper collage, Christie Matheson reveals the magic of the nighttime sky, using the same kinds of toddler-perfect interactive elements as her acclaimed Tap the Magic Tree. Wave good-bye to the sun, gently press the firefly, make a wish on a star, rub the owls on their heads, and . . . shhhh. No two readings of this book will be the same. That along with the gentle, soothing rhythm, makes Touch the Brightest Star a bedtime winner—no matter how many times you and your child read it."
Smick! by Doreen Cronin, illustrated by Juana Medina – Simple, rhyming, cute. Appealing to those beginning readers… Goodreads Summary: "Smick is a BIG dog. Sit, Smick.
Chick is a little chick. Stay, Smick!
So what happens when they see a stick?"
William & the Missing Masterpiece by Helen Hancock – Mystery – Picture Book – Great book to use as an example of solving mysteries, watching for clues, and what detectives do to solve mysteries. Cute one… Loved the ending. Goodreads Summary: "Debonair cat-detective William finds himself at the center of a mysterious theft when the Mona Cheesa is stolen from a Parisian gallery. Can William put the clues together and solve the crime? Fans of Helen Hancocks'sPenguin in Peril won't be disappointed in this hilarious tale of cat and mouse."
Do Super Heroes Have Teddy Bears by Carmela LaVingna Coyle, illustrated by Mike Gordon – Cute little story. Goodreads Summary: "Follow along as two ragtag, everyday super heroes don capes to play in the mud, save their stuffed animals from certain peril, conquer the vegetables at dinner, and overcome darkness at night. Are super heroes always brave and daring? We re brave and bold and kind and caring. After five successful books in the Princesses series, Carmela LaVigna Coyle now turns her attention to an all new childhood fantasy in this wonderful new story about imagination and play. Every little boy and girl has a super hero somewhere inside just waiting to come out. Tie on your cape (blankies recommended) and join the adventure. P.S. Do super heroes have teddy bears? Why, yes, they do!"
Dinosaur vs. Mommy by Bob Shea – Good luck dinosaur, you're facing one stubborn mommy! Can you win? Goodreads Summary: "Dinosaur is spending the day with Mommy. ROAR! He helps her wake up, go shopping, sort laundry, and more–his way, that is. By bedtime, it looks like Mommy is down for the count. Is one little red dinosaur just too much for her, or will Mommy win? Chock full of the bold graphics and exuberance that has made the Dinosaur vs. series so popular, this book will tickle toddlers and mommies on Mother's Day and every day thereafter."
Sea Rex by Molly Idle – Loved how this brought you thru roles of how to have fun at the beach. Goodreads Summary: "What could that be down in the sea? Is it a fish? A snail? A mermaid's tail? No, it's bigger than that . . . a LOT bigger . . . it's Sea Rex! Join Cordelia and her crestacious companions as they spend a memorable day at the beach, as only dinosaurs can do!"
Spy Guy – The Not-So-Secret Agent by Jessica Young, illustrated by Charles Santoso –  Interesting to read about a cute little boy who is trying to be a secret agent and is challenged by his dad to find a way to surprise him/sheak up on him. Loved the rhymes that were snuck in here and there. Goodreads Summary: "Spy Guy is a spy—but not a very good one. He's too loud, too squeaky, and in need of a good disguise. All Spy Guy wants is to figure out the secret to spying. But as the Chief says, that he must discover for himself. With a lot of trial and even more error, can Spy Guy figure out the secret to spying?"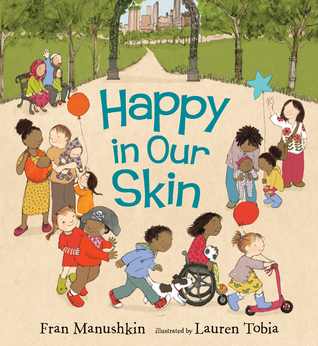 Happy in Our Skin by Fran Manushkin, illustrated by Lauren Tobia – Beautiful new book that celebrates each person's individuality and also explore all the wonderful ways that skin helps us as humans. Beautiful illustrations, wonderful words. Goodreads Summary: "Is there anything more splendid than a baby's skin? For families of all stripes comes a sweet celebration of what makes us unique—and what holds us together.
Look at you!
You look so cute
in your brand-new birthday suit.
Just savor these bouquets of babies—cocoa-brown, cinnamon, peaches and cream. As they grow, their clever skin does too, enjoying hugs and tickles, protecting them inside and out, and making them one of a kind. Fran Manushkin's rollicking text and Lauren Tobia's delicious illustrations paint a breezy and irresistible picture of the human family—and how wonderful it is to be just who you are."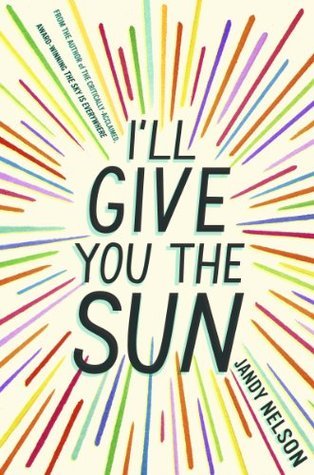 I'll Give You The Sun by Jandy Nelson – Realistic Fiction – Audiobook – High School – I would partner this book with a graphic novel called The Sculptor. This story follows twins coming of age and experiienceing devastating loss. Beautiful story, fascinating personalities, and many pieces filling in blanks throughout the story. One of my favorites recently. Goodreads Summary: "Jude and her twin brother, Noah, are incredibly close. At thirteen, isolated Noah draws constantly and is falling in love with the charismatic boy next door, while daredevil Jude cliff-dives and wears red-red lipstick and does the talking for both of them. But three years later, Jude and Noah are barely speaking. Something has happened to wreck the twins in different and dramatic ways . . . until Jude meets a cocky, broken, beautiful boy, as well as someone else—an even more unpredictable new force in her life. The early years are Noah's story to tell. The later years are Jude's. What the twins don't realize is that they each have only half the story, and if they could just find their way back to one another, they'd have a chance to remake their world."
I Thought This Was a Bear Book by Tara Lazar, illustrated by Benji Davies– Very funny story with an original adaptation of The Three Bears fairy tale. Enjoyed the unexpected alien interloping into the story desperate for help. Goodreads Summary: "When an alien crashes into the story of The Three Little Bears, it's a laugh-out-loud adventure and a classic storybook mash-up!
After an unfortunate bookcase collapse, Alien suddenly finds himself jolted out of his story and into a very strange world, complete with talking bears. Desperate to return to his book, Alien asks the Bear family for help so he can get back to his story and save his beloved Planet Zero from total destruction before it's too late.
Mama Bear and Papa Bear try all kinds of zany contraptions (with some help from their nemesis, Goldilocks) without much luck. Baby Bear might have the perfect solution to get the Alien out of the woods and back to his planet…but will anyone listen to the littlest voice in the story?"
This Orq. (he cave boy) by David Elliott, illustrated by Lori Nichols –  Very funny story about why a wolly mammoth is a good pet/friend to have. Goodreads Summary: "Orq the cave boy LOVES Woma the woolly mammoth. But Mom says Woma shed; Woma smell; Woma not house-trained. Is there any way Orq can convince his mother that Woma belongs with them? Orq has a plan. Well, kind of. Good thing Woma always nearby."
Be Safe on the Internet by Bridget Heos, illustrated by Silvia Baroncelli – Good introduction to internet safety, cute accompanying story. Goodreads Summary: "A young boy named Aidan teaches his curious puppy how to stay safe online.
Mom Has Cancer! by Jennifer Moore-Mallinos, illustrations by Marta Fabrega – Good story to read as a parent. Perspective is hopeful and realistic. It can provide parents opportunity to discuss different situations in connection with cancer. Goodreads Summary: "The sensitively written Let's Talk About It Books encourage preschool-age and early-grades children to explore their feelings, deal with problems that trouble them, and understand others who have problems of their own. Each title speaks to a particular concern that children might encounter in the course of growing up. All books in this series have appealing color illustrations on every page, and are available in both English and Spanish language editions. A short section at the back of each book offers related advice to parents. This book points out that a diagnosis that Mom has cancer is as frightening for her children as it is for her. The story describes such a situation, helping kids understand how Mom requires special medical care on her path toward regaining health."
That's (Not) Mine by Anna Kang, illustrated by Christopher Weyant – Hilarious story with two characters arguing over a chair… how it ends is witty. Goodreads Summary: "Two fuzzy creatures both want to sit in the same comfy chair. The trouble is, they can't agree who it belongs to. They get madder and madder, until…"
Zombelina Dances the Nutcracker by Kristyn Crow, illustrated by Molly Idle – Wonderful rhyming, humorous twists continue, and fun throughout the book. Made me need to open the dictionary over certain ballet terms. Goodreads Summary: "In another rhyming read-aloud tale full of delightful macabre humor Zombelina once again steals the show! This time Zombelina and her friend Lizzie are dancing in The Nutcracker. On the night of the big show, Zombelina is ready, but Grandpa Phantom has other plans for the opera house. Zombelina will need to think fast to save the show, and she'll need Lizzie's help. When best friends work together, the show will go on!"
Brave As Can Be – A Book of Courage by Jo Witek, illustrated by Christine Roussey – Nice slits in the pages and peek through illustrations. Enjoyed this one… Goodreads Summary: "The life of a toddler can be full of frightening things: the dark, the neighbor's dog, and thunderstorms, just to name a few. As children get older, they begin to feel braver around these everyday events, but how do they build this newfound confidence? In this lyrical, insightful picture book, an older sister explains to her younger sister all the things she used to be afraid of, along with some tricks to help, whether it's a special blanket for bedtime or singing during a storm. Now, big sister assures little sister, the fears that once felt as big as a mountain feel as minuscule as a speck of dust."
Troll and the Oliver by Adam Stower – Reminded me a little of some other books… but overall I really enjoyed watching a little boy evade a troll for ages… and loved the conclusion. Goodreads Summary: "There is a Troll, and there is an Oliver.
Every day Troll tries to eat the Oliver, but the Oliver just doesn't play fair.
Until one day Troll goes missing and the Oliver thinks he's won! But has he?
Fortunately for Trolls and Olivers everywhere, maybe there's a way that everyone can be happy…
Fabulous storytelling from Adam Stower who also brought us Silly Doggy and Naughty Kitty."
Ann Tenna by Marisa Acocella Marchetto – Graphic Novel, Adult  – Interesting book about a woman who doesn't remember her destiny and has a hard time accepting where she is at after a drastic accident. Really different book but inspiring as well. Goodreads Summary: "Glamorous, superconnected Ann Tenna is the founder of Eyemauler, a New York City-based Web site that's always the first to dish the most up-to-the-minute dirt on celebrities and ordinary folks alike. Ann has ascended to the zenith of the New York media scene, attended by groups of grovelers all too willing to be trampled on by her six-inch Giuseppe Zanottis if it means better seats at the table.
But as high as her success has taken her, Ann has actually fallen far—very far—from her true self. It takes a near-fatal freak accident on her birthday—April Fool's Day—and an intervention from her cosmic double in a realm beyond our own to make Ann realize the full cost of the humanity she has lost."
Want more book ideas and reviews? – Yes, I'm quite brief, but a prolific reader!  Please visit me at Goodreads: http://www.goodreads.com/user/show/1941055-the-styling-librarian Also, please follow this blog through email updates – (do so to the right of this blog post), my Facebook page, comment, or meet up with me on Twitter. I appreciate all of the support, makes my day! Honored by all the wonderful followers.
FTC Required Disclosure: This site is an Amazon affiliate, and purchases made through Amazon links (including linked book covers) may result in my receiving a small commission (at no additional cost to you). Additionally this site is a Powells Books affiliate, and purchases made through the linked book covers may result in my receiving a small commission (at no additional cost to you).
© 2013 by Debbie Alvarez of The Styling Librarian. All rights reserved. You can also follow me @stylinlibrarian or at my Styling Librarian Page on Facebook.