Styling Librarian #IMWAYR It's Monday What Are You Reading?
Thanks to: TeachMentorTexts  and Unleashing Readers for the inspiration! Thanks to Jen and Kellee for the meme! Enjoying books week by week… I decided to spread out what I'm reading recently over a few weeks… so this isn't everything but I've enjoyed them all!
Not This Bear, A First Day of School Story by Alyssa Satin Capucilli, illustrated by Lorna Hussey – Another wonderful beginning of school story with an adorable bear who speaks up when things don't feel quite right when beginning school. Quite a fun book to share as a read aloud. Beautiful accompanying illustrations. Goodreads Summary: "It's Bear's first day of school, and he's a bit reluctant to go. Mama says all bears love school; Bear isn't so sure.
But school turns out to be full of fun—painting pictures, listening to stories, and making new friends.
Maybe this bear will like school after all."
What About Moose? by Corey Rosen Schwartz and Rebecca J. Gomez, illustrated by Keika Yamaguchi – Great story about how buildings work, how to deal with pushy people and a little humor mixed in as well. Goodreads Summary: "It takes a team to build a tree house—but what if that team includes one very bossy moose?
When Fox, Toad, Bear, Porcupine, and Skunk set out to build a tree house, they know just what to do: they'll follow a plan and they'll work as a team. But when bossy Moose barges in and upends their plans with some of his own, his friends become more and more frustrated…until things go hilariously awry!"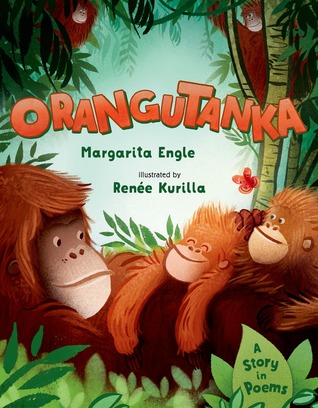 Orangutanka by Margarita Engle, illustrated by Renee Kurilla – Beautiful story in poems. Meet an orangutan family that lives at a wildlife refuges. Wonderful orangutan facts at the end of the book that are interesting and also important. Love the tanka poem format that was used for beautiful pages and also some fun action poems as well. Goodreads Summary: "All the orangutans are ready for a nap in the sleepy depths of the afternoon . . . all except one. This little orangutan wants to dance! A hip-hop, cha-cha-cha dance full of somersaults and cartwheels. But who will dance with her?"
Goldi Rocks and the Three Bears by Corey Rosen Schwartz and Beth Coulton, illustrated by Nate Wragg– This is one of the smoothest rhyming fairy tale books I've ever read. I loved reading this aloud and also just love the adaptation of the story that still includes enough elements to recognize the classic story. Goodreads Summary: "Papa Bear, Mama Bear, and Baby Bear know how to rock! But they need a new singer, so they audition everyone—the Three Pigs, Little Red Riding Hood, and more. To their dismay, no one seems just right.
Could the perfect lead singer be the mysterious girl sleeping on Baby Bear's keyboard?"
The Princess and the Pony by Kate Beaton – Quite the hilarious picture book with surprising twists and turns. Love that this is a warrior princess and really appreciated how she learns to adapt to the pony she is given as a gift. Goodreads Summary: "Princess Pinecone knows exactly what she wants for her birthday this year. A BIG horse. A STRONG horse. A horse fit for a WARRIOR PRINCESS! But when the day arrives, she doesn't quite get the horse of her dreams…"
Appleblossom the Possum by Holly Goldberg Sloan, illustrated by Gary A. Rosen – Fell in love with this character. Really cute Possum who has more questions than answers. She's misunderstood. She's caring. Goodreads Summary: "Mama has trained up her baby possums in the ways of their breed, and now it's time for all of them—even little Appleblossom—to make their way in the world. Appleblossom knows the rules: she must never be seen during the day, and she must avoid cars, humans, and the dreaded hairies (sometimes known as dogs). Even so, Appleblossom decides to spy on a human family—and accidentally falls down their chimney! The curious Appleblossom, her faithful brothers—who launch a hilarious rescue mission—and even the little girl in the house have no idea how fascinating the big world can be. But they're about to find out!"
Dory and the True Friend by Abby Hanlon– Early Chapter Book- Realistic Fiction – Another wonderful story about a cute little terror who is sorting out what she should bring with her to school and what to wear on the first day of school. Loved the character development and the honest world of a little one who just wants to have friends and fun and imagine as she wishes… Quite recommended, think it would be a wonderful read aloud for 1/2nd grade. Goodreads Summary: "The star of Dory Fantasmagory is heading to school. Her older siblings, Luke and Violet, warn her to leave her imaginary friend, Mary, at home—or better yet, leave her whole imagination at home! Dory is determined to behave like a "regular old girl who never gets in trouble," but on her very first day she meets a new friend, a girl whose imagination and style are just about as wild as her own. Now she just has to convince her siblings that she's not making it all up!"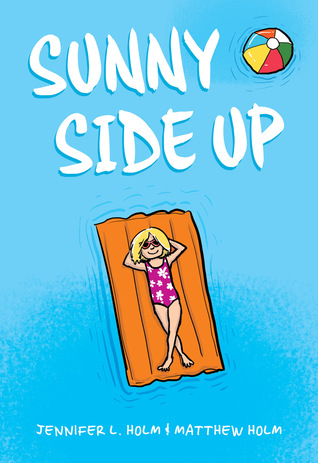 Sunny Side Up by Jennifer L. Holm & Matthew Holm – Graphic Novel- Middle Reader- Loved this graphic novel. It deals with the impact on a family when a person is an addict. Also beautiful story showing the discovery of appreciation for the elderly and family time. Very recommended. Goodreads Summary: "Sunny Lewin has been packed off to Florida to live with her grandfather for the summer.  At first she thought Florida might be fun — it is the home of Disney World, after all.  But the place where Gramps lives is no amusement park.  It's full of . . . old people.  Really old people.
Luckily, Sunny isn't the only kid around.  She meets Buzz, a boy who is completely obsessed with comic books, and soon they're having adventures of their own: facing off against golfball-eating alligators, runaway cats, and mysteriously disappearing neighbors.  But the question remains — why is Sunny down in Florida in the first place?  The answer lies in a family secret that won't be secret to Sunny much longer. . ."
Izzy Barr, Running Star by Claudia Mills, pictures by Rob Shepperson – Realistic Fiction 3rd grade and up – I love this Franklin School Friends series – I can't predict what is going to happen in the book, the characters are ones I care for, and I just can't stop reading once I start. Claudia Mills keeps writing about wonderful kids in these books. Goodreads Summary: "Izzy Barr is the star athlete of the third grade: she hits homeruns on her softball team and is one of the fastest runners in her class. But at home, her half-brother, Dustin, seems to be her father's favorite athlete–why else would her dad go to all of his games and miss so many of hers? Izzy pretends that she doesn't care, but as she, her friends Annika Riz and Kelsey Green, and the rest of their class are gearing up for class field day, she can't help but hope her dad will be there to cheer her on in the big race against her rival, Skipper Tipton. Dad doesn't make it to field day, but when he realizes how important it is to Izzy, he and all of her friends and family are there to watch her participate in the citywide 10K run."
Hope is a Ferris Wheel by Robin Herrera – Where do you find hope? How do you connect with others? How do you move beyond people's assumptions? Can you move past your family's low income situation? Just loved this book about a girl who thinks that starting up a club might be the answer to standing out and getting teased at her new school. Having layered blue hair can make you stand out… so can sharing that you live in a trailer park. Starting up a club in honor of a poet? Perhaps that's a change in the right direcction. My favorite part of the book are the vocabulary sentences that Star writes and doesn't turn in to her teacher. You can fit a lot into spelling sentences. Goodreads Summary: "Ten-year-old Star Mackie lives in a trailer park with her flaky mom and her melancholy older sister, Winter, whom Star idolizes. Moving to a new town has made it difficult for Star to make friends, when her classmates tease her because of where she lives and because of her layered blue hair. But when Star starts a poetry club, she develops a love of Emily Dickinson and, through Dickinson's poetry, learns some important lessons about herself and comes to terms with her hopes for the future."
Want more book ideas and reviews? – Yes, I'm quite brief, but a prolific reader!  Please visit me at Goodreads: http://www.goodreads.com/user/show/1941055-the-styling-librarian Also, please follow this blog through email updates – (do so to the right of this blog post), my Facebook page, comment, or meet up with me on Twitter. I appreciate all of the support, makes my day! Honored by all the wonderful followers.
FTC Required Disclosure: This site is an Amazon affiliate, and purchases made through Amazon links (including linked book covers) may result in my receiving a small commission (at no additional cost to you). Additionally this site is a Powells Books affiliate, and purchases made through the linked book covers may result in my receiving a small commission (at no additional cost to you).
© 2013 by Debbie Alvarez of The Styling Librarian. All rights reserved. You can also follow me @stylinlibrarian or at my Styling Librarian Page on Facebook.