Styling Librarian Saturday Book Share – Crenshaw
"Pull up a chair, it's a Saturday Book Share".
Here's to celebrating books that strike my fancy every week!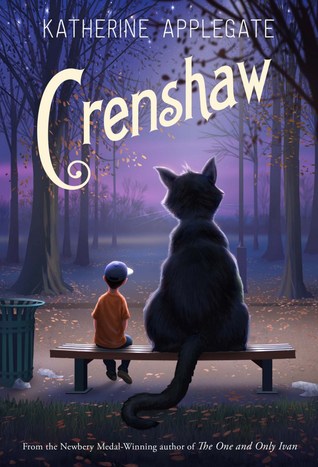 Crenshaw by Katherine Applegate – Fantasy/Realistic Fiction – Powerful story about a boy who has experienced homelessness and is concerned that his parents are preparing to be homeless again. He has an imaginary friend named Crenshaw who helped him through his last experience with homelessness and who returns when he thinks the family will be homeless again. This book is really powerful and touching. I loved every minute of the read.
Here were my favorite beginnings of chapters:
"I guess becoming homeless doesn't happen all at once. My mom told me once that money problems sort of sneak up on you. She said it's like catching a cold. At first you just have a tickle in your throat, and then you have a headache, and then maybe you're coughing a little. The next thing you know, you have a pile of Kleenexes around your bed and you're hacking your lungs up."
"If you ever have to live in your car, you are going to have some problems with feet. Especially if you're stuck in there with your little sister and your mom and your dad and your puppy and your imaginary friend. There are many kinds of feet problems."
Book Talk: So, you're seeing a large cat, no problem. There are cats. Wait, you see a cat noone else can see and it talks to you? Hmm. Is it an imaginary friend? Ok, why do you think it is following you around? Read Crenshaw to find out how Jackson deals with his worries.
Goodreads Summary: "In her first novel since winning the Newbery Medal, Katherine Applegate delivers an unforgettable and magical story about family, friendship, and resilience.
Jackson and his family have fallen on hard times. There's no more money for rent. And not much for food, either. His parents, his little sister, and their dog may have to live in their minivan. Again.
Crenshaw is a cat. He's large, he's outspoken, and he's imaginary. He has come back into Jackson's life to help him. But is an imaginary friend enough to save this family from losing everything?
Beloved author Katherine Applegate proves in unexpected ways that friends matter, whether real or imaginary."
About Pull up a chair, it's a Saturday Book Share: I've had many books I review that I just want to feature. Simple and easy, celebrate a new book encounter. So that's what Saturday Book Share is about for me, celebrating books! Perhaps some days I'll share the book with a short reading of a portion. Or perhaps other days I'll just share a glimpse of the book.
Want more book ideas and reviews? – Yes, I'm quite brief, but a prolific reader! Please visit me at Goodreads: http://www.goodreads.com/user/show/1941055-the-styling-librarian Also, please follow this blog through email updates – (do so to the right of this blog post), my Facebook page, comment, or meet up with me on Twitter. I appreciate all of the support, makes my day! Honored by all the wonderful followers.
FTC Required Disclosure: This site is an Amazon affiliate, and purchases made through Amazon links (including linked book covers) may result in my receiving a small commission (at no additional cost to you). Additionally this site is a Powells Books affiliate, and purchases made through the linked book covers may result in my receiving a small commission (at no additional cost to you).
© 2013 by Debbie Alvarez of The Styling Librarian. All rights reserved. You can also follow me @stylinlibrarian or at my Styling Librarian Page on Facebook.