Styling Librarian #IMWAYR It's Monday What Are You Reading?
Thanks to: TeachMentorTexts  and Unleashing Readers for the inspiration! Thanks to Jen and Kellee for the meme! Enjoying books week by week… I decided to spread out what I'm reading recently over a few weeks… so this isn't everything but I've enjoyed them all!
Hamster Princess, Harriett the Invincible by Ursula Vernon – Fantasy-  2nd grade and up – Prepare yourself for a hilarious new story about Sleeping Beauty, but not the normal fairy tale. A hamster is the main character who doesn't want to behave like a proper princess. She finds a loophole in the curse that she gets from a wicked fairy godmouse that helps her become invincible. Loved every minute of this tale. Goodreads Summary: "Harriet Hamsterbone is not your typical princess. She may be quite stunning in the rodent realm (you'll have to trust her on this one), but she is not so great at trailing around the palace looking ethereal or sighing a lot. She finds the royal life rather . . . dull. One day, though, Harriet's parents tell her of the curse that a rat placed on her at birth, dooming her to prick her finger on a hamster wheel when she's twelve and fall into a deep sleep. For Harriet, this is most wonderful news: It means she's invincible until she's twelve! After all, no good curse goes to waste. And so begins a grand life of adventure with her trusty riding quail, Mumfrey…until her twelfth birthday arrives and the curse manifests in a most unexpected way."
Pip Bartlett's Guide to Magical Creatures by Jackson Pearce and Maggie Stiefvater – Fantasy – 4th grade and up – Just loved this hilarious fantasy book that reminded me a bit of Fablehaven. Really enjoyed reading about new-to-me fantasy characters. Enjoyed the illustrations immensely, especially when a new character is introduced and you receive the genuine reflection on what the other character thinks. Wonderful adult characters and believable situations. I love the alternate reality where magical creatures live amongst the humans and sometimes are pests. Goodreads Summary: "Pip is a girl who can talk to magical creatures. Her aunt is a vet for magical creatures. And her new friend Tomas is allergic to most magical creatures. When things go amok—and they often go amok—Pip consults Jeffrey Higgleston's Guide to Magical Creatures, a reference work that Pip finds herself constantly amending. Because dealing with magical creatures like unicorns, griffins, and fuzzles doesn't just require book knowledge—it requires hands-on experience and thinking on your feet. For example, when fuzzles (which have an awful habit of bursting into flame when they're agitated) invade your town, it's not enough to know what the fuzzles are—Pip and Tomas also must trace the fuzzles' agitation to its source, and in doing so, save the whole town."
Tales of Bunjitsu Bunny by John Himmelman – Fantasy – 3rd grade and up –  There a deep layer within this book which teaches life lessons. Also, children will find this book appealing, especially reluctant readers. Goodreads Summary: "Introducing Isabel, aka Bunjitsu Bunny! She is the BEST bunjitsu artist in her school, and she can throw farther, kick higher, and hit harder than anyone else! But she never hurts another creature . . . unless she has to.
This series of brief stories about Isabel's adventures are a beguiling combination of child-friendly scenarios and Eastern wisdom perfect for the youngest readers."
Circus Mirandus by Cassie Beasley – Fantasy – 4th grade and up – Can you believe in magic? The exploration of this throughout the book is so gorgeous. This was one of my favorite fantasy books. The author indrocudes and fleshes out each character in such a beautiful way that you become part of the story. The language throughout the book is beautiful. I know I want to reread this quite soon. Highly recommended. Goodreads Summary: "
Blankets by Craig Thompson – Graphic Novel – Adult- This was one tough heartwrenching book. Published in 2003. So glad I stole time for this read! Appreciated the beautiful reflection on life, regret, realization of the importance of brothers, and more… Upsetting book to read. Goodreads Summary: "Wrapped in the landscape of a blustery Wisconsin winter, Blankets explores the sibling rivalry of two brothers growing up in the isolated country, and the budding romance of two coming-of-age lovers. A tale of security and discovery, of playfulness and tragedy, of a fall from grace and the origins of faith."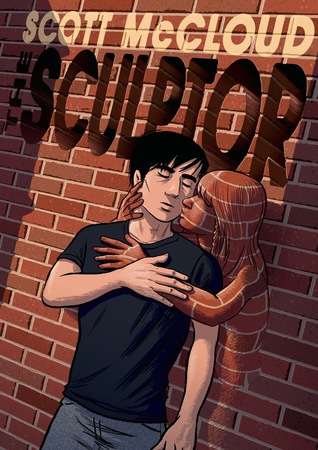 The Sculptor by Scott McCloud – Graphic Novel, Adult – Powerful story that connects to sculpture, dreams and hope. Felt like the YA novel I'll Give You The Sun would be a perfect connection with this novel. Similar passion connections. The idea of compromising your life to fulfill your dream of art creation was hard to accept but this was such a fascinating gorgeous approach. Very interesting to read. Also really challenging. Goodreads Summary: "David Smith is giving his life for his art—literally. Thanks to a deal with Death, the young sculptor gets his childhood wish: to sculpt anything he can imagine with his bare hands. But now that he only has 200 days to live, deciding  what  to create is harder than he thought, and discovering the love of his life at the 11th hour isn't making it any easier!
This is a story of desire taken to the edge of reason and beyond; of the frantic, clumsy dance steps of young love; and a gorgeous, street-level portrait of the world's greatest city. It's about the small, warm, human moments of everyday life…and the great surging forces that lie just under the surface. Scott McCloud wrote the book on how comics work; now he vaults into great fiction with a breathtaking, funny, and unforgettable new work."
Hope Springs by Eric Walters, illustrated by Eugenie Fernandes – Picture book – beautiful story about a well being dug in a community desperate for water. Appreciated the action and hope portrayed in the book.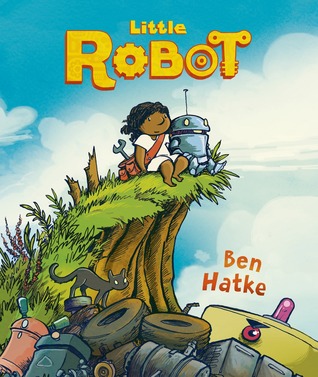 Little Robot by Ben Hatke – Graphic novel – 3rd grade and up – Really special story telling about a creative adventuresome girl rescues a robot and has many mishaps and dangerous encounters afterwards. Goodreads Summary: "When a little girl finds an adorable robot in the woods, she presses a button and accidentally activates him for the first time. Now, she finally has a friend. But the big, bad robots are coming to collect the little guy for nefarious purposes, and it's all up to a five-year-old armed only with a wrench and a fierce loyalty to her mechanical friend to save the day!"
One Word from Sophia by Jim Averbeck and Yasmeen Ismail – I don't want to be too effusive or loquacious or verbose when sharing about this wonderful, entertaining story… I just want to say any girl who can work on her persuasive skills, her different strategies for communication, and can keep up with various adults communicating with her is just one wonderful character. I just loved how a girl spoke up about the benefits to getting a giraffe for her birthday. Goodreads Summary: "Sophia tries varied techniques to get the giraffe she wants more than anything in this playfully illustrated story about the nuances of negotiation.
Sophia has one true desire for her birthday. But she has Four Big Problems in the way: Mom, Dad, Uncle Conrad…and Grand-mama.
Will her presentations, proposals, and pie charts convince them otherwise?
Turns out, all it takes is one word."
Want more book ideas and reviews? – Yes, I'm quite brief, but a prolific reader!  Please visit me at Goodreads: http://www.goodreads.com/user/show/1941055-the-styling-librarian Also, please follow this blog through email updates – (do so to the right of this blog post), my Facebook page, comment, or meet up with me on Twitter. I appreciate all of the support, makes my day! Honored by all the wonderful followers.
FTC Required Disclosure: This site is an Amazon affiliate, and purchases made through Amazon links (including linked book covers) may result in my receiving a small commission (at no additional cost to you). Additionally this site is a Powells Books affiliate, and purchases made through the linked book covers may result in my receiving a small commission (at no additional cost to you).
© 2013 by Debbie Alvarez of The Styling Librarian. All rights reserved. You can also follow me @stylinlibrarian or at my Styling Librarian Page on Facebook.