Styling Librarian #IMWAYR It's Monday What Are You Reading?
Thanks to: TeachMentorTexts  and Unleashing Readers for the inspiration! Thanks to Jen and Kellee for the meme! Enjoying books week by week… I decided to spread out what I'm reading recently over a few weeks… so this isn't everything but I've enjoyed them all!
Swan – The Life and Dance of Anna Pavlova by Laurel Snyder, illustrated by Julie Morstad – Such a beautiful biography about Anna Pavlova. Loved every illustration. Loved every word. Wonderful to learn about the life of Anna Pavlova. Talk about someone who appreciates where she's come from and where she's going… how she broke the rules and developed a way to bring beauty and dance to people who did not have it in their world. Goodreads Summary: "The world is big. Anna is small. The snow is everywhere and all around. But one night . . .
One night, her mother takes her to the ballet, and everything is changed. Anna finds a beauty inside herself that she cannot contain.
So begins the journey of a girl who will one day grow up to be the most famous prima ballerina of all time, inspiring legions of dancers after her: the brave, the generous, the transcendently gifted Anna Pavlova."
Webster's Em@il by Hannah Whaley – Cute rhyming book with a good example of how an email sent out can be passed on to others… how your digital footprint follows you. Great lesson. Goodreads Summary: "One click, and Webster's email is on its way… but where will it stop? Webster's Email is a wonderfully witty rhyming story that gathers pace as the little spider begins to regret emailing a funny picture of his sister.
Count with Webster in this number book as his email reaches more and more people, while gently introducing young readers to the vocabulary and etiquette of email technology."
Mouse's First Night at Moonlight School by Simon Puttock, illustrated by Ali Pye – A cute little mouse hides on her first day of her new school and slowly comes to realize that she can have fun and make friends at school. Very cute. Adorable accompanying illustrations. Goodreads Summary: "It's Mouse's first night at Miss Moon's Moonlight School, but Mouse is shy—too shy to even say hello. Luckily, with help from Miss Moon and her new friends Bat, Cat, and Owl, a game of hide-and-seek makes Mouse feel right at home."
I will chomp you! by Jory John, illustrated by Bob Shea – This book is darn hilarious. You are yelled at all the way through because the character doesn't want you getting to the end of the book… for a special reason. This is going to be one darn fantastic read aloud book. LOVED it. Goodreads Summary: "A greedy, big-headed monster goes to great lengths to protect his precious cakes, which he's hidden in the back of this book! STOP RIGHT THERE. Don't move a muscle, buster. Stay out of this book or I WILL CHOMP YOU! So says the not-so-fierce inhabitant of I Will Chomp You, a tale of deception, greed…and cake!"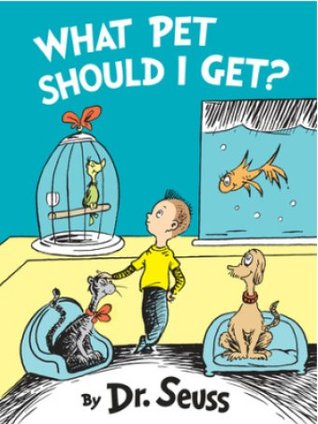 What Pet Should I Get? by Dr. Seuss – Really enjoyed reading another Suess book. Simple, fun, repeatative, and not the ending I expected. Good information at the back explaining the publication process for this special book. Goodreads Summary: "This never-ever-before-seen picture book by Dr. Seuss about making up one's mind is the literary equivalent of buried treasure! What happens when a brother and sister visit a pet store to pick a pet? Naturally, they can't choose just one! The tale captures a classic childhood moment — choosing a pet — and uses it to illuminate a life lesson: that it is hard to make up your mind, but sometimes you just have to do it!"
Beautiful Moon – A Child's Prayer by Tonya Bolden, illustrated by Eric Velasquez – Gorgeous hopeful book following the prayer of a child and realities around the world. Beautiful story. Goodreads Summary: "A young boy wakes. He has forgotten to say his prayers. Outside his window, a beautiful harvest moon illuminates the city around him and its many inhabitants. As the moon slowly makes its way across the heavens, the boy offers a simple prayer for the homeless, the hungry, and others."
Peace is an Offering by Annette Leox, pictures by Stephanie Graegin – Slow and steady revealing of many peaceful moments throughout a book. Finding peace in sadness and heartache in addition to happy times. Goodreads Summary: "A warm, comforting poem about finding peace in a community of neighbors… 
Peace is an offering.
A muffin or a peach.
A birthday invitation.
A trip to the beach.
Join this group of neighborhood children as they find love in everyday things—in sunlight shining through the leaves and cookies shared with friends—and learn that peace is all around, if you just look for it."
A Big Hug for Little Cub by Lorie Ann Grover, illustrated by Rosalinda Kightley – Fun rhyming easy story for preschool and Kindergarten. Goodreads Summary: "Cuddle up for a sweet bedtime story!
Little Cub is a cute and curious lion cub on a big adventure. Follow along as he travels with his mother safely by his side, exploring a world full of small discoveries and large wonders."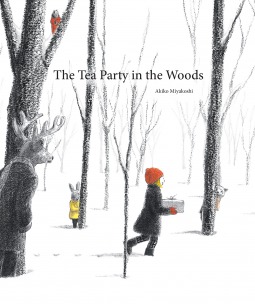 The Tea Party in the Woods by Akiko Miyakoshi – Beautiful picture book with the slant towards Little Red Riding Hood. "You're never alone in the woods." Who will you meet there? Love how the little girl who went into the woods to deliver pie stumbled upon an animal tea party. Quite cute. Goodreads Summary: "Kikko sets out after her father with a forgotten pie for Grandma. When she arrives at a strange house in the wintry woods, a peek in the window reveals that the footprints Kikko had been following did not belong to her father at all, but to a bear in a long coat and hat! Alice in Wonderland meets Little Red Riding Hood in this charmed tale."
Macdeath by Cindy Brown – Mystery, High School – I chuckled my way through this mystery filled with life experienced through the theater… Ivy Meadows is an actress who finally gets her big break getting a role in a production of Macbeth that has a twist, it is circus-themed. Ivy unfortunately is tied up with a death that happens on the opening night and she works hard to figure out what happened, uncovering many secrets and murder plots. Great book that reminded me of Janet Ivanovich's mysteries. Goodreads Summary: "Like every actor, Ivy Meadows knows that Macbeth is cursed. But she's finally scored her big break, cast as an acrobatic witch in a circus-themed production of Macbeth in Phoenix, Arizona. And though it may not be Broadway, nothing can dampen her enthusiasm—not her flying caldron, too-tight leotard, or carrot-wielding dictator of a director.
But when one of the cast dies on opening night, Ivy is sure the seeming accident is "murder most foul" and that she's the perfect person to solve the crime (after all, she does work part-time in her uncle's detective agency). Undeterred by a poisoned Big Gulp, the threat of being blackballed, and the suddenly too-real curse, Ivy pursues the truth at the risk of her hard-won career—and her life."
The Mystery of Meerkat Hill – A Precious Ramotswe Mystery for Young Readers, by Alexander McCall Smith, illustrations by Iain McIntosh – Mystery- 2nd grade and up – Loved the way this author can spin a tale from a family history story to new friend's story and also a mystery story… all tied together in a hilarious smart solution. Quite recommended. Goodreads Summary: "Well before Precious Ramotswe founded her Number One Ladies' Detective Agency, as an eight-year-old girl she was already solving mysteries. Here, in this delightful, new, enchanting tale for children, we see how the young Precious became the crafty and intuitive private investigator we all know and love!"
Want more book ideas and reviews? – Yes, I'm quite brief, but a prolific reader!  Please visit me at Goodreads: http://www.goodreads.com/user/show/1941055-the-styling-librarian Also, please follow this blog through email updates – (do so to the right of this blog post), my Facebook page, comment, or meet up with me on Twitter. I appreciate all of the support, makes my day! Honored by all the wonderful followers.
FTC Required Disclosure: This site is an Amazon affiliate, and purchases made through Amazon links (including linked book covers) may result in my receiving a small commission (at no additional cost to you). Additionally this site is a Powells Books affiliate, and purchases made through the linked book covers may result in my receiving a small commission (at no additional cost to you).
© 2013 by Debbie Alvarez of The Styling Librarian. All rights reserved. You can also follow me @stylinlibrarian or at my Styling Librarian Page on Facebook.