Styling Librarian Saturday Book Share: Red – A Crayon's Story
"Pull up a chair, it's a Saturday Book Share".
Here's to celebrating books that strike my fancy every week!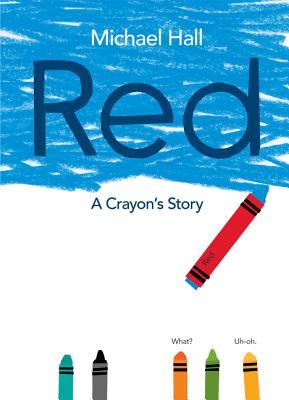 Red by Michael Hall – A Crayon's Story – I loved this book. I see it teaching so many elements. For adults, it is that perfect book to begin a discussion on impressions and assumptions we make as a society. For children, there's that opportunity for discussion on finding your own way, defining yourself and not letting others do so for you. How other's beliefs could influence your own and how you need to listen to your own voice.
Additionally, you could use this book as an introduction to the transgender discussion- when your identity, true inner self, isn't seen by all but you have to take the risk to recognize, accept, and communicate who you are to others.
Goodreads Summary: "A blue crayon mistakenly labeled as "red" suffers an identity crisis in the new picture book by the New York Times–bestselling creator of My Heart Is Like a Zoo and It's an Orange Aardvark! Funny, insightful, and colorful, Red: A Crayon's Story, by Michael Hall, is about being true to your inner self and following your own path despite obstacles that may come your way. Red will appeal to fans of Lois Ehlert, Eric Carle, and The Day the Crayons Quit, and makes a great gift for readers of any age!
Red has a bright red label, but he is, in fact, blue. His teacher tries to help him be red (let's draw strawberries!), his mother tries to help him be red by sending him out on a playdate with a yellow classmate (go draw a nice orange!), and the scissors try to help him be red by snipping his label so that he has room to breathe. But Red is miserable. He just can't be red, no matter how hard he tries! Finally, a brand-new friend offers a brand-new perspective, and Red discovers what readers have known all along. He's blue! This funny, heartwarming, colorful picture book about finding the courage to be true to your inner self can be read on multiple levels, and it offers something for everyone!"
About Pull up a chair, it's a Saturday Book Share: I've had many books I review that I just want to feature. Simple and easy, celebrate a new book encounter. So that's what Saturday Book Share is about for me, celebrating books! Perhaps some days I'll share the book with a short reading of a portion. Or perhaps other days I'll just share a glimpse of the book.
Want more book ideas and reviews? – Yes, I'm quite brief, but a prolific reader! Please visit me at Goodreads: http://www.goodreads.com/user/show/1941055-the-styling-librarian Also, please follow this blog through email updates – (do so to the right of this blog post), my Facebook page, comment, or meet up with me on Twitter. I appreciate all of the support, makes my day! Honored by all the wonderful followers.
FTC Required Disclosure: This site is an Amazon affiliate, and purchases made through Amazon links (including linked book covers) may result in my receiving a small commission (at no additional cost to you). Additionally this site is a Powells Books affiliate, and purchases made through the linked book covers may result in my receiving a small commission (at no additional cost to you).
© 2013 by Debbie Alvarez of The Styling Librarian. All rights reserved. You can also follow me @stylinlibrarian or at my Styling Librarian Page on Facebook.