Styling Librarian Book List: Poetry Books
I never tire of reading poetry books. Just sharing a few special ones for my book list feature this week.
Ashley Ryan's Puppets by Ashley Bryan, photographs edited by Rich Entel – Ashley Bryan is quite a creative, talented individual who uses found objects and recycled objects to make puppets. Each puppet is so creative and different from one another. The poems that accompany each puppet with an interesting back story for each puppet. I began thinking about how to create puppets and celebrating reusing objects as well. Goodreads Summary: "Beloved storyteller and creator Ashley Bryan reveals the vibrant spirit of found objects in this magnificent treasury of poetry and puppets.
Little Cranberry Island. It's a small island, with fewer than a hundred inhabitants, but it's got more than its share of treasures including the magnificent Ashley Bryan himself, a world-renowned storyteller and author of such classics as All Night, All Day and Beautiful Blackbird. Daily, for decades, Ashley has walked up and down the beach, stopping to pick up sea glass, weathered bones, a tangle of fishing net, an empty bottle, a doorknob. Treasure.
And then, with glue and thread and paint and a sprinkling of African folklore, Ashley breathes new life into these materials. Others might consider it beach junk, but Ashley sees worlds of possibilities.
Ashley Bryan's two-foot-tall hand puppets swell with personality and beauty, and in this majestic collection they make their literary debut, each with a poem that tells of their creation and further enlivens their spirit."
The Death of the Hat – A Brief History of Poetry in 50 Objects selected by Paul B. Janeczko, illustrated by Chris Raschka – Interesting to read each poem collected and illustrated… hadn't thought about poetry connected to objects before. Although I was surprised that one of my favorite poets who wrote numerous object poems was not part of the collection- Valarie Brown. Goodreads Summary: "A book-eating moth in the early Middle Ages. A peach blossom during the Renaissance. A haunted palace in the Victorian era. A lament for the hat in contemporary times. Poetry has been a living form of artistic expression for thousands of years, and throughout that time poets have found inspiration in everything from swords to stamp albums, candles to cobwebs, manhole covers to the moon."
Beastly Verse by Joohee Yoon – Fascinating to enjoy the selection of poems and really good illustrations as well. Goodreads Summary: "Poetry and children belong together, and for a long time, the music and playfulness of verse wove itself through children's days and lives. Beastly Verse aims to help return the wonder of poetry to children's lives through sixteen exquisitely illustrated poems, four of which have the surprise and pleasure of being foldouts. Consisting of playful as well as powerfully memorable poems, Beastly Verse transports the reader into a richly worded world of tigers, hummingbirds, owls, elephants, pelicans, yaks, snails, and even telephones! A playful romp through verse, rhyme, and gorgeous images, this book carries children into the poetic realm in a way that is not only fun and inviting, but inspiring as well! Representing poems from Anonymous, as well as some lesser well-known poets, this volume also includes poems from Lewis Carroll, William Blake, Robert Desnos, Hilaire Belloc, William Cowper, Christina Rossetti, and D.H. Lawrence. Both short and long, these poems can be read and reread, committed to memory and enjoyed all life long."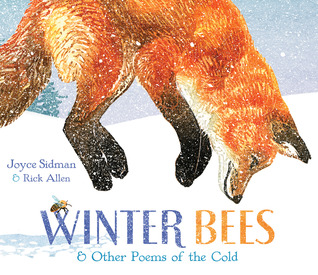 Winter Bees and Other Poems of the Cold by Joyce Sidman and Rick Allen – Simply beautiful. Loved all the different poetry styles.  Loved that I was brought back to my childhood in Alaska in the winter. Celebrated the gorgeous language paired with incredibly beautiful pictures. Goodreads Summary: "In this outstanding picture book collection of poems by Newbery Honor-winning poet, Joyce Sidman (Song of the Water Boatman, Dark Emperor and Other Poems of the Night), discover how animals stay alive in the wintertime and learn about their secret lives happening under the snow. Paired with stunning linoleum print illustrations by Rick Allen, that celebrate nature's beauty and power."
Want more book ideas and reviews? – Yes, I'm quite brief, but a prolific reader! Please visit me at Goodreads: http://www.goodreads.com/user/show/1941055-the-styling-librarian Also, please follow this blog through email updates – (do so to the right of this blog post), my Facebook page, comment, or meet up with me on Twitter. I appreciate all of the support, makes my day! Honored by all the wonderful followers.
FTC Required Disclosure: This site is an Amazon affiliate, and purchases made through Amazon links (including linked book covers) may result in my receiving a small commission (at no additional cost to you). Additionally this site is a Powells Books affiliate, and purchases made through the linked book covers may result in my receiving a small commission (at no additional cost to you).
© 2013 by Debbie Alvarez of The Styling Librarian. All rights reserved. You can also follow me @stylinlibrarian or at my Styling Librarian Page on Facebook.