Styling Librarian #IMWAYR It's Monday What Are You Reading?
Thanks to: TeachMentorTexts  and Unleashing Readers for the inspiration! Thanks to Jen and Kellee for the meme! Enjoying books week by week… I decided to spread out what I'm reading recently over a few weeks… so this isn't everything but I've enjoyed them all!
Special posts shared this past week: (There were quite a few!)

Unusual Chickens for the Exceptional Poultry Farmer by Kelly Jones, Illustrations by Katie Kath
The Boy Who Knew Everything by Victoria Forester – included a special author feature too!
Boats for Papa by Jessixa Bagley

Dust Fairy Tales – Absolutely Aggie by Michelle R. Eastman, illustrated by Kevin Richter

Styling Librarian Book List: Multicultural Books
Little Red Gliding Hood by Tara Lazar, illustrated by Troy Cummings – special author interview feature as well!
Celebrating other wonderful books I've enjoyed recently: 
Red by Jan De Kinder – Wonderful story that dealt with bullying and learning when and how to stand up for others. Not the perfect situation which is all the better. Goodreads Summary: "In this poignant story, a girl finds it funny when her classmate starts blushing on the school playground. Her friends laugh along with her, but one student takes the teasing too far. Torn between her sympathy for her classmate and her fear of the bully, the girl must make a difficult choice.This heartfelt book will inspire readers to find the courage to take a stance against bullying and show compassion towards others."
The Smallest Girl in the Smallest Grade by Justin Roberts, illustrated by Christian Robinson – A cute little girl who speaks up and says she's tired of how people are treating one another in school. Goodreads Summary: "Hardly anyone noticed young Sally McCabe.
She was the smallest girl in the smallest grade.
But Sally notices everything—from the twenty-seven keys on the janitor's ring to the bullying happening on the playground. One day, Sally has had enough and decides to make herself heard. And when she takes a chance and stands up to the bullies, she finds that one small girl can make a big difference.
Two by Kathryn Otoshi – Beautiful story about how two is seperated from his best friend and other numbers start taking sides and arguing about who is better an even or odd number. Beautiful touching story with good conclusion. I just love this author's creations. Goodreads Summary: "Two is best friends with One. Whenever they'd get the chance, they'd dance! She'd sing and snap. He'd tappity-tap. What a pair they made! At the end of each day, they'd always say, "ONE, TWO, I'll count on you, 'til the end, we'll be best friends." Until Three jumps in between them . . . Suddenly One only wants to play with Three. "ONE, THREE, odds we'll be!" they chant. Two feels left out. But what can she do? Another character-building counting book by award-winning author Kathryn Otoshi, Two is a powerful story of friendship, loss, letting go, and self-discovery."
The Nuts – Bedtime at the Nut House by Eric Litwin, illustrated by Scott Magoon -Preschool/Kindergarten- My son was so curious about which nuts were in the pictures, how the tune worked with the mom and little nuts singing, and we were both amused with how the story went about going to bed. Goodreads Summary: "It's bedtime at the Nut House, but little Wally and Hazel Nut aren't ready to go to sleep.
"We're Nuts! We're Nuts! We're Nuts!"
Why go to bed when you could be singing and howling at the moon?
But Mama Nut insists… "All little Nuts need to go up to bed!"
Who will win this bedtime tug-of-war?"
The Terrible Two by Jory John and Mac Barnett, illustrated by Kevin Cornell – Realistic Fiction/Humor, 4th grade and up – What a hilarious book packed with social skills, pranks, and self discovery. Loved reading about the main character coming to grips with how he isn't the best and actually needs to learn more… Also appreciate how the problems are solved in this book, hilarious. Goodreads Summary: "Miles Murphy is not happy to be moving to Yawnee Valley, a sleepy town that's famous for one thing and one thing only: cows. In his old school, everyone knew him as the town's best prankster, but Miles quickly discovers that Yawnee Valley already has a prankster, and a great one. If Miles is going to take the title from this mystery kid, he is going to have to raise his game.
It's prankster against prankster in an epic war of trickery, until the two finally decide to join forces and pull off the biggest prank ever seen: a prank so huge that it would make the members of the International Order of Disorder proud."
Mesmerized – How Ben Franklin Solved a Mystery that Baffled All of France by Mara Rockliff, illustrated by Iacopo Bruno – Terrific new non-fiction book with a fascinating true story about France and how Ben Franklin went there to ask for help but was actually needed for help there as well. Fantastic example of the scientific process is reinforced a few times in the book and would be terrific to use for an introduction of the topic. Goodreads Summary: "The day Ben Franklin first set foot in Paris, France, he found the city all abuzz. Everyone was talking about something new. Remarkable. Thrilling. Strange. Something called Science!
But soon the straightforward American inventor Benjamin Franklin is upstaged by a compelling and enigmatic figure: Dr. Mesmer. In elaborately staged shows, Mesmer, wearing a fancy coat of purple silk and carrying an iron wand, convinces the people of Paris that he controls a magic force that can make water taste like a hundred different things, cure illness, and control thoughts! But Ben Franklin is not convinced. Will his practical approach of observing, hypothesizing, and testing get to the bottom of the mysterious Mesmer's tricks? A rip-roaring, lavishly illustrated peek into a fascinating moment in history shows the development and practice of the scientific method—and reveals the amazing power of the human mind."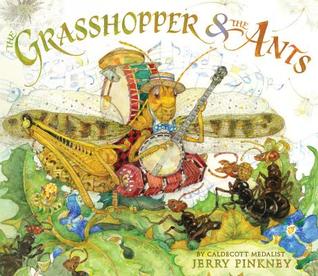 The Grasshopper and the Ants by Jerry Pinkney – Terrific adaptation of grasshopper and the ants with gorgeous illustrations. Always in awe over Jerry Pinkney's creations. Wonderful folktale adaptation packed with incredible illustrations and a strong message as well, different ending than the original. Goodreads Summary: "A  playful grasshopper wonders why the busy ants around him won't join in his merrymaking as the seasons pass by. But when winter arrives, he soon sees the value of his friends' hard work–just as the ants learn the value of sharing what they've worked for. Featuring a striking, surprise gatefold page, this third book in Jerry Pinkney's gorgeous trilogy of picture book fables subtly suggests a resonant moral: Don't put off for tomorrow what you can do today.
Creature Features – 25 Animals Explain Why The Look the Way They Do by Steve Jenkins & Robin Page – This book is absolutely brilliant with incredible voice and fascianting facts packed throughout, that and how it is combined with amazing illustrations and WOW this is my new favorite animal non-fiction book. No surprise about which team created this brilliant treasure! Highly recommended. Goodreads Summary: "Dear  axolotl: Why do you have feathers growing out of your head?Axolotl: They aren't feathers—they're gills! They let me breathe underwater.
Let's face it. Even as babies, we humans pay close attention to faces. Observing another person's features and expressions tells us whether they are happy, angry, excited, or sad. And when we look at an animal, it's hard not to imagine that its face is communicating human feelings. This isn't true, of course. Squinty eyes, an upturned mouth, or another odd expression is probably there because, in some way, it helps that animal survive.      Packed with many cool facts and visuals on where certain animals live and what they eat, this book captures twenty-five humorous—and very true—explanations of why animals look the way they do in order to exist in this world."
Want more book ideas and reviews? – Yes, I'm quite brief, but a prolific reader!  Please visit me at Goodreads: http://www.goodreads.com/user/show/1941055-the-styling-librarian Also, please follow this blog through email updates – (do so to the right of this blog post), my Facebook page, comment, or meet up with me on Twitter. I appreciate all of the support, makes my day! Honored by all the wonderful followers.
FTC Required Disclosure: This site is an Amazon affiliate, and purchases made through Amazon links (including linked book covers) may result in my receiving a small commission (at no additional cost to you). Additionally this site is a Powells Books affiliate, and purchases made through the linked book covers may result in my receiving a small commission (at no additional cost to you).
© 2013 by Debbie Alvarez of The Styling Librarian. All rights reserved. You can also follow me @stylinlibrarian or at my Styling Librarian Page on Facebook.