Styling Librarian Saturday Book Share Stella by Starlight
"Pull up a chair, it's a Saturday Book Share".
Here's to celebrating books that strike my fancy every week!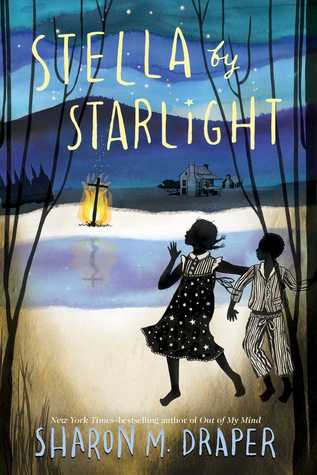 Stella by Starlight by Sharon M. Draper – Historical Fiction – 5th grade and up – Beginning a book with a brother and sister sneaking around outside at night was interesting. Having them notice the Klue Klux Klan across the lake lighting a cross was a powerful eye opening start. I loved the main character, Stella, and her thoughts on life and school. Really appreciated how she struggled with writing at school but was also a writer at the same time. Reading bits on how her writing skills developed over the time in the book was so inspiring. This book was tough to read through. I loved the music connections. The powerful community support was very inspiring and so important with the situations throughout the book. How do you take a risk that could impact your whole family? Would you ignore death threats in order to do what you know is right? Stella's dad wishes to be able to vote in the US election and takes the risk to go and register to vote. There are some upsetting things that occur after those people register. I highly recommend this book, especially for those talking about segregation and rights of US citizens.
Goodreads Summary: "When the Ku Klux Klan's unwelcome reappearance rattles Stella's segregated southern town, bravery battles prejudice in this Depression-era tour de force from Sharon Draper, the New York Times bestselling author of Out of My Mind.
Stella lives in the segregated South; in Bumblebee, North Carolina, to be exact about it. Some stores she can go into. Some stores she can't. Some folks are right pleasant. Others are a lot less so. To Stella, it sort of evens out, and heck, the Klan hasn't bothered them for years. But one late night, later than she should ever be up, much less wandering around outside, Stella and her little brother see something they're never supposed to see, something that is the first flicker of change to come, unwelcome change by any stretch of the imagination. As Stella's community – her world – is upended, she decides to fight fire with fire. And she learns that ashes don't necessarily signify an end."
About Pull up a chair, it's a Saturday Book Share: I've had many books I review that I just want to feature. Simple and easy, celebrate a new book encounter. So that's what Saturday Book Share is about for me, celebrating books! Perhaps some days I'll share the book with a short reading of a portion. Or perhaps other days I'll just share a glimpse of the book.
Want more book ideas and reviews? – Yes, I'm quite brief, but a prolific reader! Please visit me at Goodreads: http://www.goodreads.com/user/show/1941055-the-styling-librarian Also, please follow this blog through email updates – (do so to the right of this blog post), my Facebook page, comment, or meet up with me on Twitter. I appreciate all of the support, makes my day! Honored by all the wonderful followers.
FTC Required Disclosure: This site is an Amazon affiliate, and purchases made through Amazon links (including linked book covers) may result in my receiving a small commission (at no additional cost to you). Additionally this site is a Powells Books affiliate, and purchases made through the linked book covers may result in my receiving a small commission (at no additional cost to you).
© 2013 by Debbie Alvarez of The Styling Librarian. All rights reserved. You can also follow me @stylinlibrarian or at my Styling Librarian Page on Facebook.