Styling Librarian #IMWAYR It's Monday What Are You Reading?
Thanks to: TeachMentorTexts  and Unleashing Readers for the inspiration! Thanks to Jen and Kellee for the meme! Enjoying books week by week… I decided to spread out what I'm reading recently over a few weeks… so this isn't everything but I've enjoyed them all!
Special Books Shared this past week:
Birthday Triplets – Granny Rosie's Amazing Magical Day
by Kelly Tooman, illustrated by Lynn Tooman-Cser
Marilyn's Monster by Michelle Knudsen, illustrated by Matt Phelan – Touching book with a littler girl who sees all these other children who get their monster- because their monster found them- but she's tired of waiting and goes to find her monster on her own. Very cute. Good partner book with Beekle by Dan Santat. Goodreads Summary: "Some of the kids in Marilyn's class have monsters. Marilyn doesn't have hers yet, but she can't just go out and look for one. Your monster has to find you. That's just the way it works. Marilyn tries to be patient and the kind of girl no monster can resist, but her monster doesn't come. Could she go out and search for him herself? Even if that's not the way it works?"
Woodpecker Wham! by April Pulley Sayre, illustrations by Steve Jenkins – Non-fiction – I know many people might become annoyed with the sounds of a Bonk-Bonk-Bonk woodpecker… but April Pulley Sayre really shows the importance of woodpeckers to the ecosystem… Goodreads Summary: "Swoop and land.
Hitch and hop.
Shred a tree stump.
Chop, chip, chop!
Enter woodpecker world and get a bird's eye view of everyday life: hiding from hawks, feeding hungry chicks, and drilling holes to build homes. Woodpeckers are nature's home builders, creating holes that many other animals live in when the woopeckers move on."
Miss Brooks' Story Nook (where tales are told and ogres are welcome!) by Barbara Bottner, illustrations by Michael Emberley – Hooray for storytelling. Hooray for resolving issues with a bully. Hooray for another Miss Brooks story. Goodreads Summary: "Missy loves her librarian, Miss Brooks. And she loves to go to Miss Brooks' before-school story time. But to get to Story Nook, she has to pass Billy Toomey's house—and she does not love Billy Toomey.
Billy always tries to steal her hat and jeers, "I'm going to get you!" It's vexing. Then one rainy (and hatless) day, Miss Brooks changes story hour to storytelling hour. She teaches the kids about characters and plot and action and satisfying conclusions and encourages them to make up their own tales.
And that's when Missy has a brainstorm. She sees a way to use her made-up story to deal with her real-life bully."
First Grade Dropout by Audrey Vernick, illustrated by Matthew Cordell – This is one of those perfect read alouds for returning to school. Students will identify with the problem that makes a boy who never want to return to school… hilarious. Goodreads Summary: "The first grade narrator of this book has been lots of things: Hungry. Four years old. Crazy bored. Soaking wet. Pretty regular kid . . . until he makes a mistake so big that he's sure he will never be able to go back to Lakeview Elementary School. All readers, even those not in first grade, will find the narrator's feelings familiar, and discover that even though embarrassing things happen, they're usually not as bad as they seem. And sometimes they're even funny!"
I don't want to be a frog by Dev Petty, illustrated by Mike Boldt – The grass is always greener on the other side of the fence but maybe it isn't… very simple text but hilarious. The book makes me laugh even just looking at the cover! Goodreads Summary: "Frog wants to be anything but a slimy, wet frog. A cat, perhaps. Or a rabbit. An owl? But when a hungry wolf arrives—a wolf who HATES eating frogs—our hero decides that maybe being himself isn't so bad after all. In this very silly story with a sly message, told in hilarious dialogue between a feisty young frog and his heard-it-all-before father, young readers will identify with little Frog's desire to be something different, while laughing along at his stubborn yet endearing schemes to prove himself right."


The Amazing Adventures of Supercat! Making the world safe for blankies! by Kate McMullan and Pascal Lemaitre – Graphic Novel – Preschool/Kindergarten – This is a cute little story with a little confident kitten who was able to see a problem and find a solution… love his dramatic personal issue, quite cute. Goodreads Summary: "That's right: Supercat is back! And he's supersize! The original superhero for babies and toddlers returns in an all-new picture book format that combines Supercat and Supercat to the Rescue and, through its oversize pages, lets babies and toddlers really pore over the bright, bold illustrations.
Traveling from home in the Milky Way, Supercat is set to rescue babies everywhere. Blanket lost? Baby refuses to put on pajamas? No problem! Supercat knows just what to do."
Uni the Unicorn by Amy Krouse Rosenthal, illustrated by Brigette Barrager – I was so excited to read this beautiful book… appreciated the illustrations and the strong message of hope and believing in your dreams was beautiful. Goodreads Summary: "In this clever twist on the age-old belief that there's no such thing as unicorns, Uni the unicorn is told there's no such thing as little girls! No matter what the grown-up unicorns say, Uni believes that little girls are real. Somewhere there must be a smart, strong, wonderful, magical little girl waiting to be best friends. In fact, far away (but not too far), a real little girl believes there is a unicorn waiting for her. This refreshing and sweet story of friendship reminds believers and nonbelievers alike that sometimes wishes really can come true."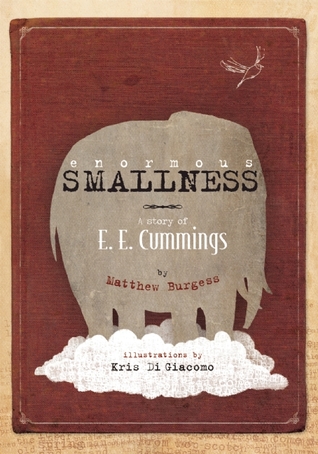 Enormous Smallness – A Story of E.E. Cummings by Matthew Burgess, illustrations by Kris Di Giacomo – Beautiful biography celebrating poetry and how Edward Estlin Cummings experimented with words… Goodreads Summary: "Enormous Smallness is a nonfiction picture book about the poet E.E. cummings. Here E.E.'s life is presented in a way that will make children curious about him and will lead them to play with words and ask plenty of questions as well. Lively and informative, the book also presents some of Cummings's most wonderful poems, integrating them seamlessly into the story to give the reader the music of his voice and a spirited, sensitive introduction to his poetry.
In keeping with the epigraph of the book — "It takes courage to grow up and become who you really are," Matthew Burgess's narrative emphasizes the bravery it takes to follow one's own vision and the encouragement E.E. received to do just that."
Want more book ideas and reviews? – Yes, I'm quite brief, but a prolific reader!  Please visit me at Goodreads: http://www.goodreads.com/user/show/1941055-the-styling-librarian Also, please follow this blog through email updates – (do so to the right of this blog post), my Facebook page, comment, or meet up with me on Twitter. I appreciate all of the support, makes my day! Honored by all the wonderful followers.
FTC Required Disclosure: This site is an Amazon affiliate, and purchases made through Amazon links (including linked book covers) may result in my receiving a small commission (at no additional cost to you). Additionally this site is a Powells Books affiliate, and purchases made through the linked book covers may result in my receiving a small commission (at no additional cost to you).
© 2013 by Debbie Alvarez of The Styling Librarian. All rights reserved. You can also follow me @stylinlibrarian or at my Styling Librarian Page on Facebook.