Styling Librarian #IMWAYR It's Monday What Are You Reading?
Thanks to: TeachMentorTexts  and Unleashing Readers for the inspiration! Thanks to Jen and Kellee for the meme! Enjoying books week by week… I decided to spread out what I'm reading recently over a few weeks… so this isn't everything but I've enjoyed them all!
Special Saturday book share:
Lowriders in Space by Cathy Camper, illustrated by Raul the Third
Wonderful books I've enjoyed recently:
Beautiful Yetta's Hanukkah Kitten by Daniel Pinkwater, illustrated by Jill Pinkwater – I loved and was distracted by the multiple languages on every page. It was good to see them all though. Hooray to celebrating English, Hebrew, and Yiddish as well. Cute story that smoothly introduces Hanukkah to a community of birtds. Also, loved how the kitten was rescued. Not certain how I feel about the animals talking with a human though. It was cute, just threw me. Goodreads Summary: "Yetta, beautiful Yetta, manages to escape from the butcher's shop. But now she is lost in Brooklyn–a strange place filled with rude rats and dangerous buses!
!??????
geVAHLT!
Oh, dear!
But then, brave Yetta saves a small green bird from a sneaky cat, and his friends, the wild parrots of Brooklyn, are very grateful.
¡Muchas gracias, gallina hermosa!
¡mooCHAS grahSEEas, gahYEEna ehrMOsa!
Thank you very much, beautiful chicken!
Has beautiful Yetta found her new home?"
Help! We need a title! By Herve Tullet – I've read this before but couldn't resist another read. This is such a hilarious book packed with different story elements and also funny characters. I haven't had a chance to read this book aloud to a class yet, will look forward to doing so. Goodreads Summary: "Someone has been opening this book… I think they're looking for a story! The characters are still only sketches, there's a setting and a few ideas about colour, but who can they turn to for the story? It's not long until they go after the author and disturb him in the middle of his work…"
Penguin and Pumpkin by Salina Yoon – I know I've read this before, but I couldn't resist another visit with this cute little Penguin. Loved the development of Penguin's story and how fall looks to others. Very cute, beautiful illustrations as well. Goodreads Summary: "When Penguin and Bootsy plan a field trip in search of Fall, Penguin's little brother, Pumpkin, wants to come. Pumpkin is heartbroken to find out he's too little to go, and when Penguin tries to say good-bye, his brother is nowhere to be found! At the farm, all the pumpkins Penguin sees remind him of his own special Pumpkin.
So Penguin and Bootsy bring a special surprise home to share a little touch of Autumn with Pumpkin."
Roger is Reading a Book by Koen Van Biesen – Interesting perspective on what happens when you read a book and another person disturbs you. I sat back and thought "balance" during this book because I loved how much the girl explored various healthy ways of entertaining herself and chuckled at the hilarity of Roger getting frustrated from being interrupted over and over. Loved the solution but still hope that balance is found in the future as well. Goodreads Summary: "All Roger wants is some peace and quiet so he can read his book. Unfortunately, the girl in the apartment next door has hobbies of her own — very loud hobbies! But when Roger gives the girl a book of her own, she discovers that reading can be just as much fun as playing basketball or banging a drum. This playful and engaging read-aloud from an award-winning Belgian author shows readers that shared activities can lead to rewarding friendships."
Dog Days of School by Kelly DiPucchio and Brian Biggs– Hilarious book- be careful what you wish for! A young boy wishes he could be a dog, and gets his wish. His poor dog goes to school in his place while the boy gets to take naps and live like a dog, for more than one day! Enjoyed reading this book immensely. Know kids would get a kick out of it. Goodreads Summary: "Charlie thinks his dog, Norman, has got it good: he gets to spend his days lounging on the couch or playing fetch, and he never has to do any homework. But when Charlie makes a wish to be a dog instead of a boy, things get a little topsy-turvy!"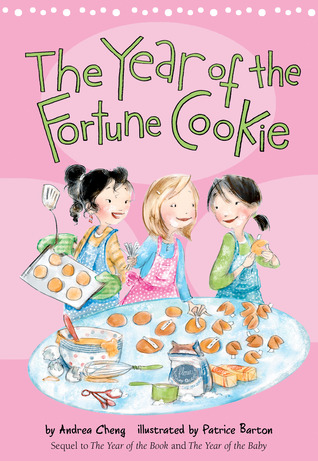 The Year of the Fortune Cookie by Andrea Cheng, illustrated by Patrice Barton – Realistic Fiction, 3rd grade and up – I think these stories are just getting better and better. I loved reading about how Anna gets special permission to go to China with her former teacher to help with a baby adoption. I also appreciated how this had a reflection on self identity and writing skills. This is just a beautiful series of books. Who would think of making and selling fortune cookies for a school fundraiser? Anna and her new friends. Just a special novel. Know readers will enjoy, especially those who have been impacted by adoption in some way. Goodreads Summary: "Eleven-year-old Anna heads off to sixth grade, leaving the comfort and familiarity of elementary school behind and entering the larger, more complex world of middle school. Surrounded by classmates who have their roots all in America, Anna begins to feel out of place and wonders where she really belongs.  When Anna takes a trip to China, she not only explores a new country and culture, but finds answers to her questions about whether she is more Chinese or more American."
Henry's Map by David Elliot – read this last year, love how the pig has to organize and map all his farm friends, very cute. Goodreads Summary: "Henry is a very particular sort of pig. "A place for everything and everything in its place," he always says. But when he looks out his window he is troubled. The farm is a mess!  Henry is worried that nobody will be able to find anything in this mess. So he draws a map showing all the animals exactly where they belong.  And Henry embarks on a journey through the farm, his friends tagging along as he creates his map: sheep in the woolshed, chickens in the coop, the horse in the stable. After the map is complete, Henry uses it to bring himself back home, where he is relieved to know that he is exactly where he belongs. A place for everything and everything in its place, indeed."
Tea Rex by Molly Idle – so happy I finally read this creative story. Love the idea of a t-rex coming to tea at someone's home. Very cute and a little unpredictable which I appreciated. Goodreads Summary: "Some tea parties are for grown-ups.
Some are for girls.
But this tea party is for a very special guest.
And it is important to follow some rules . . .
like providing comfortable chairs,
and good conversation,
and yummy food.
But sometimes that is not enough for special guests,
especially when their manners are more Cretaceous than gracious . . ."
Want more book ideas and reviews? – Yes, I'm quite brief, but a prolific reader!  Please visit me at Goodreads: http://www.goodreads.com/user/show/1941055-the-styling-librarian Also, please follow this blog through email updates – (do so to the right of this blog post), my Facebook page, comment, or meet up with me on Twitter. I appreciate all of the support, makes my day! Honored by all the wonderful followers.
FTC Required Disclosure: This site is an Amazon affiliate, and purchases made through Amazon links (including linked book covers) may result in my receiving a small commission (at no additional cost to you). Additionally this site is a Powells Books affiliate, and purchases made through the linked book covers may result in my receiving a small commission (at no additional cost to you).
© 2013 by Debbie Alvarez of The Styling Librarian. All rights reserved. You can also follow me @stylinlibrarian or at my Styling Librarian Page on Facebook.