Styling Librarian #IMWAYR It's Monday What Are You Reading?
Thanks to: TeachMentorTexts  and Unleashing Readers for the inspiration! Thanks to Jen and Kellee for the meme! Enjoying books week by week… I decided to spread out what I'm reading recently over a few weeks… so this isn't everything but I've enjoyed them all!

Shared this on Saturday:
Goodbye Stranger by Rebecca Stead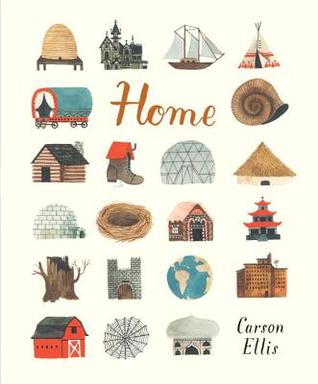 Home by Carson Ellis – I've been anticipating the opportunity to read this book for a long while. No disappointment, but instead WOW's as the pages turned and the reflection, beautiful introduction of different homes, and fantasy elements also slipped into the story. Really interesting. Think this book would lead to many interesting discussions with students about homes, differences, and more. Goodreads Summary: "Home might be a house in the country, an apartment in the city, or even a shoe. Home may be on the road or the sea, in the realm of myth, or in the artist's own studio. A meditation on the concept of home and a visual treat that invites many return visits, this loving look at the places where people live marks the picture-book debut of Carson Ellis, acclaimed illustrator of the Wildwood series and artist for the indie band the Decemberists."
I Kill the Mockingbird by Paul Acampora – Realistic Fiction – Mature 5th grade and up – To recover from a teacher's death is a slow process. I still am mourning a professor who passed away all too young. I appreciated how this student refused to forget but instead insisted on celebrating life through her deceased teacher's inspiration. The way this book dealt with cancer was so beautiful and respectful, I really appreciated every minute of that storyline even though it is always tough for me to read about. The main portion of the book though was absolute brilliance- supply/demand lesson, conspiracy theory lesson, and civil disobedience all rolled into one. Loved the characters and appreciated getting to know them. Highly recommend this beautiful book.
My favorite line in the whole book that I reread numerous times was: "We are all broken, but sometimes the jagged pieces fit together nicely."
Goodreads Summary: "When Lucy, Elena, and Michael receive their summer reading list, they are excited to see To Kill A Mockingbird included. But not everyone in their class shares the same enthusiasm. So they hatch a plot to get the entire town talking about the well-known Harper Lee classic. They plan controversial ways to get people to read the book, including re-shelving copies of the book in bookstores so that people think they are missing and starting a website committed to "destroying the mockingbird." Their efforts are successful when all of the hullabaloo starts to direct more people to the book. But soon, their exploits start to spin out of control and they unwittingly start a mini-revolution in the name of books."
You're Never Weird on the Internet (Almost) a memoir by Felicia Day – Oh, what a wonderous journey through a fascinating, inspiring woman's mind/life. I loved reading about how Felicia Day experienced life growing up as it was so drastically different from mine in some ways. Since my husband and I are both big fans of Dr. Horrible's Sing Along Blog and also The Guild, I enjoyed reading Felicia's experiences in the creation and outcome of both. I also appreciate her reflection on mental health and her struggles with it… I think this book could help many people.
Favorite Quotes:
"…my personal life philosophy is always to assume the worse, then you're not disappointed. Bam! Highlight that previous sentence, baby! It'll be one of the many quotable life-nuggets you'll be able to pull from this thing."
"You have a finite number of toothpaste tubes you will ever consume while on this planet. Make the most of that clean tooth time. For yourself."
"There are enough negative forces in this world – don't let the pessimistic voice that lives inside you get away with that stuff, too. That voice is NOT a good roommate."
"What's wrong with finding joy in making something, regardless of the inspiration?"
Goodreads Summary: "From online entertainment mogul, actress, and "queen of the geeks" Felicia Day, a funny, quirky, and inspiring memoir about her unusual upbringing, her rise to Internet-stardom, and embracing her individuality to find success in Hollywood.
The Internet isn't all cat videos. There's also Felicia Day—violinist, filmmaker, Internet entrepreneur, compulsive gamer, hoagie specialist, and former lonely homeschooled girl who overcame her isolated childhood to become the ruler of a new world…or at least semi-influential in the world of Internet Geeks and Goodreads book clubs.
After growing up in the south where she was "homeschooled for hippie reasons", Felicia moved to Hollywood to pursue her dream of becoming an actress and was immediately typecast as a crazy cat-lady secretary. But Felicia's misadventures in Hollywood led her to produce her own web series, own her own production company, and become an Internet star.
Felicia's short-ish life and her rags-to-riches rise to Internet fame launched her career as one of the most influential creators in new media. Now, Felicia's strange world is filled with thoughts on creativity, video games, and a dash of mild feminist activism—just like her memoir.
Hilarious and inspirational, You're Never Weird on the Internet (Almost) is proof that everyone should embrace what makes them different and be brave enough to share it with the world, because anything is possible now—even for a digital misfit."
The Boy and the Book [a wordless story] by David Michael Slater, illustrated by Bob Kolar – Ok. I know many people did not appreciate how this little boy damaged a book more and more through the story… this reminds me of those who don't enjoy the beautiful book by Shel Silverstein The Giving Treebecause the boy uses a tree over and over without much in the way of appreciation. Very interesting to read it myself. I appreciated this book. I thought it was cool, so did my son, we chuckled our way through. Special. Interesting. Don't just reject because of abuse, instead use as an example of what NOT to do at the beginning of the school year when talking about how to treat books, etc. Goodreads Summary: "In this wordless story, a library book tries desperately to evade the destructive clutches of a little boy. What drives the Boy, however, is enthusiasm and love—not malice—and the Book eventually responds in kind, accepting his rough but worthy fate."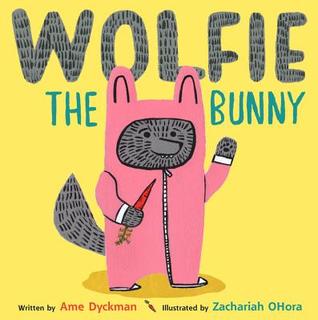 Wolfie the Bunny by Ame Dyckman, illustrated by Zachariah OHora – Be careful what you assume. How do you judge others around you? How do you get along with your siblings? This is such a fantastic picture book, loved every minute of this read… HOORAY for the chance to read another book by Ame Dyckman, I just love how her brilliant mind works. Goodreads Summary: "The Bunny family has adopted a wolf son, and daughter Dot is the only one who realizes Wolfie can–and might–eat them all up! Dot tries to get through to her parents, but they are too smitten to listen. A new brother takes getting used to, and when (in a twist of fate) it's Wolfie who's threatened, can Dot save the day?"
Here Comes the Easter Cat by Deborah Underwood, pictures by Claudia Rueda – HAHAHA, I'm so happy this is a series. I know how popular this will be for so many readers. Like I mentioned before, this book reminds me of Chester by Melanie Watt. But it is so different as well. Goodreads Summary: "When Cat tries to replace the Easter Bunny, he soon learns that the job is much harder than he expected-and does not allow time for naps.
A cat with flair to spare, an Easter Bunny with a job to do, and a hilarious break from sticky-sweet Easter fare for fans of Patrick McDonnell and the Pigeon books by Mo Willems.
Why should the Easter Bunny get all the love? That's what Cat would like to know. So he decides to take over: He dons his sparkly suit, jumps on his Harley, and roars off into the night. But it turns out delivering Easter eggs is hard work. And it doesn't leave much time for naps (of which Cat has taken five–no, seven). So when a pooped-out Easter Bunny shows up, and with a treat for Cat, what will Cat do? His surprise solution will be stylish, smart, and even–yes–kind."
Dexter Bexley and the Big Blue Beastie on the Road by Joel Stewart – very funny book about being obnoxious but still finding your way. Quite a fun twisting, turning story. Enjoyed the fairy tale elements as well. Goodreads Summary: "Dexter Bexley and the Big Blue Beastie can't seem to be quiet-they're not sleepy!-so they hit the road as traveling entertainers. This fractured fairy tale will send young readers laughing all the way to dreamland. A companion to Dexter Bexley and the Big blue Beastier."
Up in the Garden and Down in the Dirt by Kate Messner with art by Christopher Silas Neal – Loved this gorgeous peaceful book. The world of above and below the dirt is just teaming with life and activity and this book is one that should be read as you're laying down in a garden or when you want to entice a child to go play outside or you want to plan out a garden and want to talk about all the life that accompanies having a garden… beautiful book. Goodreads Summary: "In this exuberant and lyrical follow-up to the award-winning Over and Under the Snow, discover the wonders that lie hidden between stalks, under the shade of leaves . . . and down in the dirt. Explore the hidden world and many lives of a garden through the course of a year! Up in the garden, the world is full of green—leaves and sprouts, growing vegetables, ripening fruit. But down in the dirt exists a busy world—earthworms dig, snakes hunt, skunks burrow—populated by all the animals that make a garden their home."
Want more book ideas and reviews? – Yes, I'm quite brief, but a prolific reader!  Please visit me at Goodreads: http://www.goodreads.com/user/show/1941055-the-styling-librarian Also, please follow this blog through email updates – (do so to the right of this blog post), my Facebook page, comment, or meet up with me on Twitter. I appreciate all of the support, makes my day! Honored by all the wonderful followers.
FTC Required Disclosure: This site is an Amazon affiliate, and purchases made through Amazon links (including linked book covers) may result in my receiving a small commission (at no additional cost to you). Additionally this site is a Powells Books affiliate, and purchases made through the linked book covers may result in my receiving a small commission (at no additional cost to you).
© 2013 by Debbie Alvarez of The Styling Librarian. All rights reserved. You can also follow me @stylinlibrarian or at my Styling Librarian Page on Facebook.