Styling Librarian #IMWAYR It's Monday What Are You Reading?
Thanks to: TeachMentorTexts  and Unleashing Readers for the inspiration! Thanks to Jen and Kellee for the meme! Enjoying books week by week… I decided to spread out what I'm reading recently over a few weeks… so this isn't everything but I've enjoyed them all!
Saturday Book Share:
Special books I enjoyed: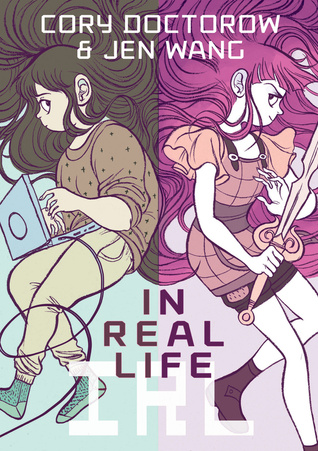 In Real Life by Cory Doctorow & Jen Wang – Graphic Novel – YA – Really enjoyed reading this graphic novel, fascinating to read a book where a student gains more of a world perspective on life because of interactions she had playing an online role playing game. Plus I appreciated how her confidence and interest in things around her increased as she grew personally because of life experiences and experiences playing the game. Beautiful story, know many readers will really enjoy this book. Goodreads Summary: "Anda loves Coarsegold Online, the massively-multiplayer role-playing game where she spends most of her free time. It's a place where she can be a leader, a fighter, a hero. It's a place where she can meet people from all over the world, and make friends.
But things become a lot more complicated when Anda befriends a gold farmer–a poor Chinese kid whose avatar in the game illegally collects valuable objects and then sells them to players from developed countries with money to burn. This behavior is strictly against the rules in Coarsegold, but Anda soon comes to realize that questions of right and wrong are a lot less straightforward when a real person's real livelihood is at stake."
Extraordinary Warren A Super Chicken by Sarah Dillard – hilarious little graphic novel, enjoyed the way it was coming of age and also the hidden meaning jokes throughout. Also appreciate the ending. Goodreads Summary: "Boys and girls will flock to Warren, a quirky chicken who wants to find his inner greatness.
Warren, a bespectacled chicken, is bored with the everyday chicken routine: peck, cluck, feed; peck, cluck, feed. Same old, same old. There must be more to life, no? And there must be more to Warren. He leaves the farm to discover what makes him special—and with the help of an unhatched egg and a snarky, hungry rat, he just might get some answers."
The Journey by Brandon Bays – Adult – inspiring book, interesting practice, still investigating this further. Goodreads Summary: "When Brandon Bays was diagnosed with a basketball-sized tumor in her uterus, she was catapulted into an extraordinary, soul searching journey. Determined to heal naturally, she took no drugs, underwent no surgery; but six and-a-half weeks later she was declared tumor-free. Going beyond current mind-body wisdom, she discovered a powerful means to get direct access to the soul–the unconditional love, the boundless peace, the living presence within us–and pioneered a revolutionary paradigm for healing."
Talking Walls – The Stories Continue by Margy Burns Knight, illustrated by Anne Sibley O'Brien – really fascinating non-fiction book about how people have placed things on walls to communicate and share opinions, hopes, etc. Fascinating to travel around the world with this book. Know that it would be really interesting for world awareness lessons and discussion… plus art extensions. Throughout the book I was tempted to go online and look at the real walls that were so beautifully illustrated in the book. Goodreads Summary: "Explore the world's diversity with your students, using the stories of walls to introduce different cultures and different issues. Here's a rich resource for teachers: hundreds of activities in language arts, social studies, science, mathematics, arts and crafts, and food experiences. Along with details on the activities, the Guide provides background information on many subjects, lists Internet resources, and offers hundreds of annotated bibliography listings. It can be used to design units that span a day, week, month, or entire school year. As a resource, it will help link your classroom to your community, the larger world, the Internet, and a wealth of children's literature and reference materials to help you explore your subjects in depth."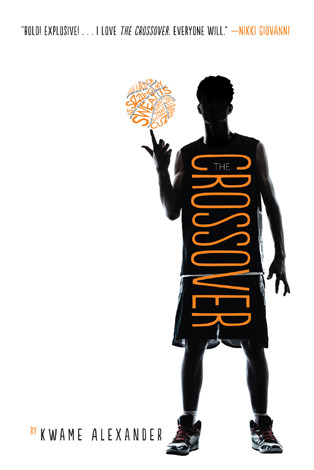 Crossover by Kwame Alexander – Realistic Fiction, Novel in Verse – Mature 5th grade and up  – This book was astounding, overwhelming, powerful, beautiful, treasured… I look forward to rereading it soon. Although it is a mature book, I think it is appropriate for 5th graders who can handle some very dramatic, heartbreaking situations. I love that this book won the Newbery Award for 2014. I adore novels in verse. I love that this book will have even more recognition because of the award. Goodreads Summary: ""With a bolt of lightning on my kicks . . .The court is SIZZLING. My sweat is DRIZZLING. Stop all that quivering. Cuz tonight I'm delivering," announces dread-locked, 12-year old Josh Bell. He and his twin brother Jordan are awesome on the court. But Josh has more than basketball in his blood, he's got mad beats, too, that tell his family's story in verse, in this fast and furious middle grade novel of family and brotherhood.
Josh and Jordan must come to grips with growing up on and off the court to realize breaking the rules comes at a terrible price, as their story's heart-stopping climax proves a game-changer for the entire family."
This One Summer by Jillian Tamaki, Mariko Tamaki – Graphic Novel- Young Adult (mature High School) – This book broke my heart. Blew my mind. The author reached into the mind of teens and pulled out honest, powerful dialogue, thoughtful kids, shallow children…. one of those coming of age stories where a young girl is figuring out where she belongs and what has happened to her family. I love the idea of having somewhere to go every summer for a month. Beautiful, powerful family story. Quite recommended. Goodreads Summary: "Every summer, Rose goes with her mom and dad to a lake house in Awago Beach. It's their getaway, their refuge. Rosie's friend Windy is always there, too, like the little sister she never had. But this summer is different. Rose's mom and dad won't stop fighting, and when Rose and Windy seek a distraction from the drama, they find themselves with a whole new set of problems. It's a summer of secrets and sorrow and growing up, and it's a good thing Rose and Windy have each other.
In This One Summer two stellar creators redefine the teen graphic novel. Cousins Mariko and Jillian Tamaki, the team behind Skim, have collaborated on this gorgeous, heartbreaking, and ultimately hopeful story about a girl on the cusp of her teen age—a story of renewal and revelation."
Want more book ideas and reviews? – Yes, I'm quite brief, but a prolific reader!  Please visit me at Goodreads: http://www.goodreads.com/user/show/1941055-the-styling-librarian Also, please follow this blog through email updates – (do so to the right of this blog post), my Facebook page, comment, or meet up with me on Twitter. I appreciate all of the support, makes my day! Honored by all the wonderful followers.
FTC Required Disclosure: This site is an Amazon affiliate, and purchases made through Amazon links (including linked book covers) may result in my receiving a small commission (at no additional cost to you). Additionally this site is a Powells Books affiliate, and purchases made through the linked book covers may result in my receiving a small commission (at no additional cost to you).
© 2013 by Debbie Alvarez of The Styling Librarian. All rights reserved. You can also follow me @stylinlibrarian or at my Styling Librarian Page on Facebook.