Styling Librarian #IMWAYR It's Monday What Are You Reading?
Thanks to: TeachMentorTexts  and Unleashing Readers for the inspiration! Thanks to Jen and Kellee for the meme! Enjoying books week by week… I decided to spread out what I'm reading recently over a few weeks… so this isn't everything but I've enjoyed them all!
Special book shares:
All We Have is Now by Lisa Schroeder
New shares:
Neil Patrick Harris – Choose your own autobiography – Audiobook- read by the author – I didn't feel much of a loss at not being able to flip around the pages of the book. I chuckled through the whole book, brought to life and entertaining, thoroughly a great book. Goodreads Summary: "Tired of memoirs that only tell you what really happened?
Sick of deeply personal accounts written in the first person? Seeking an exciting, interactive read that puts the "u" back in "aUtobiography"? Then look no further than Neil Patrick Harris: Choose Your Own Autobiography! In this revolutionary, Joycean experiment in light celebrity narrative, actor/personality/carbon-based life-form Neil Patrick Harris lets you, the reader, live his life. You will be born in New Mexico. You will get your big break at an acting camp. You will get into a bizarre confrontation outside a nightclub with actor Scott Caan. Even better, at each critical juncture of your life, you will choose how to proceed. You will decide whether to try out for Doogie Howser, M.D. You will decide whether to spend years struggling with your sexuality. You will decide what kind of caviar you want to eat on board Elton John's yacht.
Choose correctly and you'll find fame, fortune, and true love. Choose incorrectly and you'll find misery, heartbreak, and a hideous death by piranhas. All this, plus magic tricks, cocktail recipes, embarrassing pictures from your time as a child actor, and even a closing song. Yes, if you buy one book this year, congratulations on being above the American average, but make that book Neil Patrick Harris: Choose Your Own Autobiography!"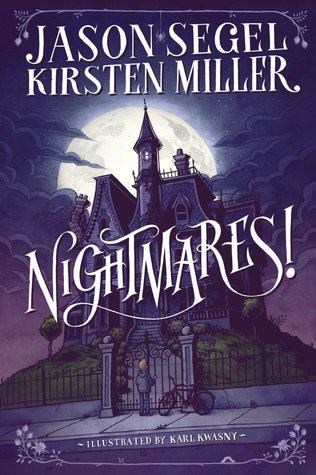 Nightmares! by Jason Segel and Kirsten Miller – audiobook read by Jason Segel – entertaining fantasy that addresses the loss of a parent, anger and fear issues, scary nightmare situations, and more. Well paced and quite an interesting listen. My son really enjoyed the audiobook as well. Goodreads Summary: "Sleeping has never been so scary. And now waking up is even worse!
Charlie Laird has several problems.
1. His dad married a woman he is sure moonlights as a witch.
2. He had to move into her purple mansion, which is NOT a place you want to find yourself after dark.
3.He can't remember the last time sleeping wasn't a nightmarish prospect. Like even a nap.
What Charlie doesn't know is that his problems are about to get a whole lot more real. Nightmares can ruin a good night's sleep, but when they start slipping out of your dreams and into the waking world—that's a line that should never be crossed.
And when your worst nightmares start to come true . . . well, that's something only Charlie can face. And he's going to need all the help he can get, or it might just be lights-out for Charlie Laird. For good."
Tiger Boy by Mitali Perkins – Read aloud this story to my son. We both enjoyed it. The introduction of culture was fascinating. The reflection on the power of money to influence people's decisions led to some great discussions. Additionally, I appreciated the celebration of education and how it can change a person's world… just beautiful. At the core, this is a story about family and how to honor those in your family, even when you disagree with them. What a powerful, beautiful story… Goodreads Summary: ""One of the new tiger cubs has escaped from the reserve!"When a tiger cub escapes from a nature reserve near Neel's island village, the rangers and villagers hurry to find her before the cub's anxious mother follows suit and endangers them all. Mr. Gupta, a rich newcomer to the island, is also searching—he wants to sell the cub's body parts on the black market. Neel and his sister, Rupa, resolve to find the cub first and bring her back to the reserve where she belongs.
The hunt for the cub interrupts Neel's preparations for an exam to win a prestigious scholarship at a boarding school far from home. Neel doesn't mind—he dreads the exam and would rather stay on his beloved island in the Sunderbans of West Bengal with his family and friends.
But through his encounter with the cub, Neil learns that sometimes you have to take risks to preserve what you love. And sometimes you have to sacrifice the present for the chance to improve the future."
Cassidy's Guide to Everyday Etiquette (and Obfuscation) by Sue Stauffacher – I thoroughly appreciated this story. A girl, Cassidy, receives a gift that she just doesn't understand, etiquette lessons. She has no use or reason to attend classes but must do so. How she turns her etiquette teacher's life upside down is one part but the friendships and social situations in the book are just brilliant. Loved how things were communicated and also Cassidy's relationship with her parents and friends…
"The way I figure it, you get a fighting chance with a calamity." Goodreads Summary: "Eleven-year-old Cassidy has just inherited a gift from her late great-grandmother. Unfortunately, that "gift" turns out to be a summer trapped in etiquette school. What good are manners, anyway, for a girl who dreams of living life on the road as a hobo—er, "knight of the road"? As if trying to remember to keep her elbows off the table isn't bad enough, Cassidy's best friend, Jack, suddenly seems more interested in doing chores for the new teenage girl who's moved in next door than in fishing with Cassidy down by the river. Not even her classic epic pranks seem to be saving Cassidy from having her worst summer ever. It's time to face facts: growing up stinks."
Ruby on the Outside by Nora Raleigh Baskin – Realistic Fiction – 4th grade and up – This isn't a book for every child, I think it will meet many needs though. For children who are struggling in their lives, not finding the right friend, this would be a lovely book to read. Additionally, for those who have parents who aren't there to be with them, this would be a good fit book. I found the premise something to contemplate for a while: how does a child react when their parent is incarcerated? What do they do to be successful in life? Do they hide information about what is happening with them? This is quite a touching book. I really appreciated the dedication and support Ruby receives from her Matoo, beautiful. I don't think this book really lends itself to a read aloud but I do think portions of it would be really good to share with students when they are discussing equity and ethics. Quite recommended. Goodreads Summary: "Ruby's mom is in prison, and to tell anyone the truth is to risk true friendship in this novel that accurately and sensitively addresses a subject too often overlooked.
Eleven-year-old Ruby Danes is about to start middle school, and only her aunt knows her deepest, darkest, most secret secret: her mother is in prison.
Then Margalit Tipps moves into Ruby's condo complex, and the two immediately hit it off. Ruby thinks she's found her first true-blue friend—but can she tell Margalit the truth about her mom? Maybe not. Because it turns out that Margalit's family history seems closely connected to the very event that put her mother in prison, and if Ruby comes clean, she could lose everything she cares about most."
Coming Home by Greg Ruth – What a beautiful picture book. I loved the simple text, the gorgeous illustrations, and especially how a community is impacted by those who serve in the military. Beautiful book. Goodreads Summary: "Every day, soldiers leave their families to protect others.
We love them. We miss them when they're gone.
And we want them all to come home.
They are our heroes."
You Are (Not) Small by Anna Kang, illustrated by Christopher Weyant – Loved the simplicity of this book, great concept book introducing opposites and adding in a hilarious twist. Just loved it… Goodreads Summary: "Two fuzzy creatures can't agree on who is small and who is big, until a couple of surprise guests show up, settling it once and for all!"
.
.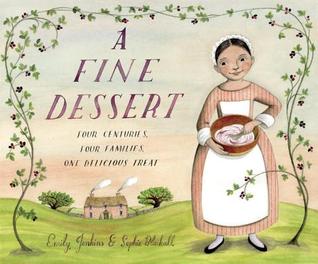 A Fine Dessert- Four Centuries, Four Families, One Delicious Treat by Emily Jenkins and Sophie Blackall – I am so happy I had the opportunity to read this book. I've heard about it for many months and I was not disappointed. Beautiful pictures, fascinating travel through time with a beautiful dessert that ties all four different families in four centuries together. Just one fantastic book. Honestly though, my favorite part of the book was the end with the author and illustrator's notes. Goodreads Summary: "In 1710, a girl and her mother in Lyme, England, prepare a blackberry fool, picking wild blackberries and beating cream from their cow with a bundle of twigs. The same dessert is prepared by a slave girl and her mother in 1810 in Charleston, South Carolina; by a mother and daughter in 1910 in Boston; and finally by a boy and his father in present-day San Diego.
Kids and parents alike will delight in discovering the differences in daily life over the course of four centuries.
Includes a recipe for blackberry fool and notes from the author and illustrator about their research."
Want more book ideas and reviews? – Yes, I'm quite brief, but a prolific reader!  Please visit me at Goodreads: http://www.goodreads.com/user/show/1941055-the-styling-librarian Also, please follow this blog through email updates – (do so to the right of this blog post), my Facebook page, comment, or meet up with me on Twitter. I appreciate all of the support, makes my day! Honored by all the wonderful followers.
FTC Required Disclosure: This site is an Amazon affiliate, and purchases made through Amazon links (including linked book covers) may result in my receiving a small commission (at no additional cost to you). Additionally this site is a Powells Books affiliate, and purchases made through the linked book covers may result in my receiving a small commission (at no additional cost to you).
© 2013 by Debbie Alvarez of The Styling Librarian. All rights reserved. You can also follow me @stylinlibrarian or at my Styling Librarian Page on Facebook.