Styling Librarian #IMWAYR It's Monday What Are You Reading?
Thanks to: TeachMentorTexts  and Unleashing Readers for the inspiration! Thanks to Jen and Kellee for the meme! Enjoying books week by week… I decided to spread out what I'm reading recently over a few weeks… so this isn't everything but I've enjoyed them all!
Special Saturday Book Share:
I wish you more by Amy Krouse Rosenthal and Tom Lichtenheld
Other wonderful books enjoyed:
An Awesome Book of Thanks by Dallas Clayton – Picture Book – eBook – I just love this book. My friend told me about how she used it when she had to say goodbye to students at her school, so I bought it to help me say goodbye to my students. I love the different ways that thanks are given and the humor mixed in. Additionally the delicate illustrations just bounce off the page and I know it would be a fun book for a "just anytime" read as well. Goodreads Summary: "Inspired by the idea of being thankful for all that you have, An Awesome Book of Thanks! is a beautifully written, fantastically illustrated walk through a world of magical unicorns, robotic dinosaurs, and all of life's simple moments, great and small. Crafted for children ages 0-1000, this timeless story is sure to be an instant classic, at home in the hands of anyone looking for the perfect reminder of just how beautiful life can be."
Ghosts of Shanghai by Julian Sedgwick – Historical Fiction/Mystery – Release date July 2nd, 2015- Warning. One of those book one, leave you wanting more books. Really interesting premise about oppression, danger in communities, and traditions. The main character is living in Shanghai during a time when you're not allowed to speak out against the ruling party. Additionally if you speak out, you will be killed. She is not originally from China and is treated differently. Dangerous choices are made when she gets a charm that is supposed to protect her. I enjoyed the action and adventure of the book, sometimes I felt I needed a bit of a push to get through a section but overall it was a pageturner. "Life is change- or it's nothing. Only the dead stay the same. What we need to do is to keep our eyes open to the change so we can separate the rotten fruit from the ripe. Know when to act and when to be still." Goodreads Summary: "Obsessed with martial arts and ghost stories, Ruby is part of a gang of Chinese and ex-pat children who hide out in ruined White Cloud Temple. But the world of Shanghai in the late 1920s is driven with danger: disease, crime, espionage and revolution are sweeping the streets. And since the death of her younger brother Thomas, Ruby is stalked by another anxiety and fear. Faced with a series of local hauntings, and armed with a lucky bookshop find – The Almanac of Distant Realms – Ruby forms the Shanghai Ghost Club to hunt down restless spirits. When best friend Faye is kidnapped by the Green Hand, Ruby must trust a mysterious stranger – and face her worst fears – in order to save her friends, and her own life. And in the ensuing fight she will catch a glimpse of the one spirit she has longed to see …The secrets that Ruby's father and friends have kept from her are coming back to haunt them all"
The Astounding Broccoli Boy by Frank Cottrell Boyce – Science Fiction/Humor – Read this riot of a book aloud to my son. We were both a bit blown away by the action and adventure. To imagine three children one day randomly all turning green… woah. Plus there's that friend who wasn't a friend but now is who makes poor crazy decisions and puts himself into dangerous situations… great storyline with him as well. Quite the interesting book. Appreciated a few quotes: "All that stood between us and a dozen police pistols was a trio of nervous penguins." "We watched the links of the chain pass through the pulleys one by one like the words in a story." Goodreads Summary: "Rory Rooney likes to be prepared for all eventualities. His favourite book is Don't Be Scared, Be Prepared, and he has memorized every page of it. He could even survive a hippo attack. He knows that just because something is unlikely doesn't mean it won't ever happen …But Rory isn't prepared when he suddenly and inexplicably turns green. Stuck in an isolation ward in a hospital far from home with two other remarkably green children, Rory's as confused by his new condition as the medics seem to be. But what if it's not in their genes, or a virus, or something they ate? What if turning green actually means you've turned into a superhero? Rory can't wait to make it past hospital security and discover exactly what his superpower might be …"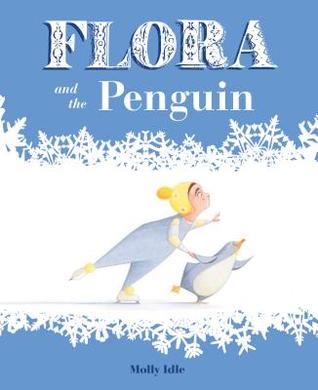 Flora and the Penguin by Molly Idle – Added this to the library collection, pretty sure I've enjoyed before but oh how beautiful Molly Idle's books are… So fantastic. Such a beautiful story of friendship! Loved. Goodreads Summary: "Having mastered ballet in Flora and the Flamingo, Flora takes to the ice and forms an unexpected friendship with a penguin. Twirling, leaping, spinning, and gliding, on skates and flippers, the duo mirror each other's graceful dance above and below the ice. But when Flora gives the penguin the cold shoulder, the pair must figure out a way to work together for uplifting results. Artist Molly Idle creates an innovative, wordless picture book with clever flaps that reveal Flora and the penguin coming together, spiraling apart, and coming back together as only true friends do."
Whistling Past the Graveyard by Susan Crandall, narrated by Amy Rubinate – Audiobook – High School/Adult – Historical Fiction –  I want to listen to Amy Rubinate more. What a wonderful narrator. Beautiful story, so upsetting, touching, poignant, thoughtful… I cringed through so many portions of this book with the bigotry, racism, violence, insensitivity, and crazy situations but loved every minute I listened. It has been a while since I read a book like this. The back of my memory was tickled though while reading it as though there was something familiar about it, something I'd read before… perhaps it will come to me later. Quite recommended, especially as an audiobook. Goodreads Summary: "The summer of 1963 begins like any other for nine-year-old Starla Claudelle. Born to teenage parents in Mississippi, Starla is being raised by a strict paternal grandmother, Mamie, whose worst fear is that Starla will turn out like her mother. Starla hasn't seen her momma since she was three, but is convinced that her mother will keep her promise to take Starla and her daddy to Nashville, where her mother hopes to become a famous singer—and that one day her family will be whole and perfect.
When Starla is grounded on the Fourth of July, she sneaks out to see the parade. After getting caught, Starla's fear that Mamie will make good on her threats and send her to reform school cause her to panic and run away from home. Once out in the country, Starla is offered a ride by a black woman, Eula, who is traveling with a white baby. She happily accepts a ride, with the ultimate goal of reaching her mother in Nashville.
As the two unlikely companions make their long and sometimes dangerous journey, Starla's eyes are opened to the harsh realities of 1963 southern segregation. Through talks with Eula, reconnecting with her parents, and encountering a series of surprising misadventures, Starla learns to let go of long-held dreams and realizes family is forged from those who will sacrifice all for you, no matter if bound by blood or by the heart."
Want more book ideas and reviews? – Yes, I'm quite brief, but a prolific reader!  Please visit me at Goodreads: http://www.goodreads.com/user/show/1941055-the-styling-librarian Also, please follow this blog through email updates – (do so to the right of this blog post), my Facebook page, comment, or meet up with me on Twitter. I appreciate all of the support, makes my day! Honored by all the wonderful followers.
FTC Required Disclosure: This site is an Amazon affiliate, and purchases made through Amazon links (including linked book covers) may result in my receiving a small commission (at no additional cost to you). Additionally this site is a Powells Books affiliate, and purchases made through the linked book covers may result in my receiving a small commission (at no additional cost to you).
© 2013 by Debbie Alvarez of The Styling Librarian. All rights reserved. You can also follow me @stylinlibrarian or at my Styling Librarian Page on Facebook.