Styling Librarian #IMWAYR It's Monday What Are You Reading?
Thanks to: TeachMentorTexts  and Unleashing Readers for the inspiration! Thanks to Jen and Kellee for the meme! Enjoying books week by week… I decided to spread out what I'm reading recently over a few weeks… so this isn't everything but I've enjoyed them all!
Special Saturday Book Share:

The Kids' Book of Simple Machines-
Cool Projects and Activities that make Science Fun!
by Kelly Doudna 
Other Books Enjoyed:
Babymouse Bad Babysitter by Jennifer L. Holm and Matthew Holm – Graphic Novel- Happy day! A new babymouse!!! Just loved Babymouse's new adventure into the world of babysitting. Hilarious as always…  Goodreads Summary: "Wanted: Expert babysitter. Babymouse will finally have enough money to buy cool stuff! All she has to do is take care of a few kids. No problem! Who's more responsible than Babymouse? She's practically Mary Poppins! (Okay, maybe that's going a little too far.) Will Babymouse be the ultimate sitter? Or will triplets mean triple trouble? Find out in Bad Babysitter—the nineteenth laugh-out-loud installment of the beloved Babymouse graphic novel series. BONUS PAGE: Learn to draw a character!"
Noodle Magic by Roseanne Greenfield Thong, illustrated by Meilo So – Loved how this worked with connections to family, traditions, expectations, and fun with noodles. There are some really fascinating noodle traditions in China and the story that connects with the moon goddess and more has quite the cultural significance. Interesting to see how this book can connect to Strega Nona by Tomie dePaola.  Goodreads Summary: "Everyone has the magic within!  Grandpa Tu is famous for his special noodles, and as the emperor's birthday approaches, he teaches his granddaughter, Mei, the family trade. Mei struggles to find the magic needed to make noodles. Ultimately, she finds the magic–and the ability to succeed–within. Mei doesn't just make noodles–her magic noodles in varied shapes and sizes rain down from the sky!
NOODLE MAGIC is written in the style of a Chinese folk story, with engaging cultural and community aspects. The family connection that's at the heart of the story has universal appeal. The grandfather and granddaughter work together to accomplish what one could not do alone."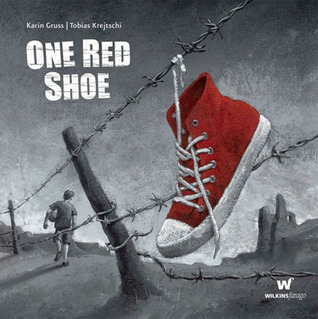 One Red Shoe by Karin Gruss, illustrated by Tobias Krejtschi – Upsetting beautiful book about conflict, impact of conflict on a community, and much more. Told from the perspective of an adult, still poignant and touching.  Goodreads Summary: "You're about to go to a place where thousands, even millions, of kids live every day. You're about to enter a war zone.
There's been an attack. Grabbing his camera, a newspaper photographer rushes to the nearest clinic. What he finds there will change the way he thinks forever. Inspired by real events in the Middle East, this groundbreaking and acclaimed picture book for older readers will take you to a place far from comfort and safety. What could you possibly have in common with the kids who live there? You're about to find out."
Cloudy with a chance of Boys – The Sisters Club by Megan McDonald – Realistic Fiction – 4th grade and up – I appreciated the chance to visit with these three sisters again with this third book in the Sisters Club series. I love that the story varies between lists with pictures, play scripts, and normal novel form. I also love the distinct voices of the characters. This book certainly can be stand alone or appreciated as part of the series. It was amusing to read how the middle sister Stevie deals with a boy who is interested in having their friendship extend beyond just friends and she puzzles out how to make him understand that she's not ready to have a boy friend. Also appreciated how ego played a huge role in Alex's storyline when she didn't get the lead role in a play… I'm not sure how much appeal this book will have for boys, honestly more of a girl story.  Goodreads Summary: "As the middle sister in a family with three girls, Stevie Reel doesn't know much about boys, and that's always been just fine with her. But lately, things have been changing: kids at school are starting to pair up, and Owen, the new boy in her Earth Science class, seems to have his sights set on Stevie. The trouble is, Stevie doesn't want a boyfriend- she's not even sure she's ready to have a boy friend. And her sisters, who know exactly where they stand on the issue of boys, are no help: drama queen Alex is busy trying to orchestrate a perfect, Romeo-and-Juliet-style first kiss from her heartthrob, Scott Towel (er, Howell), while Joey can't understand why anyone would like a boy better than a frog anyway. If only figuring out boys were as easy as predicting the weather!"
Want more book ideas and reviews? – Yes, I'm quite brief, but a prolific reader!  Please visit me at Goodreads: http://www.goodreads.com/user/show/1941055-the-styling-librarian Also, please follow this blog through email updates – (do so to the right of this blog post), my Facebook page, comment, or meet up with me on Twitter. I appreciate all of the support, makes my day! Honored by all the wonderful followers.
FTC Required Disclosure: This site is an Amazon affiliate, and purchases made through Amazon links (including linked book covers) may result in my receiving a small commission (at no additional cost to you). Additionally this site is a Powells Books affiliate, and purchases made through the linked book covers may result in my receiving a small commission (at no additional cost to you).
© 2013 by Debbie Alvarez of The Styling Librarian. All rights reserved. You can also follow me @stylinlibrarian or at my Styling Librarian Page on Facebook.