Styling Librarian Topic: Growth Mindset Top 10 Favorite Books
My school is adding the concept of growth mindset to the curriculum, looking for what lends naturally to the units of inquiry and also what language and practice to begin the year with, luckily, growth mindset has been around for a long time and there's an incredible amount of resources for teacher teams to use. I find the concept quite wonderful for discussion and student growth.
Quote from this website: http://www.teachingthecore.com/noncognitive-skill-development-growth-mindset/
"Growth mindset is a simple, powerful concept studied by Carol Dweck and explained in her book Mindset: The New Psychology of Success. Essentially, if you have a growth mindset you believe your abilities — how smart you are, how you backhand a tennis ball, how well you manage your time — can improve with effort."
Appreciated this video that you can use to introduce growth mindset to students:

I've been thinking about books that connect to growth mindset for instruction. Enjoyed a discussion about resources with my colleagues in Y1-2 about it as well. Here's my top ten titles:
1. The Dot by Peter Reynolds (and the rest of his Creatrilogy books – Sky Color and Ish) – Goodreads Summary: "Her teacher smiled. "Just make a mark and see where it takes you." Art class is over, but Vashti is sitting glued to her chair in front of a blank piece of paper. The words of her teacher are a gentle invitation to express herself. But Vashti can't draw – she's no artist. To prove her point, Vashti jabs at a blank sheet of paper to make an unremarkable and angry mark. "There!" she says."
2. Lion vs. Rabbit by Alex Latimer – Goodreads Summary: "Lion is mean to everyone. When the other animals can't take his bullying anymore, they post an ad asking for help. One animal after another tries and fails to defeat Lion. Can no on stop him? Finally a rabbit arrives. No one thinks it will be brave enough or strong enough to defeat Lion. But perhaps this rabbit is smart enough?"
3. Everyone Can Learn to Ride a Bicycle by Chris Raschka – Goodreads Summary: "Learning to ride a bike is one of the most important milestones of childhood, and no one captures the emotional ups and downs of the experience better than Chris Raschka, who won the 2012 Caldecott Medal for A Ball for Daisy. In this simple yet emotionally rich "guide," a father takes his daughter through all the steps in the process—from choosing the perfect bicycle to that triumphant first successful ride. Using very few words and lots of expressive pictures, here is a picture book that not only shows kids how to learn to ride, but captures what it feels like to fall . . . get up . . . fall again . . . and finally "by luck, grace, and determination" ride a bicycle!"
4. The Junkyard Wonders by Patricia Polacco (and also Thank You, Mr. Falker by Patricia Polacco) – Goodreads Summary: "When young Trisha finds out her class at the new school is known as The Junkyard, she is devastated. She moved from her old town so she wouldn't be in a special class anymore! But then she meets her teacher, the quirky and invincible Mrs. Peterson, and her classmates, an oddly brilliant group of students each with his or her own unique talent. And it is here in The Junkyard that Trisha learns the true meaning of genius, and that this group of misfits are, in fact, wonders, all of them."
5. I wish you more by Amy Krouse Rosenthal and Tom Lichtenheld (The OK Book is wonderful as well.) – Goodreads Summary: "Some books are about a single wish. Some books are about three wishes. The infallible team of Amy Krouse Rosenthal and Tom Lichtenheld have combined their extraordinary talents to create this exuberant book of endless good wishes. Wishes for curiosity and wonder, for friendship and strength, laughter and peace. Whether celebrating life's joyous milestones, sharing words of encouragement, or observing the wonder of everyday moments, this sweet and uplifting book is perfect for wishers of every age."
6. Beautiful Oops! by Barney Saltzberg – Goodreads Summary: "A life lesson that all parents want their children to learn: It's OK to make a mistake. In fact, hooray for mistakes! A mistake is an adventure in creativity, a portal of discovery. A spill doesn't ruin a drawing—not when it becomes the shape of a goofy animal. And an accidental tear in your paper? Don't be upset about it when you can turn it into the roaring mouth of an alligator."
7. Stand Tall, Molly Lou Melon by Patty Lovell, illustrated by David Catrow – Goodreads Summary: "Molly Lou Melon is different, but this doesn't slow her down."
8. Miss Maple's Seeds by Eliza Wheeler – Goodreads Summary: "Miss Maple gathers lost seeds that haven't yet found a place to sprout. She takes them on field trips to explore places to grow. In her cozy maple tree house, she nurtures them; keeping them safe and warm until it's time for them to find roots of their own, and grow into the magnificent plants they're destined to become."
9. Pete The Cat I Love My White Shoes by Eric Litwin, illustrated by James Dean – Goodreads Summary: "Pete the Cat goes walking down the street wearing his brand new white shoes. Along the way, his shoes change from white to red to blue to brown to WET as he steps in piles of strawberries, blueberries, and other big messes! But no matter what color his shoes are, Pete keeps movin' and groovin' and singing his song…because it's all good."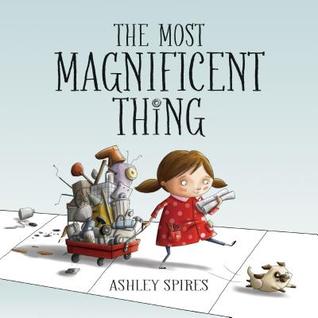 10. The Most Magnificent Thing by Ashley Spires – Goodreads Summary: "Here is a charming picture book about an unnamed girl and her very best friend, who happens to be a dog. The girl has a wonderful idea. "She is going to make the most MAGNIFICENT thing! She knows just how it will look. She knows just how it will work. All she has to do is make it, and she makes things all the time. Easy-peasy!" But making her magnificent thing is anything but easy, and the girl tries and fails, repeatedly. Eventually, the girl gets really, really mad. She is so mad, in fact, that she quits. But after her dog convinces her to take a walk, she comes back to her project with renewed enthusiasm and manages to get it just right. For the early grades' exploration of character education, this funny book offers a perfect example of the rewards of perseverance and creativity. The girl's frustration and anger are vividly depicted in the detailed art, and the story offers good options for dealing honestly with these feelings, while at the same time reassuring children that it's okay to make mistakes. The clever use of verbs in groups of threes is both fun and functional, offering opportunities for wonderful vocabulary enrichment. The girl doesn't just "make" her magnificent thing — she "tinkers and hammers and measures," she "smoothes and wrenches and fiddles," she "twists and tweaks and fastens." These precise action words are likely to fire up the imaginations of youngsters eager to create their own inventions and is a great tie-in to learning about Science, Technology, Engineering and Math."
http://www.positivelypositive.com/2013/01/30/50-inspiring-childrens-books-with-a-positive-message-part-2/
MINDSETS – WEBSITES and VIDEOS AND BOOKS collected by my colleagues recently, what an amazing collection:
What is growth mindset?
Carol Dweck on Growth Mindset
https://www.youtube.com/watch?v=kXhbtCcmsyQ
http://chrishildrew.wordpress.com/2014/03/21/becoming-a-growth-mindset-school/
http://johntomsett.com/2013/10/20/this-much-i-know-about-developing-a-dweck-inspired-growth-mindset-culture/
http://community.mindsetworks.com/videos
5 parenting strategies for Growth Mindset http://imaginationsoup.net/2014/09/help-child-unmotivated-growth-fixed-mindset/#_a5y_p=2451627
3 ways to praise kids without saying "good job" http://www.gostrengths.com/3-ways-to-praise-kids-without-saying-good-job/
Teaching
Meet the Robinsons – You Failed! https://www.youtube.com/watch?v=AWtRadR4zYM#
Khan Academy You Can Learn Anything https://www.youtube.com/watch?v=JC82Il2cjqA
Sesame Street Don't Give UP https://www.youtube.com/watch?v=I0uSn9zXlTw
Will I Am Sesame Street with subs https://www.youtube.com/watch?v=0CAtFbp7oYw
Sesame Street: Janelle Monae- Power of Yet https://www.youtube.com/watch?v=XLeUvZvuvAs
http://community.mindsetworks.com/videos
Kids build a floating football pitch video https://youtu.be/jU4oA3kkAWU
Over 200 Teaching Animations! http://www.gostrengths.com/
This selection can be watched by children. There are more videos that can be used to introduce G.M to staff and parents on: http://community.mindsetworks.com/videos
You Can Learn Anything
http://community.mindsetworks.com/1526-emily-diehl/videos/video/32-you-can-learn-anything
We all start as babies from knowing nothing, we learn from failure, therefore you can learn anything
Michael Jordan 'Maybe It's My Fault' Commercial
http://community.mindsetworks.com/1526-emily-diehl/videos/video/30-michael-jordan-maybe-it-s-my-fault-commercial
May be it's his fault that he gave the impression that it's easy to become a top basketball player
Grit: The Key to Your Success at FLVS
http://community.mindsetworks.com/1526-emily-diehl/videos/video/28-grit-the-key-to-your-success-at-flvs
Grit is persistence and resilience which is important to learning which comes from trying and learning from your mistakes i.e. grit
The Power of Belief – Mindset and Success: Eduardo Briceno at TEDxManhattanBeach
http://community.mindsetworks.com/1526-emily-diehl/videos/video/22-the-power-of-belief-mindset-and-success-eduardo-briceno-at-tedxmanhattanbeach
"About a young chess champion how he achieved success, growth mindsets affect learning, malleable brain, we can change our own abilities through growth mindset. Good summary of growth mindset – quite high-level talk but with explanation of vocabulary much of this would be accessible to Y6. Watch first to check up to 8 mins or use bits of this."
Firing Neurons | Cell Dance 2010, Public Outreach Video Winner
http://community.mindsetworks.com/54-emily-diehl/videos/video/8-firing-neurons-cell-dance-2010-public-outreach-video-winner
The brain, working of neurons computer animation
Want more book ideas and reviews? – Yes, I'm quite brief, but a prolific reader!  Please visit me at Goodreads: http://www.goodreads.com/user/show/1941055-the-styling-librarian Also, please follow this blog through email updates – (do so to the right of this blog post), my Facebook page, comment, or meet up with me on Twitter. I appreciate all of the support, makes my day! Honored by all the wonderful followers.
FTC Required Disclosure: This site is an Amazon affiliate, and purchases made through Amazon links (including linked book covers) may result in my receiving a small commission (at no additional cost to you). Additionally this site is a Powells Books affiliate, and purchases made through the linked book covers may result in my receiving a small commission (at no additional cost to you).
© 2013 by Debbie Alvarez of The Styling Librarian. All rights reserved. You can also follow me @stylinlibrarian or at my Styling Librarian Page on Facebook.