Styling Librarian #IMWAYR It's Monday What Are You Reading?
Thanks to: TeachMentorTexts  and Unleashing Readers for the inspiration! Thanks to Jen and Kellee for the meme! Enjoying books week by week… I decided to spread out what I'm reading recently over a few weeks… so this isn't everything but I've enjoyed them all!
Books shared earlier:

Won Ton and Chopstick- A Cat and Dog Tale Told in Haiku
by Lee Wardlaw, illustrated by Eugene Yelchin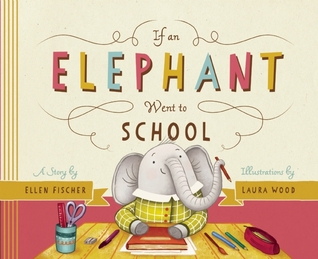 If an elephant went to school by Ellen Fischer, illustrated by Laura Wood
Special Books Enjoyed:
Bad Kitty Makes Comics by Nick Bruel – Non-Fiction- This is an absolutely fantastic book packed with "copy me please" pages for teaching about writing, creating comics, drawing and so much more. In addition to the "how to" element, there is additionally a hilarious story and comics running throughout. Highly recommended. Side note: This feels like those classic old comic books with paper that is a little less strong. I only have a concern with the length of time this book will hold up in normal library circulation. The cost isn't too high considering, but that's the only thing that gave me pause. I think this is a perfect book for a personal gift to a student who loves to do art or loves Bad Kitty. Goodreads Summary: "Kitty is bored. She is so bored, in fact, that she even considers playing with that slobbering mutt Puppy, who lives in her house. Nah. Instead, she thinks she'll take a nap. That is, until there is a knock on the door . . .
Strange Kitty is here to guide both Kitty and Kitty's fans through the world of making comics. Like to draw? Great! Here's your chance to show off your skills! Don't know how to draw? That's okay! Through guided exercises you will learn all about how comics work, including sections on panelling, sound and visual effects, word balloons and so much more!"
What do you do with an idea? by Kobi Yamada, illustrated by Mae Besom – Beautiful story about a kiddo who has an idea and learnes to nurture the idea vs ignoring it.  Beautiful illustrations and deep conversation opportunities with this book. Goodreads Summary: "This is the story of one brilliant idea and the child who helps to bring it into the world. As the child's confidence grows, so does the idea itself. And then, one day, something amazing happens. This is a story for anyone, at any age, who's ever had an idea that seemed a little too big, too odd, too difficult. It's a story to inspire you to welcome that idea, to give it some space to grow, and to see what happens next. Because your idea isn't going anywhere. In fact, it's just getting started."
Mabel and Me Best of Friends by Mark Sperring and Sarah Warburton – Hilarious little book about a young girl and her beat friend that is a rodent. Many funny misunderstandings occur throughout the book. Goodreads Summary: "Meet Mabel and Me in this hilarious picture book, as they explore what puts the 'best' in 'best friends'!
Mabel and Me are strolling down a strolly street, when Mabel asks a Hugely Harrowing and Diabolically Difficult question about why Me thinks they are best friends. Join this oddest of odd couples in their very first adventure to discover the answer – but be prepared for a large dose of mistaken identity along the way!"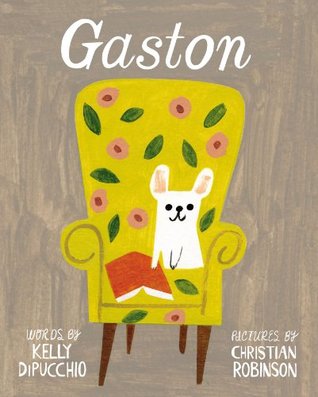 Gaston by Kelly DiPucchio, pictures by Christian Robinson – Aww. Cute little dog story similar to the ugly duckling  but with a hilarious touching twist. Really enjoyed this book, never disappointed by this wonderful author… Goodreads Summary: "This is the story of four puppies: Fi-Fi, Foo-Foo, Ooh-La-La, and Gaston. Gaston works the hardest at his lessons on how to be a proper pooch. He sips—never slobbers! He yips—never yaps! And he walks with grace—never races! Gaston fits right in with his poodle sisters.
But a chance encounter with a bulldog family in the park—Rocky, Ricky, Bruno, and Antoinette—reveals there's been a mix-up, and so Gaston and Antoinette switch places. The new families look right…but they don't feel right. Can these puppies follow their noses—and their hearts—to find where they belong?"
Want more book ideas and reviews? – Yes, I'm quite brief, but a prolific reader!  Please visit me at Goodreads: http://www.goodreads.com/user/show/1941055-the-styling-librarian Also, please follow this blog through email updates – (do so to the right of this blog post), my Facebook page, comment, or meet up with me on Twitter. I appreciate all of the support, makes my day! Honored by all the wonderful followers.
FTC Required Disclosure: This site is an Amazon affiliate, and purchases made through Amazon links (including linked book covers) may result in my receiving a small commission (at no additional cost to you). Additionally this site is a Powells Books affiliate, and purchases made through the linked book covers may result in my receiving a small commission (at no additional cost to you).
© 2013 by Debbie Alvarez of The Styling Librarian. All rights reserved. You can also follow me @stylinlibrarian or at my Styling Librarian Page on Facebook.