Styling Librarian Special Book Share If an Elephant Went to School
"Pull up a chair, it's a Special Book Share".
Here's to celebrating books that strike my fancy every week!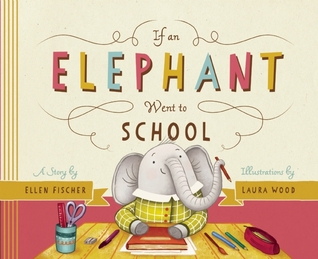 If an elephant went to school by Ellen Fischer, illustrated by Laura Wood – Release date: July 21st, 2015-  I love the repeatative text this book has, lends not only to a wonderful read aloud experience for children but additionally a mentor text that has writing extension opportunities. Also, there could be a fun research writing extension for younger classes, for example: children could choose another animal to ask a question about and do a little research to share an unique feature of the animal in a rhyming way.
Companion book to: "If an Armadillo Went to a Restaurant"
Goodreads Summary: "Would an elephant learn the ABCs if she went to school? No way! She would learn to use her trunk as a nose, a straw, a hand, and a hose!
Through a series of questions and answers, readers learn about animals and their unique behaviors. And in the end, you might find yourself asking just what would you learn."
Want more book ideas and reviews? – Yes, I'm quite brief, but a prolific reader! Please visit me at Goodreads: http://www.goodreads.com/user/show/1941055-the-styling-librarian Also, please follow this blog through email updates – (do so to the right of this blog post), my Facebook page, comment, or meet up with me on Twitter. I appreciate all of the support, makes my day! Honored by all the wonderful followers.
FTC Required Disclosure: This site is an Amazon affiliate, and purchases made through Amazon links (including linked book covers) may result in my receiving a small commission (at no additional cost to you). Additionally this site is a Powells Books affiliate, and purchases made through the linked book covers may result in my receiving a small commission (at no additional cost to you).
© 2013 by Debbie Alvarez of The Styling Librarian. All rights reserved. You can also follow me @stylinlibrarian or at my Styling Librarian Page on Facebook.