Styling Librarian Saturday Book Share Lost in the Sun
"Pull up a chair, it's a Saturday Book Share".
Here's to celebrating books that strike my fancy every week!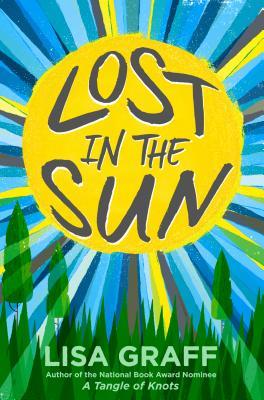 Lost in the Sun by Lisa Graff – Realistic Fiction – 4th grade and up – darn that Lisa Graff for writing another fantastic novel that made me weep.
Book Talk: Could you get over accidentally killing someone? Would you need to talk with people about the situation? What if you had noone to talk to? Would you stay friends with someone who exploded violently when they think something is unfair? Do you think people deserve a second chance? These many questions can be thought about as you read Trent's experience beginning middle school…
I haven't read such an innocently thoughtful book about a boy living with guilt that builds to anger and manipulation of those around him for his survival. How he comes thru the cloud of guilt to see from other perspectives and gain some hope for the future with friendships is beautiful and touching. How he proves to others and himself that he is worthy of friendship, happiness and love just about broke me. I loved the family relationships and struggles. I adored the developing best friend storyline so much it made me laugh aloud.
Reminded me of See You at Harry's and Counting by 7's. Perfect flawed characters to add to the list of my top books. And to think I wouldn't love anything more than Lisa Graff's book Absolutely Almost. Loved this x 20. Great sports and healthy activities mixed throughout as well. Favorite quote: "There's one less person in the world, all because of me."
"That's the day I figured out that no matter how hard you tug at something, no matter how bad you want it, sometimes it just can't be pried free."
Goodreads Summary: "Everyone says that middle school is awful, but Trent knows nothing could be worse than the year he had in fifth grade, when a freak accident on Cedar Lake left one kid dead, and Trent with a brain full of terrible thoughts he can't get rid of. Trent's pretty positive the entire disaster was his fault, so for him middle school feels like a fresh start, a chance to prove to everyone that he's not the horrible screw-up they seem to think he is.
If only Trent could make that fresh start happen.
It isn't until Trent gets caught up in the whirlwind that is Fallon Little—the girl with the mysterious scar across her face—that things begin to change. Because fresh starts aren't always easy. Even in baseball, when a fly ball gets lost in the sun, you have to remember to shift your position to find it."
About Pull up a chair, it's a Saturday Book Share: I've had many books I review that I just want to feature. Simple and easy, celebrate a new book encounter. So that's what Saturday Book Share is about for me, celebrating books! Perhaps some days I'll share the book with a short reading of a portion. Or perhaps other days I'll just share a glimpse of the book.
Want more book ideas and reviews? – Yes, I'm quite brief, but a prolific reader! Please visit me at Goodreads: http://www.goodreads.com/user/show/1941055-the-styling-librarian Also, please follow this blog through email updates – (do so to the right of this blog post), my Facebook page, comment, or meet up with me on Twitter. I appreciate all of the support, makes my day! Honored by all the wonderful followers.
FTC Required Disclosure: This site is an Amazon affiliate, and purchases made through Amazon links (including linked book covers) may result in my receiving a small commission (at no additional cost to you). Additionally this site is a Powells Books affiliate, and purchases made through the linked book covers may result in my receiving a small commission (at no additional cost to you).
© 2013 by Debbie Alvarez of The Styling Librarian. All rights reserved. You can also follow me @stylinlibrarian or at my Styling Librarian Page on Facebook.