Styling Librarian: Top 20 Mindfulness Books
Mindfulness- What is it? What is so popular about it?
I personally appreciate mindfulness activities and see them often in picture books I read. At my school we've been implementing mindfulness activities and now we have classrooms requesting books that connect with mindfulness. I have a few books that specifically connect with mindfulness and then many books that touch on mindful activities. I gathered them together for one colleague and thought it might be useful to share here too:
What does it mean to be present? by Rana DiOrio, illustrated by Eliza Wheeler – This book is that perfect, simple book about how people can be present, notice what is going on around them, be interactive with their community. Goodreads Summary: "This refreshing, vibrant picture book engages all of the senses to demonstrate the myriad of ways a child can seize the moment. The story sparks meaningful discussions about the important gift of appreciation, giving children and adults alike the opportunity to live more fully and richly."
Take the Time – Mindfulness for Kids by Maud Roegiers – Perfect for beginning discussions on mindfulness with children, taking the time to slow down, have quiet times, appreciate being with friends, etc. Goodreads Summary: "This pensive and peaceful book encourages children to slow down and become deliberate with their day-to-day actions and thoughts. With gentle rhythms and soothing imagery, kids may be guided toward a quiet self-awareness and mindfulness."
My Daddy is a Pretzel – Yoga for Parents and Kids by Baron Baptiste with illustrations by Sophie Fatus – Exploring what different dads do and how those activities can connect with yoga poses. Yoga is a fantastic mindfulness activity. Goodreads Summary: "Twist your way into this story that introduces both yoga and professions. The nine yoga poses show how the practice of yoga relates to everyday life, and encourages readers to stretch both their bodies and their minds. There are tips about practice and preparation, yoga life, and having the right attitude."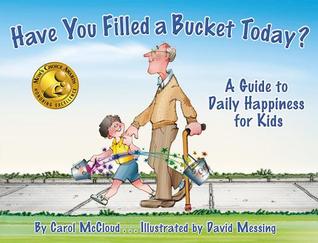 Have you filled a bucket today? A Guide to Daily Happiness for Kids by Carol McCloud, illustrated by David Messing – How do you make others feel? Are you aware that your actions can impact others? Great book for this discussion. Goodreads Summary: "Through simple prose and vivid illustrations, this heartwarming book encourages positive behaviour as children see how rewarding it is to express daily kindness, appreciation, and love. Bucket filling and dipping are effective metaphors for understanding the effects of our actions and words on the well being of others and ourselves."
Because Amelia Smiled by David Ezra Stein – What happens when you smile at others? Does it change their day? This is a lovely reflection on how one smile can travel around the world. Goodreads Summary: "Because Amelia smiles as she skips down the street, her neighbor Mrs. Higgins smiles too, and decides to send a care package of cookies to her grandson Lionel in Mexico. The cookies give Lionel an idea, and his idea inspires a student, who in turn inspires a ballet troupe in England! And so the good feelings that started with Amelia's smile make their way around the world, from a goodwill recital in Israel, to an impromptu rumba concert in Paris, to a long-awaited marriage proposal in Italy, to a knitted scarf for a beloved niece back in New York. Putting a unique spin on "what goes around comes around," David Ezra Stein's charmingly illustrated story reminds us that adding even a small dose of kindness into the world is sure to spur more and more kindness, which could eventually make its way back to you!"
A Bucket of Blessings by Kabir Sehgal & Surishtha Sehgal, illustrated by Jing Jing Tsong – Expresses the power and value of positive thinking. Goodreads Summary: "Near a majestic mountain in a vast jungle with many mango trees, it has not rained for weeks and weeks. The village well and pond are dry. Monkey and his friends look everywhere for water, but they have no luck. And then Monkey remembers a story his mama used to tell him, a story about how peacocks can make it rain by dancing. So he sets out to see if the story is true."
The Loud Book! and The Quiet Book by Deborah Underwood, illustrated by Renata Liwska – What is loud? quiet? Find your own path to being loud and quiet and appreciate the peace of both. Goodreads Summary for The Loud Book!: "BANG! CRACKLE! BOO! Just like there are lots of quiets, there are also lots of louds: Good louds (HOORAY!) and bad louds (CRASH!) And louds that make you feel like you are the center of attention (BURP!).
The Loud Book compiles all these kid-friendly noises from morning to night, in a way that is sure to make readers CHEER!"    Goodreads Summary for The Quiet Book!: "All quiet is not created equal. In this irresistibly charming picture book, many different quiet moments are captured, from the anticipation-heavy "Top of the roller coaster quiet" to the shocked-into-silence "First look at your new hairstyle quiet." The impossibly sweet bears, rabbits, fish, birds, and iguanas are all rendered in soft pencils and colored digitally, and, as in all of the best picture books, the illustrations propel the story far beyond the words. A sure-to-be-a-classic bedtime favorite."
Chopsticks by Amy Krouse Rosenthal, illustrated by Scott Magoon – Touching friendship book that has one friend learn how to stand on his own and depend on himself. Goodreads Summary: "Meet Chopsticks! They've been best friends forever. But one day, this inseparable pair comes to a fork in the road. And for the very first time, they have to figure out how to function apart. From New York Times best-selling author Amy Krouse Rosenthal and rising artistic talent Scott Magoon, this witty and inventive tale celebrates both independence and the unbreakable bonds of friendship."
I'm Here by Peter H. Reynolds – Love this book for a discussion on interactions with others and how to notice others in your day. Plus it is simply beautiful for the connection to autism as well. Goodreads Summary: "I'm here.  And you're there.  And that's okay.  But maybe there will be a gentle wind that pulls us together. And then I'll be here and you'll be here, too.  Pure, powerful and deceptively simple, bestselling author and illustrator Peter H. Reynolds reminds us that children and the friendships they make can take flight in unexpected ways."
The Feel Good Book by Todd Parr – Perfect book for discussion on what makes you feel good as a person. Special and simple. Goodreads Summary: "With his signature bold colors and positive message, Parr shows us that happy feelings come many different ways, big and small. "Giving a great, big hug feels good," and so does "taking a bubble bath," but would you stop to think that "eating carrots with a bunny feels good" or "watching your grandma and grandpa dance?" How about "crying when you're sad" or "brushing your teeth with strawberry toothpaste"? Whatever the way, Parr's observations give the warm fuzzies — "It feels good to think about all the things that make you feel good.""
This Plus That – Life's Little Equations by Amy Krouse Rosenthal, illustrated by Jen Corace – Interaction book- smile + wave = hello – beautiful book that shows how life's little interactions are connected. Goodreads Summary: "What comes after 1 + 1? Just about anything! In this fanciful collection, Amy Krouse Rosenthal puts together unexpected combinations that always add up to something special. Whether it's "wishes + frosting = birthday" or "birds + buds = spring," each equation is a small delight. This Plus That shows again and again that life's total experience is always greater than the sum of its parts."
Blackout by John Rocco – shows appreciation of time together when the power goes out. Slowing down and caring for others. Goodreads Summary: "One hot summer night in the city, all the power goes out. The TV shuts off and a boy wails, "Mommm!" His sister can no longer use the phone, Mom can't work on her computer, and Dad can't finish cooking dinner. What's a family to do? When they go up to the roof to escape the heat, they find the lights–in stars that can be seen for a change–and so many neighbors it's like a block party in the sky! On the street below, people are having just as much fun–talking, rollerblading, and eating ice cream before it melts. The boy and his family enjoy being not so busy for once. They even have time to play a board game together. When the electricity is restored, everything can go back to normal . . . but not everyone likes normal. The boy switches off the lights, and out comes the board game again."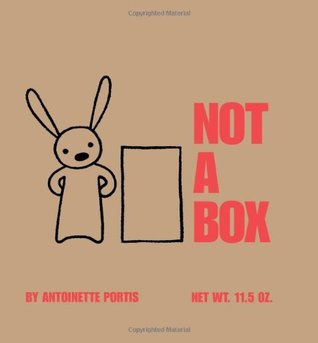 Not a Box by Antoinette Portis – Love this book- slow down and appreciate what you've got, use your imagination. Goodreads Summary: "A box is just a box . . . unless it's not a box. From mountain to rocket ship, a small rabbit shows that a box will go as far as the imagination allows. Inspired by a memory of sitting in a box on her driveway with her sister, Antoinette Portis captures the thrill when pretend feels so real that it actually becomes real—when the imagination takes over and inside a cardboard box, a child is transported to a world where anything is possible."
If Everybody Did by Jo Ann Stover – Be thoughtful about following the crowd… loved the exaggerated pictures. Goodreads Summary: "The hilarious and terrible consequences of everyone doing his own thing are portrayed by author/artist Jo Ann Stover in If Everybody Did. Children and adults alike will enjoy this precautionary tale with its concise rhyming text, and amusing illustrations."
More by I.C. Springman, illustrated by Brian Lies– How much is enough? Can you sit back and appreciate what you do have? Goodreads Summary: "One magpie, lots of stuff, and a few friendly mice show us that less is more. This innovative and spare picture book asks the question: When is MORE more than enough? Can a team of well-intentioned mice save their friend from hoarding too much stuff?"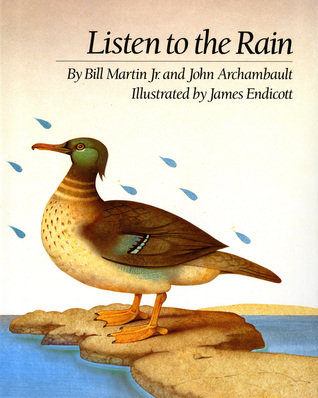 Listen to the Rain by Bill Martin Jr. and John Archambault, illustrated by James Endicott – Beautiful picture book about slowing down to listen to the rain. Perfect to connect with a mindfulness activity. Goodreads Summary: "Bill Martin Jr. and John Archambault evoke the beauty and the mystery, and the sounds and the silences– of rain.
Listen to the rain,
the whisper of the rain,
the slow soft sprinkle,
the drip-drop tinkle,
the first wet whisper of the rain."
The Greatest Power by Demi – This book is perfect, especially in one portion where you have a little girl named Sing who sits down to think about the greatest powers in the world and find the one that is the greatest- life. Beautiful story and special perspective. Goodreads Summary: "Emperor Ping, the boy emperor known for his love of harmony, sets a challenge to the children of his kingdom: show him the greatest power in the world. "To know the greatest power in the world is to know the greatest peace," Emperor Ping announces. "Whoever knows this harmony will become the new prime minister."
The children get to work right away and have many bright ideas. The greatest power must be weapons! It must be beauty! It must be money!
But as a young girl named Sing reflects upon the challenge, she wonders how any of those things, which cannot last forever, could be the greatest power in the world. She is certain there is something even more powerful, and the source of this power will surprise and delight her."
The Quiet Place by Sarah Stewart, pictures by David Small – When a young girl moves to a new country, she finds that she needs a quiet place to feel comfort and home and help her adapt to the new situations in her life. Touching and beautiful. Goodreads Summary: "When Isabel and her family move to the United States, Isabel misses all the things she left behind in Mexico, especially her aunt Lupita and hearing people speak Spanish.  But she also experiences some wonderful new things–her first snow storm and a teacher who does not speak Spanish but has a big smile. Even better, Papa and her brother Chavo help her turn a big box into her own quiet place, where she keeps her books and toys and writes letters to Aunt Lupita. As she decorates and adds more and more on to her quiet place, it is here that Isabel feels the most at home in her new country while she learns to adjust to the changes in her life."
Zen Shorts, Zen Ties, Zen Ghosts by Jon J. Muth – These are beautiful stories each specifically touching on being thoughtful, taking time for yourself and friends, appreciating nature, and more… Zen Shorts Goodreads Summary: ""Michael," said Karl. "There's a really big bear in the backyard." This is how three children meet Stillwater, a giant panda who moves into the neighborhood and tells amazing tales. To Addy he tells a story about the value of material goods. To Michael he pushes the boundaries of good and bad. And to Karl he demonstrates what it means to hold on to frustration. With graceful art and simple stories that are filled with love and enlightenment, Jon Muth — and Stillwater the bear — present three ancient Zen tales that are sure to strike a chord in everyone they touch."   Zen Ties Goodreads Summary: "Summer has arrived — and so has Koo, Stillwater the Panda's haiku-speaking young nephew. When Stillwater encourages Koo and their friends Addy, Michael, and Karl to help a grouchy neighbor in need, their efforts are rewarded in unexpected ways."   Zen Ghosts Goodreads Summary: "It's Halloween. The trees are ablaze in fiery reds. Excited children don colorful costumes. And there's mystery and fun around every corner! When Addy, Michael, and Karl finish trick-or-treating, their bags are brimming with treats. But the fun isn't over yet. Their good friend Stillwater the panda has one more special surprise in store for them. A mysterious visitor is about to tell them a spine-tingling story — one that will fill each and every reader with wonder."
Thank You, World by Alice B. McGinty, illustrated by Wendy Anderson Halperin – Slow down, appreciate the earth, be grateful for what you're getting from the world – clouds, rain, stars and more… Thankfulness is a huge part of mindfulness. Goodreads Summary: "Thank you, breeze, for lifting up my kite wings past treetops tall and proud. Thank you, trees. Your branches are my playhouse. I?m climbing to the clouds! Eight very different kids, from eight different continents, all go about their day and experience the same moments of happiness: greeting the sun in the morning, swinging on a swing, flying a kite, being tucked in by Mommy at bedtime. Uplifting and visually rich, this book reminds us that the world isn?t as large as it seems, and that life's greatest pleasures are the simple ones."
The Peace Book by Todd Parr – How do you find peace? This book is perfect for children working on finding ways to be peaceful. Humorous as well. Goodreads Summary: "Like Parr's bestseller "It's Okay to Be Different," this primer about peace gives parents and teachers a valuable tool in talking about this challenging subject to younger children."
Red Sings from Treetops – a year in colors by Joyce Sidman, illustrated by Pamela Zagarenski – slow down and appreciate the colors in nature. Beautiful poetry throughout this book. Goodreads Summary: "With original and spot-on perceptions, Joyce Sidman's poetry brings the colors of the seasons to life in a fresh light, combining the senses of sight, sound, smell and taste."
Scaredy Squirrel by Melanie Watt – you shouldn't let fear rule your world. Hilarious approach to this concept. Never tire of reading this book/series. Goodreads Summary: "Scaredy Squirrel never leaves his nut tree. It's way too dangerous out there. He could encounter tarantulas, green Martians or killer bees. But in his tree, every day is the same and if danger comes along, he's well-prepared. Scaredy Squirrel's emergency kit includes antibacterial soap, Band-Aids and a parachute. Day after day he watches and waits, and waits and watches, until one day his worst nightmare comes true! Scaredy suddenly finds himself out of his tree, where germs, poison ivy and sharks lurk. But as Scaredy Squirrel leaps into the unknown, he discovers something really uplifting."
Fearless in Love by Colin Thompson, illustrated by Sarah Davis – how do you find the balance of love and hate? This is a cute picture book that demonstrates that you need balance in your life. Goodreads Summary: "The only thing Fearless could remember his mother telling him was, ′Life is much nicer if you love everyone.′
But loving everyone is much more complicated than Fearless had imagined. Until he meets Primrose …"
Here are some websites that I thought collected some interesting picture books in regards to mindfulness:
https://themindfulclassroom.wordpress.com/tag/mindfulness-picture-books/
https://themindfulclassroom.wordpress.com/2012/11/18/using-the-power-of-stories-to-introduce-the-concept-of-mindfulness/
http://www.mindfulnesseducation4life.com/blog/childrens-books-about-mindfulness/
http://childrensbooksheal.com/tag/mindfulness/
I also found a great booklist website that addresses people dealing with anger- from children to teens to adults, appreciated this quite a bit, planning to add a few books to my school's library collection from here:
http://www.thejennyevolution.com/anger-books-for-kids-anger-management/
Want more book ideas and reviews? – Yes, I'm quite brief, but a prolific reader!  Please visit me at Goodreads: http://www.goodreads.com/user/show/1941055-the-styling-librarian Also, please follow this blog through email updates – (do so to the right of this blog post), my Facebook page, comment, or meet up with me on Twitter. I appreciate all of the support, makes my day! Honored by all the wonderful followers.
FTC Required Disclosure: This site is an Amazon affiliate, and purchases made through Amazon links (including linked book covers) may result in my receiving a small commission (at no additional cost to you). Additionally this site is a Powells Books affiliate, and purchases made through the linked book covers may result in my receiving a small commission (at no additional cost to you).
© 2013 by Debbie Alvarez of The Styling Librarian. All rights reserved. You can also follow me @stylinlibrarian or at my Styling Librarian Page on Facebook.