Styling Librarian #IMWAYR It's Monday What Are You Reading?
Thanks to: TeachMentorTexts  and Unleashing Readers for the inspiration! Thanks to Jen and Kellee for the meme! Enjoying books week by week… I decided to spread out what I'm reading recently over a few weeks… so this isn't everything but I've enjoyed them all!
Warriors Book 2 – Fire and Ice by Erin Hunter – Animal Fantasy – 4th grade and up – My son and I read this together. Interesting to read this aloud to my son. I forgot a lot about what happened in this book. It is a terrific action/adventure series but I am freeing myself from the third book read aloud for now. Time for a break. Goodreads Summary: "WindClan is missing, and hostilities between the remaining three clans place all the cats in peril. Illness and tragic accidents weaken the camp, and ThunderClan needs all its warriors to defent itself – but Fireheart suspects that certain cats may not be as loyal as they appear."
.
Fort by Cynthia DeFelice – Realistic Fiction, 4th grade – Released May 19th, 2015- Really enjoyed this book. I appreciated quite the humorous glimpse at a boy's week making a fort with his friend. From decapitating a creature to slingshot hunting to surviving bullying to creating an epic fort, the book is  brilliant. Goodreads Summary: "In this boys-will-be-boys summer story about friendship and revenge, eleven-year-old Wyatt and his friend Augie aren't looking for a fight. They're having the best summer of their lives hanging out in the fort they built in the woods, fishing and hunting, cooking over a campfire, and sleeping out. But when two older boys mess with the fort-and with another kid who can't fight back-the friends are forced to launch Operation Doom, with unexpected results for all concerned, in this novel about two funny and very real young heroes."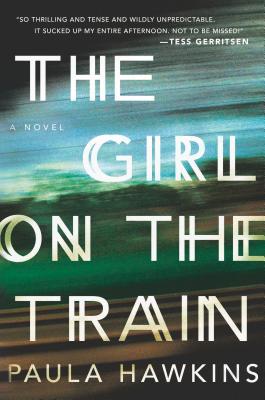 The Girl on the Train by Paula Hawkins – Audiobook – Adult – Suspense – Good twisting and turning and great narrators who helped the story become quite the compelling book. I enjoyed this book much more than Gone Girl but know I want to take a break from these suspense books for a while. Goodreads Summary: "Rachel takes the same commuter train every morning. Every day she rattles down the track, flashes past a stretch of cozy suburban homes, and stops at the signal that allows her to daily watch the same couple breakfasting on their deck. She's even started to feel like she knows them. "Jess and Jason," she calls them. Their life—as she sees it—is perfect. Not unlike the life she recently lost.
And then she sees something shocking. It's only a minute until the train moves on, but it's enough. Now everything's changed. Unable to keep it to herself, Rachel offers what she knows to the police, and becomes inextricably entwined in what happens next, as well as in the lives of everyone involved. Has she done more harm than good?"


Leroy Ninker Saddles Up by Kate DiCamillo – Humorous Fiction, 2nd grade and up – Early Chapter Book – Oh how I loved this precious book. Made me laugh throughout and appreciated the friendship and love that developed through this book. Plus you can use this book to discuss responsibilities in a fun way. How do you care for a pet? How do you show you care to your friends, family, others? Goodreads Summary: "Leroy Ninker has a hat, a lasso, and boots. What he doesn't have is a horse — until he meets Maybelline, that is, and then it's love at first sight. Maybelline loves spaghetti and sweet nothings, and she loves Leroy, too. But when Leroy forgets the third and final rule of caring for Maybelline, disaster ensues. Can Leroy wrestle fate to the ground, rescue the horse of his heart, and lasso loneliness for good? Join Leroy, Maybelline, and a cast of familiar characters — Stella, Frank, Mrs. Watson, and everyone's favorite porcine wonder, Mercy — for some hilarious and heartfelt horsing around on Deckawoo Drive."
A Million Ways Home by Ianna Dorisi Winget – Realistic Fiction – 4th grade and up – This is one tough book to read. Beautiful story about a girl who has some issues with acting compulsively. Reading about how a girl's world unraveled when her grandmother was hospitalized and then how things can become much worse… what a beautiful book. Perfect for those who want to get wrapped up in a story about a thoughtful girl who is such a beautiful person who can help so many people she interacts with… Also good for those who love dog rescue stories. Goodreads Summary: "Poppy's life has been turned upside down after her grandma (and guardian) had a stroke and ended up in the hospital. But Poppy is working on a plan to help Grandma Beth so their life together can go back to normal. But when she witnesses an armed robbery, "back to normal" slips even further out of her reach. To keep Poppy safe, the budget-strapped police devise an unusual "witness protection program," wherein Poppy will stay with Detective Brannigan's mother. Soon Poppy is feeling almost at home, even making sort-of friends with a girl named Lizzie and definitely friending Gunner, a beautiful dog with an uncertain fate. But it's still not home. So while she and Lizzie navigate a rocky friendship and plot to save Gunner's life, Poppy also tries to figure out a new plan to save Grandma Beth and their home, all while avoiding a dangerous robber who might be searching for her. But what if Grandma Beth can never come home and the robber is put behind bars? What will happen to Poppy then?"
Violet Mackerel's Pocket Protest by Anna Branford, illustrated by Sarah Davis – Early Chapter Book, Realistic Fiction, 2nd grade and up – Fantastic book packed with small, practical actions, perfect for a read aloud with Y1-Y3/1st-3rd grade. Loved how Violet stays true to character when challenged with new situations and how she uses her skills in a useful, helpful way. Students can have little inspirational art projects with some of Violet's creative ideas and additionally learn about how protests work without getting too much into the political aspect of them. Highly recommended. Goodreads Summary: "VIOLET MACKEREL loves Clover Park. She especially loves to collect acorns from under the big old OAK TREE. But the OAK TREE is going to be cut down. Violet does NOT think this is a good idea! The OAK TREE is important. It is worth trying to SAVE. And Violet hopes her POCKET PROTEST will be just the thing to save it."
Want more book ideas and reviews? – Yes, I'm quite brief, but a prolific reader!  Please visit me at Goodreads: http://www.goodreads.com/user/show/1941055-the-styling-librarian Also, please follow this blog through email updates – (do so to the right of this blog post), my Facebook page, comment, or meet up with me on Twitter. I appreciate all of the support, makes my day! Honored by all the wonderful followers.
FTC Required Disclosure: This site is an Amazon affiliate, and purchases made through Amazon links (including linked book covers) may result in my receiving a small commission (at no additional cost to you). Additionally this site is a Powells Books affiliate, and purchases made through the linked book covers may result in my receiving a small commission (at no additional cost to you).
© 2013 by Debbie Alvarez of The Styling Librarian. All rights reserved. You can also follow me @stylinlibrarian or at my Styling Librarian Page on Facebook.