Styling Librarian Saturday Book Share The Eternal City
"Pull up a chair, it's a Saturday Book Share".
Here's to celebrating books that strike my fancy every week!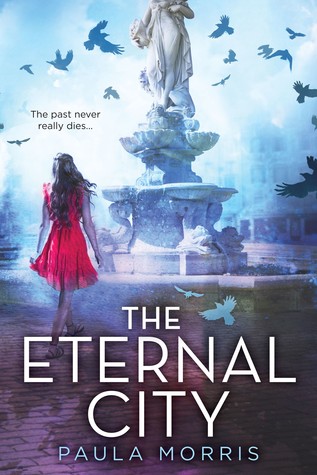 The Eternal City by Paula Morris, publication date – May 26th, 2015 – Fantasy – I was speeding through this book because I loved visiting Italy, Rome, and imagining ancient beings manifesting and interacting with the characters in the book. Some bits of the story made me wrinkle my forehead but overall, it provides an excellent adventure packed with action and danger. Perfect fit for Percy Jackson fans who want to read a different unlikely hero.
Goodreads Summary: "From master of suspense Paula Morris comes a tale of gods and goddesses, thrilling romance, and mystery set in present-day Rome. Laura Martin is visiting Rome on a class trip, and she's entranced by the majestic Colosseum, the Trevi Fountain, the Pantheon. . . . Everything in this city seems magical. That is, until the magic seems to turn very dark. Suddenly, statues of Cupid and ancient works of art come to life before her eyes. Earthquakes rumble and a cloud of ash forms in the sky. A dark-eyed boy with wings on his heels appears and gives her a message. Laura soon realizes she is at the center of a brewing battle — a battle between the gods and goddesses, one that will shake modern-day Rome to its core. Only she and her group of friends can truly unravel the mystery behind what is happening. As tensions mount and secret identities are revealed, Laura must rely on her own inner strength to face up to what may be a fight for her life."
About Pull up a chair, it's a Saturday Book Share: I've had many books I review that I just want to feature. Simple and easy, celebrate a new book encounter. So that's what Saturday Book Share is about for me, celebrating books! Perhaps some days I'll share the book with a short reading of a portion. Or perhaps other days I'll just share a glimpse of the book.
Want more book ideas and reviews? – Yes, I'm quite brief, but a prolific reader! Please visit me at Goodreads: http://www.goodreads.com/user/show/1941055-the-styling-librarian Also, please follow this blog through email updates – (do so to the right of this blog post), my Facebook page, comment, or meet up with me on Twitter. I appreciate all of the support, makes my day! Honored by all the wonderful followers.
FTC Required Disclosure: This site is an Amazon affiliate, and purchases made through Amazon links (including linked book covers) may result in my receiving a small commission (at no additional cost to you). Additionally this site is a Powells Books affiliate, and purchases made through the linked book covers may result in my receiving a small commission (at no additional cost to you).
© 2013 by Debbie Alvarez of The Styling Librarian. All rights reserved. You can also follow me @stylinlibrarian or at my Styling Librarian Page on Facebook.