Styling Librarian Top 10 Books for Discussions on Taking Action #PYP
Recently some teachers presented to students about taking action in different ways. We have a few fantastic non-fiction books that address this topic but my colleagues wanted to use some picture books for inspiration and thought provoking discussions about taking action. I enjoyed pulling some of my favorite books and additionally thought about a few others.
Picture Books:
1. Weslandia by Paul Fleischmann, illustrated by Kevin Hawkes – This is a favorite one. So many layers are in this book beyond taking action…  Goodread Summary: "Enter the witty, intriguing world of Weslandia! Now that school is over, Wesley needs a summer project. He's learned that each civilization needs a staple food crop, so he decides to sow a garden and start his own – civilization, that is. He turns over a plot of earth, and plants begin to grow. They soon tower above him and bear a curious-looking fruit. As Wesley experiments, he finds that the plant will provide food, clothing, shelter, and even recreation. It isn't long before his neighbors and classmates develop more than an idle curiosity about Wesley – and exactly how he is spending his summer vacation."
2. A Bus Called Heaven by Bob Graham – One of my favorite books to read aloud. I love how the whole community is inspired by a little girl and how they all work together to create a special place. Goodreads Summary: "How did it get there? Everyone wonders – but nobody knows. Then, out from the shadows steps Stella. She climbs onto the bus and, in a moment, sees everything that it could become: 'This bus could be ours', she says. And so, the lonely old bus – with the help of some colourful graffiti – becomes a hub of activity!"
3. Because Amelia Smiled by David Ezra Stein – Excellent for discussions on world awareness, sharing a smile, being kind, and more… Especially apt to point out that one very simple action can a catalyst for so many other good things to happen. Goodreads Summary: "Because Amelia smiles as she skips down the street, her neighbor Mrs. Higgins smiles too, and decides to send a care package of cookies to her grandson Lionel in Mexico. The cookies give Lionel an idea, and his idea inspires a student, who in turn inspires a ballet troupe in England! And so the good feelings that started with Amelia's smile make their way around the world, from a goodwill recital in Israel, to an impromptu rumba concert in Paris, to a long-awaited marriage proposal in Italy, to a knitted scarf for a beloved niece back in New York. Putting a unique spin on "what goes around comes around," David Ezra Stein's charmingly illustrated story reminds us that adding even a small dose of kindness into the world is sure to spur more and more kindness, which could eventually make its way back to you!"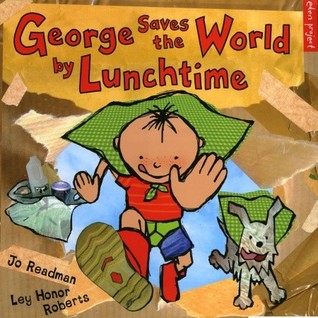 4. George saves the world by lunchtime by Jo Readman, illustrated by Ley Honor Roberts – Cute one. Good for showing different ways to be a recycler. Goodreads Summary: "George is determined to save the world by lunchtime, but he's not quite sure how. Grandpa suggests they start by recycling the yogurt container from his breakfast, putting his banana peel in the compost pile, and hanging the laundry to dry in the sun. A bike trip to the recycling center, charity shop, and local farmers' market show how recycling and reusing materials—as well as using less gas and buying local produce—can really help save the world. George even gets a favorite toy fixed! Highly original and eye-catching illustrations combine painting and photographs to draw children into the world of recycling."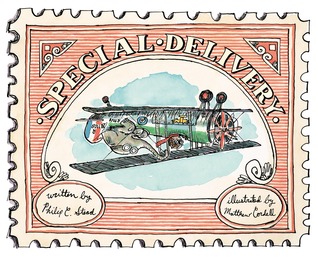 5. Special Delivery by Philip C. Stead, illustrated by Matthew Cordell – Caring for others… taking action in creative ways… FANTASTIC book. Goodreads Summary: "Sadie is on her way to deliver an elephant to her Great-Aunt Josephine, who lives completely alone and can really use the company. She tries everything from mailing the elephant to boarding a plane, a train, and an alligator to get to her aunt's home. Along the way she meets an array of interesting characters, including an odd postal worker and a gang of bandit monkeys, who all help her get where she is going."
6.  The Curious Garden by Peter Brown – Another wonderful book connected to green spaces. In this one the boy impacts a whole city by starting to take care of one struggling garden. Goodreads Summary: "One boy's quest for a greener world… one garden at a time.
While out exploring one day, a little boy named Liam discovers a struggling garden and decides to take care of it. As time passes, the garden spreads throughout the dark, gray city, transforming it into a lush, green world.
This is an enchanting tale with environmental themes and breathtaking illustrations that become more vibrant as the garden blooms. Red-headed Liam can also be spotted on every page, adding a clever seek-and-find element to this captivating picture book."
7. Horton Hears a Who! by Dr. Seuss – A favorite book to share, beautiful. I appreciate the topics of speaking up for others and yourself, caring for others, and more… this book is packed with wonderful lessons, including taking action to help others. . Goodreads Summary: "Using the sort of crazy characters and nonsensical situations that are the hallmark of Dr. Seuss, 'Horton Hears a Who' brings together some of his silliest rhymes and craziest drawings."
8. The Quiet Place by Sarah Stewart and David Small – Wonderful story about moving to another country but additionally, taking action to find a special quiet place for yourself is simple and easy lesson to share with students. BEAUTIFUL book. Goodreads Summary: "When Isabel and her family move to the United States, Isabel misses all the things she left behind in Mexico, especially her aunt Lupita and hearing people speak Spanish.  But she also experiences some wonderful new things–her first snow storm and a teacher who does not speak Spanish but has a big smile. Even better, Papa and her brother Chavo help her turn a big box into her own quiet place, where she keeps her books and toys and writes letters to Aunt Lupita. As she decorates and adds more and more on to her quiet place, it is here that Isabel feels the most at home in her new country while she learns to adjust to the changes in her life."
9. The Only One Club by Jane Naliboff, illustrated by Jeff Hopkins – Really cute story with a girl realizing she's not the only one who has differences. I appreciate how she changes her actions to include others. Goodreads Summary: "This heartwarming story explores the many ways in which children feel unique and special. Mrs. Matthews's first grade class begins making Christmas decorations, but because Jennifer is Jewish, Mrs. Matthews allows her to make Hanukkah decorations instead. Jennifer enjoys the attention and creates "The Only One Club," of which she is the sole member. When her classmates want to join, she is resistant until she realizes that each of her friends is also "the only one" at something. As she inducts them into her club she reveals the unique qualities that make each of her classmates extraordinary. Through this touching story, young children are encouraged to discover and treasure their own uniqueness and to actively look for special qualities in others beyond race or culture."
10. A Bucket of Blessings by Kabir Sehgal, Surishtha Sehgal, illustrated by Jing Jing Tsong – Very cute story of friendship… Goodreads Summary: "Near a majestic mountain in a vast jungle with many mango trees, it has not rained for weeks and weeks. The village well and pond are dry. Monkey and his friends look everywhere for water, but they have no luck. And then Monkey remembers a story his mama used to tell him, a story about how peacocks can make it rain by dancing. So he sets out to see if the story is true…"
Plus… (you know I can't just stop at 10)
The Promise by Nicola Davies – Goodreads Summary: "On a mean street in a mean, broken city, a young girl tries to snatch an old woman's bag. But the frail old woman, holding on with the strength of heroes, says the thief can't have it without giving something in return: the promise. It is the beginning of a journey that will change the thieving girl's life — and a chance to change the world, for good."
Eliot Jones, Midnight Superhero by Anne Cottringer, Alex T. Smith – Goodreads Summary: "By day, Eliot is quiet. He reads his books, feeds his goldfish, and watches Mr. Smith wash his car. "Eliot is such a quiet little thing," say all the grown-ups. But the grown-ups don't know that when the clock strikes midnight Eliot is a SUPERHERO! Eliot's midnight adventures include saving a crowd from lions that escaped from the zoo, hanging from helicopters and finding lost teddy bears for babies. Then one night, Eliot receives an urgent message from the world's most important scientists and he embarks on his most important mission ever–saving the world."
Last Tree in the City by Peter Carnavas –  Goodreads Summary: "Edward would always go to a tree in the middle of his city where everything has no colour except the tree and play in or around it and relax. One day it gets chopped down and he's really sad but in the end he's happy. It was a nice ending!"
Our Tree Named Steve by Alan Zweibel, illustrated by David Catrow –  Goodreads Summary: "After the family spares him from the builders, Steve the tree quickly works his way into their lives. He holds their underwear when the dryer breaks down, he's there when Adam and Lindsay get their first crushes, and he's the centerpiece at their outdoor family parties. With a surprising lack of anthropomorphizing, this is a uniquely poignant celebration of fatherhood, families, love, and change."
Recipe for a Perfect Planet Pie by Kim Michelle Toft –  Goodreads Summary: "Recipe For Perfect Planet Pie reads like a recipe, each ' method' using natural resources which need to be nurtured and sustained. Using cooking terms , it's a fun way to look at solutions to 'greening' the planet. It is an excellent springboard for discussion on sustainability, cleaner alternate energy supplies and the preservation of nature."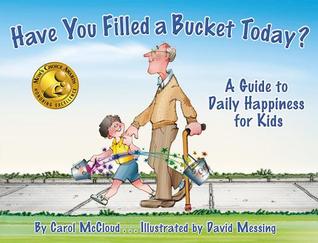 Have you filled a bucket today by Carol McCloud – Goodreads Summary: "Through simple prose and vivid illustrations, this heartwarming book encourages positive behaviour as children see how rewarding it is to express daily kindness, appreciation, and love. Bucket filling and dipping are effective metaphors for understanding the effects of our actions and words on the well being of others and ourselves."
Early Chapter Book:
Violet Mackerel's Pocket Protest by Anna Branford – Goodreads Summary: "VIOLET MACKEREL loves Clover Park. She especially loves to collect acorns from under the big old OAK TREE. But the OAK TREE is going to be cut down. Violet does NOT think this is a good idea! The OAK TREE is important. It is worth trying to SAVE. And Violet hopes her POCKET PROTEST will be just the thing to save it."
Zapato Power by Jacqueline Jules – every book is packed with wonderful action! – Goodreads Summary: "One day Freddie Ramos comes home from school and finds a strange box just for him. What's inside? ZAPATO POWER-shoes that change Freddie's life by giving him super speed! But what will Freddie do with his fast new skills? Weird things are happening at the Starwood Park Apartments where he lives, and his friends at school need his help. Is Freddie Ramos ready to be a hero? In this imaginative new story by Jacqueline Jules, an ordinary boy in a city neighborhood learns how to use his new-found powers for good."
I won't get into all the gorgeous novels you could share… or any more non-fiction books but…
I appreciated these links for book inspiration:
50 Books about Peace and Social Justice
https://ccbc.education.wisc.edu/books/detailListBooks.asp?idBookLists=77
When a book becomes a call to action:
https://nerdybookclub.wordpress.com/2015/01/29/when-a-book-becomes-a-call-to-action-by-patricia-newman/
14 Picture Books for Exploring Eco-Friendly Actions
http://humaneeducation.org/blog/2014/04/03/14-picture-books-exploring-eco-friendly-actions/
17 BOOKS TO INSPIRE KIDS TO CHANGE THE WORLD
http://www.whatdowedoallday.com/2015/01/books-to-inspire-kids-to-change-the-world.html
I've blogged about taking action numerous times through the years. Here are  a few of the links:
eBook to raise awareness:
http://thestylinglibrarian.com/2015/01/28/styling-librarian-whatever-wednesday-action-and-help/
Taking Action/Inspiration:
http://thestylinglibrarian.com/2013/06/19/styling-librarian-taking-action-whateverwednesday/
CNN Hero/Action:
http://thestylinglibrarian.com/2014/12/31/styling-librarian-whatever-wednesday-cnn-hero/
Want more book ideas and reviews? – Yes, I'm quite brief, but a prolific reader!  Please visit me at Goodreads: http://www.goodreads.com/user/show/1941055-the-styling-librarian Also, please follow this blog through email updates – (do so to the right of this blog post), my Facebook page, comment, or meet up with me on Twitter. I appreciate all of the support, makes my day! Honored by all the wonderful followers.
FTC Required Disclosure: This site is an Amazon affiliate, and purchases made through Amazon links (including linked book covers) may result in my receiving a small commission (at no additional cost to you). Additionally this site is a Powells Books affiliate, and purchases made through the linked book covers may result in my receiving a small commission (at no additional cost to you).
© 2013 by Debbie Alvarez of The Styling Librarian. All rights reserved. You can also follow me @stylinlibrarian or at my Styling Librarian Page on Facebook.