Styling Librarian #IMWAYR It's Monday What Are You Reading?
Thanks to: TeachMentorTexts  and Unleashing Readers for the inspiration! Thanks to Jen and Kellee for the meme! Enjoying books week by week… I decided to spread out what I'm reading recently over a few weeks… so this isn't everything but I've enjoyed them all!
Yes Please by Amy Poehler -adult – audiobook – every moment = brilliance. One of the best audiobooks I've read. Life lessons, humor, and celebration of learning, growth and experiences… It was fascinating to learn about Amy Poehler's life. Highly recommended for anyone who enjoys laughing and learning simultaneously. Goodreads Summary: "n Amy Poehler's highly anticipated first book, Yes Please, she offers up a big juicy stew of personal stories, funny bits on sex and love and friendship and parenthood and real life advice (some useful, some not so much), like when to be funny and when to be serious. Powered by Amy's charming and hilarious, biting yet wise voice, Yes Please is a book is full of words to live by."
Nick Toczek Poetry Galore- All ages


Me and My Poems! by Nick Toczek
Number, Number, Cut a Cucumber by Nick Toczek
Cats 'N' Bats 'N' Slugs 'N' Bugs by Nick Toczek
I enjoyed Me and My Poems! the most because I could sink my teeth into more of the poetry vs. simply enjoying rhymes. I also enjoyed the riddle poems that are shared in Me and My Poems. There are also a few environmental poems mixed within the books which are useful to share with some of my year levels too.
Did you ever wonder? Fostering curiosity here, there and everywhere by John Barell – Professional book – adult – What a fascinating man. I loved his story about his inquisitive nature and how his mom acted on nurturing and helping grow this nature vs. squashing his questions. Knowing the right questions to ask to continue on the curiosity journey is essential for parents who want to keep their children inquiring and exploring. Additionally, the lessons and ideas shared in the book are useful for classrooms as well. Not only are there mentions of classroom and home exploration, there is also technology inquiry and curiosity connections, books and wordplay, and how to continue our dreams and continue our curiosity. Fantastic professional book.
Snug – Michael Morpurgo – 2nd grade and up – Little Gems/Barrington Stoke – Special story that's been republished and illustrated to bring to like a childhood memory about Lisa's cat Snug. Snug is a tom cat who loves his freedom and isn't one to stay in a house his whole life… good twists and turns in this quick read.
Louise Loves Art by Kelly Light – Picture book – Just love this art celebration. Beautiful. Many children would enjoy how there a little brother who wants to get into everything his older sister is doing without realizing how he could be actually ruining her art. Additionally, they'd "get" how you can be so absorbed in your project that you miss out on anything else going on around you. Love this story, touching as well. Goodreads Summary: "Meet Louise. Louise loves art more than anything. It's her imagination on the outside. She is determined to create a masterpiece—her pièce de résistance!
Louise also loves Art, her little brother. This is their story."
All About My Brother – An eight-year-old sister's introduction to her brother who has autism – by Sarah Peralta – Really appreciate how this book presents the perspective of living with a sibling who has autism. Helps explain one type of autism. I shared this book with my son. We talked about different levels of autism, how he's already interacted for years with children that have autism, and how sometimes it isn't a noticeable/recognizable thing… I'm so excited about a book coming out that addresses autism as well… soon, very soon.
I passed this book and a number of other titles on to my teacher friend who works supports some of our students in the classroom. She shared the books with students when there was time available and there has been very positive, supportive comments from parents and students about how students now have a better understanding of some of the challenges their classmates are facing. Additionally, my teacher friend has found that the classes she's shared the book with have many more empathetic students who care to know and understand more. They often are pulling more books off the shelf in the library and asking thoughtful questions. Goodreads Summary: "This is an invaluable contribution to helping typically developing children understand that a child with autism is a child first, and is someone interesting to know. Sarah gives insight into the sibling relationship in a way only a child can do it. Through her simple depictions of her brother Evan's everyday behavior, Sarah encourages others to approach autism without fear or pity. The effects of her book will live long beyond the last pages, as Sarah invites her young readers to share ideas for how to live with siblings or classmates who have autism spectrum disorders. The book is heart-warming and introspective and the writing style makes it appropriate for children and adults alike."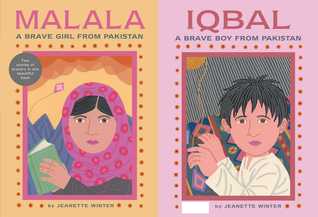 Malala – A Brave Girl from Pakistan / Iqbal – A Brave Boy from Pakistan by Jeanette Winter – Biography – 3rd grade and up – Powerful inspirational stories about two brave children from Pakistan who were both risk takers, spoke up when they knew they could do so, and inspired hundreds and hundreds of people around the world. Jeanette Winter's writing and illustrations are, as always, gorgeous and powerful. Goodreads Summary: "Meet two heroes of Pakistan who stood up for the rights to freedom and education in these inspirational nonfiction tales from acclaimed author-illustrator Jeannette Winter. Two stories of bravery in one beautiful book! Meet two brave young heroes of Pakistan who stood up for the right to freedom and education in this inspirational nonfiction picture book from acclaimed author-illustrator Jeanette Winter. One country: Pakistan. Two children: Iqbal Masih and Malala Yousafzai. Each was unafraid to speak out. He, against inhumane child slavery in the carpet trade. She, for the right of girls to attend school. Both were shot by those who disagreed with them; he in 1995, she in 2012. Iqbal was killed instantly; Malala miraculously survived and continues to speak out around the world."
The Moonshine Dragon by Cornelia Funke – 2nd grade and up – Fantasy – Little Gems/Barrington Stoke –  Enjoyed this whole special story asking the question- what can come out of a book in special moonshine? Could characters come out of the books? What about a dragon? Cute adventure with a little boy who creatively uses objects in his home to solve challenges. Goodreads Summary: "When a tiny silver dragon is chased out of Patrick's storybook by an equally tiny knight, all sorts of mayhem breaks loose! Soon moonshine magic has shrunk Patrick too, and he is forced to hole up inside his toy castle as the knight attacks the 'fire worm'. Can Patrick defeat the knight and make it to morning?"
Chasing Cheetahs – The Race to Save Africa's Fastest Cats by Sy Montgomery, photographs by Nic Bishop -4/5th grade book – Non-fiction – Absolutely fascinating book. Inspiring book. Hopeful book. Provides people with solutions to people thinking of cheetahs as a nuisance and shooting them. Loved how this book shows hope and a future for cheetahs to reestablish themselves. Fantastic book. Goodreads Summary: "Since the year 1900, cheetah footprints quickly dwindled in African dirt as the species plummeted from more than 100,000 to fewer than 10,000. At the Cheetah Conservation Fund's (CCF) African headquarters in Namibia, Laurie Marker and her team save these stunning, swift, and slender creatures from extinction. Since the organization's start in 1990, they've rescued more than 900 cheetahs, most of whom have been returned to the wild.
But this arduous challenge continues. For most African livestock farmers, cheetahs are the last thing they want to see on their properties. In the 1980s, as many as 19 cheetahs per farmer died each year. Cheetahs were considered vermin–but, in learning more about this magnificent species, we know this is far from true."
Want more book ideas and reviews? – Yes, I'm quite brief, but a prolific reader!  Please visit me at Goodreads: http://www.goodreads.com/user/show/1941055-the-styling-librarian Also, please follow this blog through email updates – (do so to the right of this blog post), my Facebook page, comment, or meet up with me on Twitter. I appreciate all of the support, makes my day! Honored by all the wonderful followers.
FTC Required Disclosure: This site is an Amazon affiliate, and purchases made through Amazon links (including linked book covers) may result in my receiving a small commission (at no additional cost to you). Additionally this site is a Powells Books affiliate, and purchases made through the linked book covers may result in my receiving a small commission (at no additional cost to you).
© 2013 by Debbie Alvarez of The Styling Librarian. All rights reserved. You can also follow me @stylinlibrarian or at my Styling Librarian Page on Facebook.