Styling Librarian #IMWAYR It's Monday What Are You Reading?
Thanks to: TeachMentorTexts  and Unleashing Readers for the inspiration! Thanks to Jen and Kellee for the meme! Enjoying books week by week… I decided to spread out what I'm reading recently over a few weeks… so this isn't everything but I've enjoyed them all!
Tom Gates Genius Ideas (mostly) by L. Pichon – 4th grade – Realistic Fiction/Humor – I feel quite embarrassed. I promoted a book and have been waiting to get my hands on it to finally read it. I now understand why so many of my readers have been making these annoying loud paper snapping things… there are INSTRUCTIONS in this book. Reminds me of Origami Yoda folding instructions… I love the formatting of this book, quite the quick read. My son adored the book as well. He chuckled his way through it… Happy I'm getting more books in his hands again, especially ones he reads on his own… Goodreads Summary: "Seeing Delia without her sunglasses on is a BIG shock, but that's nothing compared with the surprise Dad has in store for me with his new found fitness regime. He says he's going to compete at Sport's Day. Shame! Meanwhile Derek, Norman and I keep practicing in DOGZOMBIES so we're really ready for the school Talent Show."
Amulet #6: Escape From Lucien by Kazu Kibuishi – 4/5th grade – Graphic Novel/Fantasy – Quite a gorgeous graphic novel. So many readers are already clamoring over getting their hands on it. I enjoyed reading it as well! And noticed that #7 is in the works… Loved the action scenes in the book… Goodreads Summary: "Navin and his classmates journey to Lucien, a city ravaged by war and plagued by mysterious creatures, where they search for a beacon essential to their fight against the Elf King. Meanwhile, Emily heads back into the Void with Max, one of the Elf King's loyal followers, where she learns his darkest secrets. The stakes, for both Emily and Navin, are higher than ever."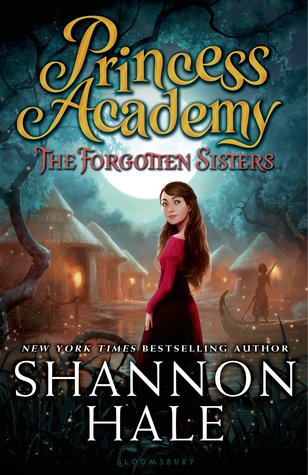 Princess Academy: The Forgotten Sisters by Shannon Hale – Fantasy – 4/5th grade – Released March 2015- So wonderful to read about Miri again… What a world Shannon throws us into with swamps, wild girls, mini-princess academies, political unrest, wars, and more… Loved every minute of this novel. Highly recommended…
Favorite quotes: "Courage is not fearlessness, Master Filippus, her tutor at the Queen's Castle, had taught. Courage is feeling justly afraid and yet still doing what is right."
"Her heart seemed to curl up like a snail disappearing into its shell."
Goodreads Summary: "After a year at the king's palace, Miri has learned all about being a proper princess. But the tables turn when the student must become the teacher!
Instead of returning to her beloved Mount Eskel, Miri is ordered to journey to a distant swamp and start a princess academy for three sisters, cousins of the royal family. Unfortunately, Astrid, Felissa, and Sus are more interested in hunting and fishing than becoming princesses.
As Miri spends more time with the sisters, she realizes the king and queen's interest in them hides a long-buried secret. She must rely on her own strength and intelligence to unravel the mystery, protect the girls, complete her assignment, and finally make her way home."
The Pied Piper of Hamelin by Michael Morpurgo, illustrated by Emma Chichester Clark -Folktale – 3rd grade and up – Really appreciated this adaptation of the classic. The book has beautiful illustrations, an excellent (not annoying) lesson on caring and thinking of others, and an interesting resolution. Goodreads Summary: "In the town of Hamelin, the rich folk live high off the hog, while the poor and sick must scavenge in the trash that's left behind. And that trash keeps building up and up until a horde of rats overruns the town. In this lively retelling, a spunky street kid narrates the age-old tale of a piper who offers to rid a town of its rats for a single gold coin, then lures away the town's children when the greedy mayor reneges on the deal."
Stretch, Swallow & Stare by Veronika Martenova Charles – Folktale – 3rd grade and up – Good folktale that children normally are not familiar with… interesting with three heroic characters who wouldn't normally be recognized as such… with a twisted evil character to defeat as well. Good story with lovely illustrations. Goodreads Summary: "Stretch was not like other people. She could stretch her body taller than the tallest tree. People didn't trust her because she was different. That's why she lived in the forest Swallow could eat more food than anyone. The villagers made fun of her because she was short and fat. That's why she left town. Stare's eyes were so strong they could burn through anything she looked at. Everyone was afraid of her. That's why she stayed alone. And then there was Ira – small, skinny, and short-sighted – with nobody in the world to help him search for his missing sister. Somehow these four unlikely characters come together and overcome all obstacles – even the most evil magic in the land."
Fairest: The Lunar Chronicles: Levana's Story by Marissa Meyer – Fantasy/Steampunk – High School – What an experience to read through the eyes of someone who has some psychological problems and simultaneously power. This book made me ridiculously uncomfortable to finally understand the wild world of Lunar and Levana's perspective. "Getting" a villain isn't my favorite pastime but I just loved reading this book.
Quote from book: "She was lying on a burning pyre, hot coals beneath her back. White sparks floated in her vision but the mercy of unconsciousness wouldn't come…"
Goodreads Summary: "Fans of the Lunar Chronicles know Queen Levana as a ruler who uses her "glamour" to gain power. But long before she crossed paths with Cinder, Scarlet, and Cress, Levana lived a very different story – a story that has never been told . . . until now. "
Minikid by Michael Morpurgo – 2nd grade and up – Little Gems/Barrington Stoke – Loved reading this story about a cousin coming to live at a house and the problems that occur with the trouble that follows him. This felt like a continuation for the book Snug.
The Castle in the Field by Michael Morpurgo– 2nd grade and up – Little Gems/Barrington Stoke – Cute little story about kids taking a risk during a terrible rainstorm by seeking shelter in a nearby shed. Unfortunately the shed is owned by someone who is very negative and doesn't welcome anyone in. The children make this their new hangout place. Interesting story.
Want more book ideas and reviews? – Yes, I'm quite brief, but a prolific reader!  Please visit me at Goodreads: http://www.goodreads.com/user/show/1941055-the-styling-librarian Also, please follow this blog through email updates – (do so to the right of this blog post), my Facebook page, comment, or meet up with me on Twitter. I appreciate all of the support, makes my day! Honored by all the wonderful followers.
FTC Required Disclosure: This site is an Amazon affiliate, and purchases made through Amazon links (including linked book covers) may result in my receiving a small commission (at no additional cost to you). Additionally this site is a Powells Books affiliate, and purchases made through the linked book covers may result in my receiving a small commission (at no additional cost to you).
© 2013 by Debbie Alvarez of The Styling Librarian. All rights reserved. You can also follow me @stylinlibrarian or at my Styling Librarian Page on Facebook.