Styling Librarian #IMWAYR It's Monday What Are You Reading?
Thanks to: TeachMentorTexts  and Unleashing Readers for the inspiration! Thanks to Jen and Kellee for the meme! Enjoying books week by week… I decided to spread out what I'm reading through the weeks which makes this not exactly what I read this week but what I've enjoyed recently…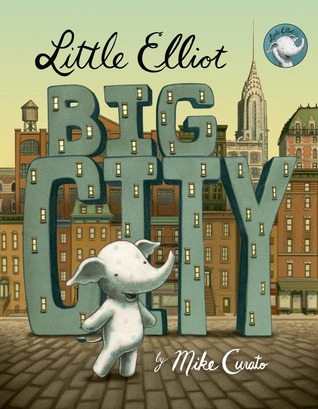 Little Elliot Big City by Mike Curato – What a special, cute little story. Love this new little friendly character Little Elliot and look forward to seeing what is next for him. Love thecity scape, love the old fashioned time period, appreciate the friendship value and special message… great story. Goodreads Summary: "Amid the hustle and bustle of the big city, the big crowds and bigger buildings, Little Elliot leads a quiet life. In spite of the challenges he faces, Elliot finds many wonderful things to enjoy—like cupcakes! And when his problems seem insurmountable, Elliot discovers something even sweeter—a friend."
Xander's Panda Party by Linda Sue Park, illustrated by Matt Phelan – Love this author. Love this illustrator. Put them together? A book I want to share with all my students. It takes a little bit of practice to be comfortable with reading this one aloud. Reminds me of Wild About Books by Judy Sierra and Marc Brown with the rhyming text, rich word choice, and zoo setting. I appreciate this book because of how different classifications of animals are introduced and part of the story. There's a fantastic author's note at the end as well that explains more about Linda Sue Park's intentions, research, and additional information for those who are interested. Love the friendships as well. Great book. I'm hoping this book gets some recognition and awards…  Goodreads Summary: "Xander planned a panda party. Yes, a dandy whoop-de-do!
But Xander was the only panda. Just one panda at the zoo.
The zoo's paucity of pandas doesn't impede Xander's party planning for long. He decides to invite all the bears. But Koala protests. She's not a bear—she's a marsupial! Does that mean she can't come? Xander rethinks his decision to invite only bears, and "Calling all bears" evolves into "Calling all creatures.""
Cinderella's Bum by Nicholas Allan – Oh my. My friend told me that after three years of loaning this book I must read it and oh my, it is absolutely hilarious. Not appropriate to read aloud. Not appropriate for younger groups to be honest- they just won't get the jokes… but I laughed through this book. Must read more Nicholas Allan books now… Goodreads Summary: "A big sister is horrified when she can't fit into her swimming costume. Her BOTTOM IS SOO BIG! But her little sister has some good advice. There follows a wonderful romp through history and fairyland, as the little sister explains exactly why a big bottom can be useful. Father Christmas needs one for crash landings and, if you are a queen, a big bum is vital to keep you comfy while sitting on your throne . . . Once again Nicholas Allan combines laugh-out-loud humour with real insight that cannot fail to raise a smile."
Back to Front and Upside Down! by Claire Alexander – Picture book – appreciate a character who has dyslexia. Cute little dog is scared to ask for help when he is challenged by writing down letters correctly. Appreciate the different ways he practices learning how to write letters that are introduced in the book. Read this before but glad my kiddo borrowed and read it to me… Goodreads Summary: "It's the principal Mr. Slipper's birthday, and while the rest of the class gets busy writing cards for the occasion, Stan becomes frustrated when his letters come out all in a muddle. Stan is afraid to ask for help, until a friend assures him that nobody's good at everything. And after lots and lots of practice, Stan's letters come out the right way round and the right way up.This delightful book deals with a common childhood frustration and will remind readers that practice pays off and that everyone has to ask for help sometimes."
Rules of Summer by Shaun Tan – Picture book – Looked through this book again. What a gorgeous, fascinating, and complicated story. Really enjoyed rereading this book. What interesting projects and discussions this book could have. I especially appreciate how this book can be a spinoff from the traditional essay about what I did over the summer assignment. Goodreads Summary: "Combining humour and surreal fantasy, Shaun Tan pictures a summer in the lives of two boys. Each spread tells of an event and the lesson learned. By turns, these events become darker and more sinister as the boys push their games further and further."
The Right Word – Roget and his Thesaurus by Jen Bryant and Melissa Sweet – Biography – This book is beautiful. This book is something I imagine as a pop-up. I wanted to lift the flaps. Adored the texture all the way through the book. As a list writerpersonally, could appreciate and understand Peter Roget's perspective and practices. Love the message about the power of words… so important. What a gorgeous book. Looking forward to including it as a connection to reference books and thesaurus specifically. Goodreads Summary: "For shy young Peter Mark Roget, books were the best companions — and it wasn't long before Peter began writing his own book. But he didn't write stories; he wrote lists. Peter took his love for words and turned it to organizing ideas and finding exactly the right word to express just what he thought. His lists grew and grew, eventually turning into one of the most important reference books of all time."
Tiny Creatures – The World of Microbes by Nicola Davies, illustrated by Emily Sutton – Non-fiction – This author is ridiculously talented at making topics sound so fascinating and writing them in a way that begs to be read aloud. Interesting to read about the little creatures that do some of the biggest things. Interesting story to share with my students when we'retaking about habitats, creatures, how things work… Goodreads Summary: "All around the world — in the sea, in the soil, in the air, and in your body — there are living things so tiny that millions could fit on an ant's antenna. They're busy doing all sorts of things, from giving you a cold and making yogurt to eroding mountains and helping to make the air we breathe. If you could see them with your eye, you'd find that they all look different, and that they're really good at changing things into something else and at making many more microbes like themselves!"
The Ultimate Minecraft Comic Book – A Graphic Novel by the Minecraft Guys – Hmm. Quickest to read. My kiddo was impressed but done reading within 8 minutes. Reminds me of when I read Archie comic collections. Goodreads Summary: "The Ultimate Minecraft Comic for Serious Minecraft Fans!
If you love Minecraft then you will love this first ever, one-of-a-kind Minecraft comic book, drawn in true graphic novel/comic book style.
It tells the story of young Steve, who finds himself in an epic battle to save the lives of hundreds of villagers including his father. Battling zombies, skeletons, creepers, and the invincible Herobrine – will he be able to save his father and the hundreds of villagers from the curse Herobrine has placed on the land?"
Want more book ideas and reviews? – Yes, I'm quite brief, but a prolific reader!  Please visit me at Goodreads: http://www.goodreads.com/user/show/1941055-the-styling-librarian Also, please follow this blog through email updates – (do so to the right of this blog post), my Facebook page, comment, or meet up with me on Twitter. I appreciate all of the support, makes my day! Honored by all the wonderful followers.
FTC Required Disclosure: This site is an Amazon affiliate, and purchases made through Amazon links (including linked book covers) may result in my receiving a small commission (at no additional cost to you). Additionally this site is a Powells Books affiliate, and purchases made through the linked book covers may result in my receiving a small commission (at no additional cost to you).
© 2013 by Debbie Alvarez of The Styling Librarian. All rights reserved. You can also follow me @stylinlibrarian or at my Styling Librarian Page on Facebook.