Styling Librarian Saturday Book Share Mark of the Thief
"Pull up a chair, it's a Saturday Book Share".
Here's to celebrating books that strike my fancy every week!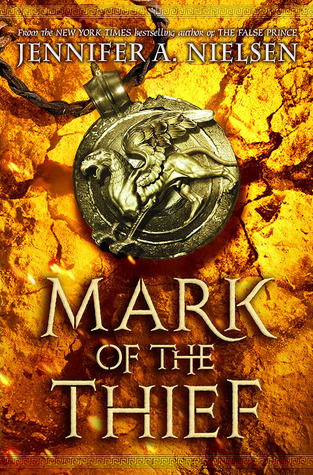 Mark of the Thief by Jennifer A. Nielsen – Release Date- March 2015 – Really interesting to read a new novel with a completely different style. I didn't expect to be exported back to Ancient times and following a slave down into a tomb. It was a tough character to connect with at first but I really enjoyed the adventuresome nature, independence pursuit, and connections to Greek gods, goddesses, mythical creatures, and more. What a magical story. Very good book I enjoyed but warning, beginning of a series…
Favorite quotes in the book:
"If you want to be free, then you must walk in the shoes of a free man."
"Different is a good thing. Different is an amazing thing."
Book Talk: Prepare yourself for death and fighting in this adventure with Nic who finds a magical amulet and now has the energy pulsing through him. Will it help him survive all the people who would like to kill him for it?
Goodreads Summary: "When Nic, a slave in the mines outside of Rome, is forced to enter a sealed cavern containing the lost treasures of Julius Caesar, he finds much more than gold and gemstones: He discovers an ancient bulla, an amulet that belonged to the great Caesar and is filled with a magic once reserved for the Gods — magic some Romans would kill for.
Now, with the deadly power of the bulla pulsing through his veins, Nic is determined to become free. But instead, he finds himself at the center of a ruthless conspiracy to overthrow the emperor and spark the Praetor War, a battle to destroy Rome from within. Traitors and spies lurk at every turn, each more desperate than the next to use Nic's newfound powers for their own dark purposes.
In a quest to stop the rebellion, save Rome, and secure his own freedom, Nic must harness the magic within himself and defeat the empire's most powerful and savage leaders."
About Pull up a chair, it's a Saturday Book Share: I've had many books I review that I just want to feature. Simple and easy, celebrate a new book encounter. So that's what Saturday Book Share is about for me, celebrating books! Perhaps some days I'll share the book with a short reading of a portion. Or perhaps other days I'll just share a glimpse of the book.
Want more book ideas and reviews? – Yes, I'm quite brief, but a prolific reader! Please visit me at Goodreads: http://www.goodreads.com/user/show/1941055-the-styling-librarian Also, please follow this blog through email updates – (do so to the right of this blog post), my Facebook page, comment, or meet up with me on Twitter. I appreciate all of the support, makes my day! Honored by all the wonderful followers.
FTC Required Disclosure: This site is an Amazon affiliate, and purchases made through Amazon links (including linked book covers) may result in my receiving a small commission (at no additional cost to you). Additionally this site is a Powells Books affiliate, and purchases made through the linked book covers may result in my receiving a small commission (at no additional cost to you).
© 2013 by Debbie Alvarez of The Styling Librarian. All rights reserved. You can also follow me @stylinlibrarian or at my Styling Librarian Page on Facebook.