Styling Librarian #IMWAYR It's Monday What Are You Reading?
Thanks to: TeachMentorTexts  and Unleashing Readers for the inspiration! Thanks to Jen and Kellee for the meme! Enjoying books week by week… I decided to spread out what I'm reading recently over a few weeks… so this isn't everything but I've enjoyed them all!
This past Saturday book share, I shared my favorite new book of the year:
Fish in a Tree by Lynda Mullaly Hunt
Simply click the title to see my thoughts and review!
I also had a special book share about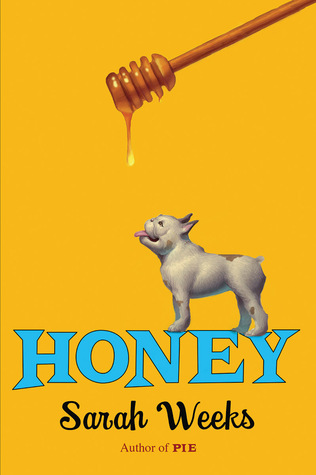 Honey by Sarah Weeks
Loved this book, especially after reading Sarah Weeks' book Pie…
The Alex Crow by Andrew Smith – High School, mixed genres – March 3rd, 2015 – Will share my thoughts closer to the release date but this book will fly off the shelves, fantastic, fantastic, fantastic.
Goodreads Summary: "Once again blending multiple story strands that transcend time and place, Grasshopper Jungle author Andrew Smith tells the story of 15-year-old Ariel, a refugee from the Middle East who is the sole survivor of an attack on his small village. Now living with an adoptive family in Sunday, West Virginia, Ariel's story of his summer at a boys' camp for tech detox is juxtaposed against those of a schizophrenic bomber and the diaries of a failed arctic expedition from the late nineteenth century. Oh, and there's also a depressed bionic reincarnated crow."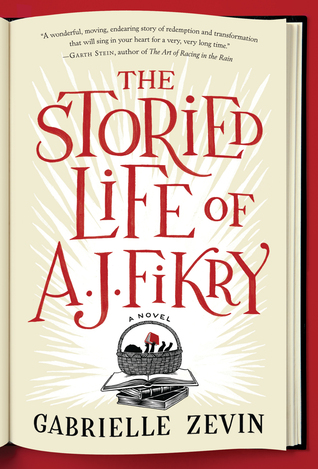 The Storied Life of A.J. Fikry: A Novel by Gabrielle Zevin – adult – Realistic Fiction
I haven't read a book I loved more in a long time. But hated the last 20%, some because of the content, some because of the fact that it was over. A friend recommended it and I see why. Touching and beautiful. I always dreamed about running my own bookstore and felt like I was living vicariously through a few characters lives but also experienced with them the concerns about the development and popularity of eBooks. I loved getting to know the characters and getting just the right amount of their life sprinkled into my knowledge over the course of the book. I loved the passage of time during the read, it read smoothly and clearly. It was exciting whenever other books were introduced or mentioned in the story, I just love when that occurs. I think any book lover, reader will enjoy this novel. So happy it came up as an eBook right when I had some dedicated reading time. Highly recommended (if that wasn't obvious already)
Favorite quotes:
"The most annoying thing about it is that once a person gives a s*** about one thing, he finds he has to start giving a s*** about everything."
"His breath smells like socks wet from snow."
"Every word was the right one and exactly where it should be. That's basically the highest compliment I can give."
"A good marriage is, at least, one part conspiracy."
"Someday, you may think of marrying. Pick someone who thinks you're the only person in the room."
Holding myself back, loved and marked up many other portions of the book.
Goodreads Summary: "On the faded Island Books sign hanging over the porch of the Victorian cottage is the motto "No Man Is an Island; Every Book Is a World." A. J. Fikry, the irascible owner, is about to discover just what that truly means.
A. J. Fikry's life is not at all what he expected it to be. His wife has died, his bookstore is experiencing the worst sales in its history, and now his prized possession, a rare collection of Poe poems, has been stolen. Slowly but surely, he is isolating himself from all the people of Alice Island-from Lambiase, the well-intentioned police officer who's always felt kindly toward Fikry; from Ismay, his sister-in-law who is hell-bent on saving him from his dreary self; from Amelia, the lovely and idealistic (if eccentric) Knightley Press sales rep who keeps on taking the ferry over to Alice Island, refusing to be deterred by A.J.'s bad attitude. Even the books in his store have stopped holding pleasure for him. These days, A.J. can only see them as a sign of a world that is changing too rapidly.
And then a mysterious package appears at the bookstore. It's a small package, but large in weight. It's that unexpected arrival that gives A. J. Fikry the opportunity to make his life over, the ability to see everything anew. It doesn't take long for the locals to notice the change overcoming A.J.; or for that determined sales rep, Amelia, to see her curmudgeonly client in a new light; or for the wisdom of all those books to become again the lifeblood of A.J.'s world; or for everything to twist again into a version of his life that he didn't see coming. As surprising as it is moving, The Storied Life of A. J. Fikry is an unforgettable tale of transformation and second chances, an irresistible affirmation of why we read, and why we love."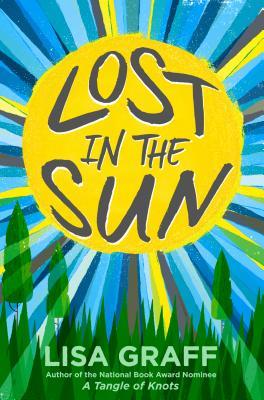 Lost in the Sun by Lisa Graff – Realistic Fiction – 4th grade and up – darn that Lisa Graff for writing another fantastic novel that made me weep. More to share by May 26th, 2015- release date. For now? FANTASTIC.
Goodreads Summary: "Everyone says that middle school is awful, but Trent knows nothing could be worse than the year he had in fifth grade, when a freak accident on Cedar Lake left one kid dead, and Trent with a brain full of terrible thoughts he can't get rid of. Trent's pretty positive the entire disaster was his fault, so for him middle school feels like a fresh start, a chance to prove to everyone that he's not the horrible screw-up they seem to think he is.
If only Trent could make that fresh start happen.
It isn't until Trent gets caught up in the whirlwind that is Fallon Little—the girl with the mysterious scar across her face—that things begin to change. Because fresh starts aren't always easy. Even in baseball, when a fly ball gets lost in the sun, you have to remember to shift your position to find it."
Tyme #1:  Grounded: The Adventures of Rapunzel by Megan Morrison – Fantasy – 4th grade and up – Really appreciated this strong female fairy tale character. More to come close to the release date:  Goodreads Summary: "In all of Tyme, from the Redlands to the Grey, no one is as lucky as Rapunzel. She lives in a magic tower that obeys her every wish; she reads wonderful books starring herself as the heroine; her hair is the longest, most glorious thing in the world. And she knows this because Witch tells her so—her beloved Witch, who protects her from evil princes, the dangerous ground under the tower, even unhappy thoughts. Rapunzel can't imagine any other life.
Then a thief named Jack climbs into her room to steal one of her enchanted roses. He's the first person Rapunzel's ever met who isn't completely charmed by her (well, the first person she's met at all, really), and he is infuriating– especially when he hints that Witch isn't telling her the whole truth. Driven by anger at Jack and her own nameless fears, Rapunzel descends to the ground for the first time, and finds a world filled with more peril than Witch promised … and more beauty, wonder, and adventure than she could have dreamed."
Want more book ideas and reviews? – Yes, I'm quite brief, but a prolific reader!  Please visit me at Goodreads: http://www.goodreads.com/user/show/1941055-the-styling-librarian Also, please follow this blog through email updates – (do so to the right of this blog post), my Facebook page, comment, or meet up with me on Twitter. I appreciate all of the support, makes my day! Honored by all the wonderful followers.
FTC Required Disclosure: This site is an Amazon affiliate, and purchases made through Amazon links (including linked book covers) may result in my receiving a small commission (at no additional cost to you). Additionally this site is a Powells Books affiliate, and purchases made through the linked book covers may result in my receiving a small commission (at no additional cost to you).
© 2013 by Debbie Alvarez of The Styling Librarian. All rights reserved. You can also follow me @stylinlibrarian or at my Styling Librarian Page on Facebook.