Styling Librarian #IMWAYR It's Monday What Are You Reading?
Thanks to: TeachMentorTexts  and Unleashing Readers for the inspiration! Thanks to Jen and Kellee for the meme! Enjoying books week by week… I decided to spread out what I'm reading recently over a few weeks… so this isn't everything but I've enjoyed them all!
The other day I celebrated Kate Messner's new book Ranger in Time:

Ranger in Time #1: Rescue on the Oregon Trail by Kate Messner
Here Where the Sunbeams are Green by Helen Phillips – Ecological Adventure/Realistic Fiction – 4th grade and up – How much I loved these characters. This adventure. That perfect sister friendship balance which is highlighted thoughout the book with a beautiful adventure leading the way. I love the mysteries, codes, empathy and compassion this story portrays. You quickly meet Mad who is missing her father, an ornithologist, who had a new bird tracking job in South America. Her younger sister Roo is certain that something is wrong with their father after a mysterious letter is sent to the girls and then no other communications occur. The mother and girls decide they need to find out what happened themselves and go on a trip to South America to find out what is going on. How they girls bravery and empathy help them solve problems and mysteries is quite compelling throughout this book.
Goodreads Summary: "Rebecca Stead, Newbery Medal-winning author of When You Reach Me, said this book is "brimming with surprises and grand adventure. Brave, smart, and full of heart, Madeline and Ruby are a gust of fresh air."
Mad's dad is the Bird Guy. He'll go anywhere to study birds. So when he's offered a bird-tracking job in Central America, his bags are packed and he's jungle bound.
But going bird tracking in the jungle and disappearing completely are very different things, and when the Very Strange and Incredibly Creepy Letter arrives, Mad can't shake the terrible feeling that her father is in trouble.
Roo, Mad's younger sister, is convinced that the letter is a coded message. And their mom is worried, because the letter doesn't sound like Dad at all. But Mad is sure it's a sign of something sinister.
The only way to get to the bottom of it is to go to Lava Bird Volcano and find their dad themselves. Though they never could have imagined what they're about to discover.
From new talent Helen Phillips, Here Where the Sunbeams Are Green is the story of what can happen when two sisters make some unusual friends, trust in each other, and bravely face a jungle of trouble all to bring their family back together."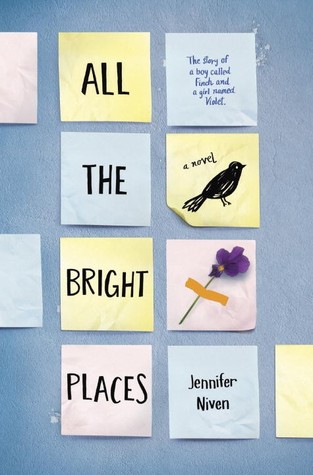 All the Bright Places by Jennifer Niven, release date- Jan 6th, 2015 – High School, feel like 11th grade and up – Realistic Fiction – This book will haunt you, in a good way. It is one of those novels that I wish all students would read in High School. It addresses so many tough topics in one gorgeous novel, unforgettable. Theodore Finch as a character broke my heart. Violet Markey gave me hope for all students who are surrounded in turmoil. The combination between the characters and the alternating chapters and voices was so powerful… Loved every minute of this "three tissue" read. I couldn't stop reading it. Highly Recommended. Really special. I never heard of a Bookmobile Park before, so grateful to read and learn about it. I imagined going to a place that has one book mobile parked near another with different genres of books in each one. Wouldn't that be a wonderful place to visit? Especially if it hosted used books? Goodreads Summary: "Theodore Finch is fascinated by death, and he constantly thinks of ways he might kill himself. But each time, something good, no matter how small, stops him.
Violet Markey lives for the future, counting the days until graduation, when she can escape her Indiana town and her aching grief in the wake of her sister's recent death.
When Finch and Violet meet on the ledge of the bell tower at school, it's unclear who saves whom. And when they pair up on a project to discover the "natural wonders" of their state, both Finch and Violet make more important discoveries: It's only with Violet that Finch can be himself—a weird, funny, live-out-loud guy who's not such a freak after all. And it's only with Finch that Violet can forget to count away the days and start living them. But as Violet's world grows, Finch's begins to shrink."
Glimpses into this book that I enjoyed:
-"It's growing out of a label that's hard."
-"Better to keep the unhappy, mad, bad, unpleasant words separate, where you can watch them and make sure they don't surprise you when you're not expecting them."
-""Obelisk?" "It's my favorite word." "Really?" "One of them, at least. Look at it." I look. "That is one straight-up, upstanding, powerful word. Unique, original, and kind of stealthy because it doesn't really sound like what it is. It's a word that surprises you and makes you think, Oh. All right then. It commands respect, but it's also modest. Not like 'monument' or 'tower.'" He shakes his head."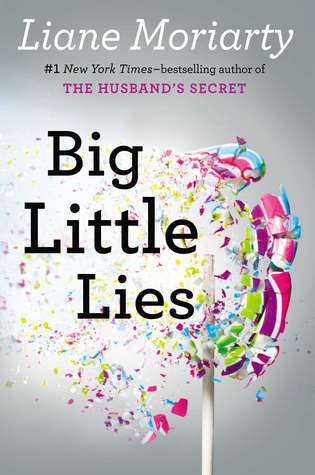 Big Little Lies by Liane Moriarty, narrated by Caroline Lee – Adult fiction- Mystery – Enjoyed this audiobook immensely, glad others mentioned it in reviews. Listening to this book made me appreciate the simpleness of my life and happiness of marriage. The complications that occur after Madeline's ex-husband and wife moved nearby and then their daughter entered school at the same time her daughter entered school is the first complication… but the friendships and support that develops between Madeline, Celeste and Jane is quite touching and complicated. There's a lot of heartache and mystery surrounding this book. Loved how mysteries were shared throughout, interviews with various people popped up in the story, and police perspectives were shared as well. Fun book to get lost in!
Goodreads Summary: "Sometimes it's the little lies that turn out to be the most lethal. . . A murder… . . . a tragic accident… . . . or just parents behaving badly? What's indisputable is that someone is dead.   But who did what? Big Little Lies follows three women, each at a crossroads:   Madeline is a force to be reckoned with. She's funny and biting, passionate, she remembers everything and forgives no one. Her ex-husband and his yogi new wife have moved into her beloved beachside community, and their daughter is in the same kindergarten class as Madeline's youngest (how is this possible?). And to top it all off, Madeline's teenage daughter seems to be choosing Madeline's ex-husband over her. (How. Is. This. Possible?). Celeste is the kind of beautiful woman who makes the world stop and stare. While she may seem a bit flustered at times, who wouldn't be, with those rambunctious twin boys? Now that the boys are starting school, Celeste and her husband look set to become the king and queen of the school parent body. But royalty often comes at a price, and Celeste is grappling with how much more she is willing to pay.   New to town, single mom Jane is so young that another mother mistakes her for the nanny. Jane is sad beyond her years and harbors secret doubts about her son. But why? While Madeline and Celeste soon take Jane under their wing, none of them realizes how the arrival of Jane and her inscrutable little boy will affect them all. Big Little Lies is a brilliant take on ex-husbands and second wives, mothers and daughters, schoolyard scandal, and the dangerous little lies we tell ourselves just to survive."
Want more book ideas and reviews? – Yes, I'm quite brief, but a prolific reader!  Please visit me at Goodreads: http://www.goodreads.com/user/show/1941055-the-styling-librarian Also, please follow this blog through email updates – (do so to the right of this blog post), my Facebook page, comment, or meet up with me on Twitter. I appreciate all of the support, makes my day! Honored by all the wonderful followers.
FTC Required Disclosure: This site is an Amazon affiliate, and purchases made through Amazon links (including linked book covers) may result in my receiving a small commission (at no additional cost to you). Additionally this site is a Powells Books affiliate, and purchases made through the linked book covers may result in my receiving a small commission (at no additional cost to you).
© 2013 by Debbie Alvarez of The Styling Librarian. All rights reserved. You can also follow me @stylinlibrarian or at my Styling Librarian Page on Facebook.