Styling Librarian Top Ten (plus) Hanukah Resources
Celebrating Hanukah with family presently, thought I'd share my thoughts on things that entertain me for the celebration. Mind you, I respect other's holidays as well and share those books as I read them but this is what I'm knowledgeable about, invested in, and personally celebrating, so happy to make time to share.
Hanukah Books I enjoy reading aloud and sharing:
When Mindy Saved Hanukkah by Eric A. Kimmel, pictures by Barbara McClintock – I love this book, sharing with my son is a highlight. Goodreads Summary: "Little Mindy Klein lives with her tiny family behind the walls of the Eldridge Street Synagogue. When Mindy's father sprains his ankle right before Hanukkah, he is unable to bring home a candle for the menorah. So Mindy decides to set out and find the candle herself. But first she has to face off with an enormous, frightening cat. With a lot of bravery (and a little help from grandpa) Mindy manages to save Hanukkah just in time…and learns the true meaning behind the Festival of Lights."
Celebrate Hanukkah with Light, Latkes, and Dreidels by Deborah Heiligman – Holidays around the world – National Geographic – Appreciate non-fiction books. Goodreads Summary: "The vivid photography of National Geographic illustrates the joyous celebrations of Jewish people around the world—including Ghana, Uganda, India, Israel, Peru, the United States and Poland, as they light menorahs, spin dreidels, and make latkes…"
Judah Who Always Said No! A Hanukkah Story by Harriet K. Feder, illustrated by Katherine Janus Kahn – I like reading aloud this picture book, it is an interesting story and appreciate the ethical discussion that comes from reading aloud this book. Many students enjoy that there's actually fighting in this book… Goodreads Summary: "No!" said Judah, when the Syrian king wanted him to change his name. "No!" he said again, when ordered to pray to strange gods. Judah's defiance helped the Maccabees to victory. Only after the miracle of Hanukkah, did Judah finally say, "Yes!"
I have a Little Dreidel by Maxie Baum, illustrated by Julie Paschkis – LOVE this illustrator- My son requests that I sing this book, not just read it aloud. Goodreads Summary: "A retelling of the classic Hanukkah song, just in time for the holiday season!
I have a little dreidel, I made it out of clay,
And when it's dry and ready, then dreidel I shall play!
It's time for Hanukkah, and Hanukkah is a time for family. This reasonably priced hardcover picture book features the classic holiday dreidel song, with extra rhyming verses added on. We see the family gathering at a child's house, mama and child working together to make latkes (a classic Hanukkah treat), the family lighting the menorah, and then a spirited game of dreidel. The game is described in easy-to-follow language so that children can follow along and play at home themselves!"
Hanukkah, Oh Hanukkah by Susan L. Roth – LOVE the collage art that connects to this traditional song. I brought it out to read it tonight and my son requested that I should sing it and then began singing it himself… I remember one Hanukah I had to read/sing this book eight times in a row. A little tiresome but special too! Goodreads Summary: "From the creator of the bestselling My Love For You comes this joyful rendering of a favorite Hanukkah song. Celebrate with a family of mice as they dance the horah, spin the dreidel, and eat delicious latkes to honor the festival of lights. Musical notes are included, so parents and children can sing along for eight happy nights."
The Chanukkah Guest by Eric A. Kimmel, illustrated Giora Carmi – I'll never tire of reading this aloud. I love chuckling, traditions, respect of elders and food all mixed together, a favorite book since I was a teen. This connects to another book I reviewed this year redone story!: Hanukkah Bear by Eric A. Kimmel, illustrated by Mike Wohnoutka – I've never tired of reading Eric Kimmel's adaptation, but I've read this book multiple times in the past under a different title, The Chanukkah Guest. Just love the story of Bubba Brayna who mistakes a bear for her local rabbi and treats him to a special meal and gives him a special gift as well. Hilarious and wonderful. I appreciate the new illustrations even though I have fond memories of the original. Goodreads Summary: "Bubba Brayna makes the best latkes in the village, but at ninety-seven, doesn't hear or see very wellso when a bear arrives at her door, lured by the delicious scent, she invites him in to celebrate Hanukkah with her."
Ziz and the Hanukkah Miracle by Jacqueline Jules – I've mentioned how much I respect and appreciate the Ziz books before, especially enjoy this fantasy integration into the history of Hanukah and the Maccabees. Summary from the publisher: "The Ziz, a huge and clumsy bird, helps the Macabees find enough oil to light the menorah and restore the temple, leading to the miracle that is celebrated every year at Hanukkah."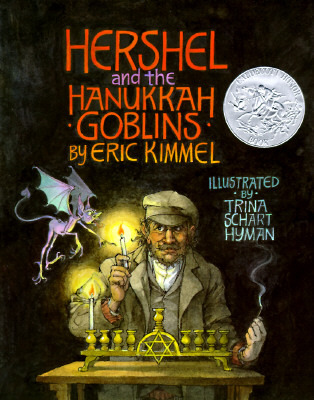 Hershel and the Hanukkah Goblins by Eric Kimmel, illustrated by Trina Schart Hyman – I LOVE reading this book aloud, I remember one year I lost my voice for two days after the first read aloud of this book over and over with many grade levels. Yet still I still LOVE reading this book aloud. Just enough perfect twists and turns plus illustrated by such a talented person. Goodreads Summary: "A traveler rids a village synagogue of goblins. A Caldecott Honor Book."
Sammy Spider's First Hanukkah by Sylvia A. Rouss, illustrated by Katherine Janus Kahn – I really appreciate (and am honestly jealous of) Sammy Spider books. They're that perfect with the cultural introductions with all the holidays through the perspective of a spider. My son has told me numerous times that these are useful, informative, fun books. Goodreads Summary: "Sammy Spider watches longingly as Josh Shapiro lights another candle and receives another brightly colored dreidel each night of Hanukkah. Sammy's mother reminds him, "Spiders don't spin dreidels, spiders spin webs!" Then, on the last night, Sammy gets his own spinning surprise."
Hanukkah in Alaska by Barbara Brown, illustrated by Stacey Schuett – Great story about a young girl who is anxious that the moose who set up residence in her family's backyard will rip her swing down from the tree back there. She is celebrating Hanukkah and introducing various special elements of living in Alaska at the same time. Cute story, appreciated it since I grew up in Alaska and knew most of the information… and being able to introduce them to my son is always fun. Goodreads Summary: "Hanukkah in Alaska is unlike anywhere else. Snow piles up over the windows. Daylight is only five hours long. And one girl finds a moose camped out in her backyard, right near her favorite blue swing. She tries everything to lure it away: apples, carrots, even cookies. But it just keeps eating more tree! It's not until the last night of Hanukkah that a familiar holiday tradition provides the perfect—and surprising—solution."
Blogs I really appreciated posts from this year that include Hanukah resources:
(They will also be posting some great resources for celebrating Christmas and Kwanzaa as well!)
Boost Literacy with Hanukkah Fun for the Whole Family: Good family resources.
26 Sites about Hanukkah: Love how many ways people spell Hanukah (I've been spelling it my way for years.) This is a great collection from Media Specialist's Guide.
Hanukkah Books for the Family from Best Blog For Kids Who Hate to Read– there are some new books I look forward to reading on this list:
Videos that entertain and make me laugh as well:
Chanukah Jewish Rock of Ages – Official Hanukkah Song –
Love the costumes, styles, and dancing- fantastic:

I want a Hippopotomus for Hanukkah by Mr. Palindrome:

 Shake It Off – Taylor Swift Parody – Hanukkah Edition

My all time favorite:
Adam Sandler – Chanukah Song

Almost forgot a very special one, thanks to my mom for reminding me:
Light one candle from Peter, Paul, and Mary-

Want more book ideas and reviews? – Yes, I'm quite brief, but a prolific reader! Please visit me at Goodreads: http://www.goodreads.com/user/show/1941055-the-styling-librarian Also, please follow this blog through email updates – (do so to the right of this blog post), my Facebook page, comment, or meet up with me on Twitter. I appreciate all of the support, makes my day! Honored by all the wonderful followers.
FTC Required Disclosure: This site is an Amazon affiliate, and purchases made through Amazon links (including linked book covers) may result in my receiving a small commission (at no additional cost to you). Additionally this site is a Powells Books affiliate, and purchases made through the linked book covers may result in my receiving a small commission (at no additional cost to you).
© 2013 by Debbie Alvarez of The Styling Librarian. All rights reserved. You can also follow me @stylinlibrarian or at my Styling Librarian Page on Facebook.