Styling Librarian #IMWAYR It's Monday What Are You Reading?
Thanks to: TeachMentorTexts  and Unleashing Readers for the inspiration! Thanks to Jen and Kellee for the meme! Enjoying books week by week… I decided to spread out what I'm reading recently over a few weeks… so this isn't everything but I've enjoyed them all!
Special Book Shared Saturday:
 Ivan the Remarkable True Story of the Shopping Mall Gorilla by Katherine Applegate, illustrated by G. Brian Karas
Project Seahorse – Scientists in the Field by Pamela S. Turner, photographs by Scott Tuason – Non-Fiction, 3rd grade and up – Loved this book, eyes wide open turning pages… Gorgeous photographs pop off the pages, various background information about people's lives, and information packed throughout the book. Loved how the conservation efforts in this book are specifically focused on getting local community members involved. Fantastic how the investment in creating different marine protected areas (MPA) has helped other areas beyond the designated safe zones. The scientific studies to see how well the reef inside the MPA is recovering are fascinating as well. This book will fit well with some of my school's PYP units of inquiry where students learn about how human's actions have impacted the environment. The wonderful thing about this book is the actions that some are now turning around the local environment for the better with hope and change. Goodreads Summary: "Seahorses, some of the ocean's most charming fish, are in trouble. In the past twenty years their populations has declined. They are threatened by overfishing, pollution and climate change. In Handumon in the Philippines, villagers and conservationists have joined to protect the seahorse and the coral reefs where they live. Amanda Vincent and Heather Koldewey, founders of Project Seahorse, work with Filipino colleagues and local fishers like "Digoy" Paden to protect seahorses and the livelihood of local fishing families. Through their efforts the Handumon Marine Protected Area is now a model "underwater park" where marine life is safe from fishing."
The Land of Stories- A Grimm Warning by Chris Colfer – Fantasy – 4th grade and up –  Phew. This book was a really long read aloud. I'm so happy to be done. My son and I enjoyed it and found ourselves entertained throughout but boy, I am happy to be able to enjoy another book with the kiddo now. This is the third book in the Land of Stories series. I enjoyed revisiting characters, meeting new ones, and seeing where Chris Colfer was spinning his tale next. This one had a good mix of present, past, and more. There was a terrible cliffhanger in the end that had my son howling, so warning about that… It was fun to have a retelling of the Grimm brothers life story and also see how life was continuing in the Land of Stories. Goodreads Summary: "Connor Bailey thinks his fairy-tale adventures are behind him – until he discovers a mysterious clue left by the famous Brothers Grimm. With help from his classmate Bree and the outlandish Mother Goose, Conner sets off on a mission across Europe to crack a two-hundred-year-old code.
Meanwhile, Alex Bailey is training to become the next Fairy Godmother… but her attempts at granting wishes never go as planned. Will she ever be truly ready to lead the Fairy Council?
When all signs point to disaster for the Land of Stories, Connor and Alex must join forces with their friends and enemies to save the day. But nothing can prepare them for the coming battle… or for the secret that will change the twins' lives forever.
The third book in the bestselling Land of Stories series puts the twins to the test as they bring two worlds together!"
Chris Colfer has some fans! Long q/a session…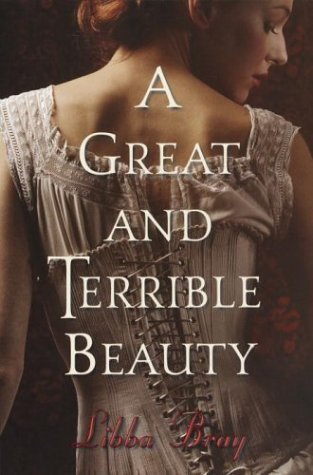 A Great and Terrible Beauty by Libba Bray – High School, Historical Fiction/Fantasy – Audiobook – Upsetting brilliant WOW novel. I'm so impressed. Had to finish this audiobook at home instead of wandering around because I couldn't let it go. Quite the different novel from this brilliant author. Glad I've finally listened/read it! I was immediately pulled into this book because of the creepy yet fascinating murder mystery set up and was then surprised to be pulled along into the tough boarding school and social pecking order during that time period. Couldn't stop reading this book. Looking forward to reading the other books in this trilogy… Goodreads Summary: "A Victorian boarding school story, a Gothic mansion mystery, a gossipy romp about a clique of girlfriends, and a dark other-worldly fantasy–jumble them all together and you have this complicated and unusual first novel.
Sixteen-year-old Gemma has had an unconventional upbringing in India, until the day she foresees her mother's death in a black, swirling vision that turns out to be true. Sent back to England, she is enrolled at Spence, a girls' academy with a mysterious burned-out East Wing. There Gemma is snubbed by powerful Felicity, beautiful Pippa, and even her own dumpy roommate Ann, until she blackmails herself and Ann into the treacherous clique. Gemma is distressed to find that she has been followed from India by Kartik, a beautiful young man who warns her to fight off the visions. Nevertheless, they continue, and one night she is led by a child-spirit to find a diary that reveals the secrets of a mystical Order. The clique soon finds a way to accompany Gemma to the other-world realms of her visions "for a bit of fun" and to taste the power they will never have as Victorian wives, but they discover that the delights of the realms are overwhelmed by a menace they cannot control. Gemma is left with the knowledge that her role as the link between worlds leaves her with a mission to seek out the "others" and rebuild the Order. A Great and Terrible Beauty is an impressive first book in what should prove to be a fascinating trilogy."

Special advanced readers copy I'll share my official review of later…
The Kidney Hypothetical by Lisa Yee – Release Date March 31, 2015  – I'll share thoughts closer to the release date! *Fantastic new book- appropriate to share with YA level- Goodreads Summary: "Goodreads Summary: "Lisa Yee gives us her most fascinating flawed genius since Millicent Min. Higgs Boson Bing has seven days left before his perfect high school career is completed. Then it's on to Harvard to fulfill the fantasy portrait of success that he and his parents have cultivated for the past four years. Four years of academic achievement. Four years of debate championships. Two years of dating the most popular girl in school. It was, literally, everything his parents could have wanted. Everything they wanted for Higgs's older brother Jeffrey, in fact. But something's not right. And when Higgs's girlfriend presents him with a seemingly innocent hypothetical question about whether or not he'd give her a kidney . . . the exposed fault lines reach straight down to the foundations of his life. . . ."
Want more book ideas and reviews? – Yes, I'm quite brief, but a prolific reader!  Please visit me at Goodreads: http://www.goodreads.com/user/show/1941055-the-styling-librarian Also, please follow this blog through email updates – (do so to the right of this blog post), my Facebook page, comment, or meet up with me on Twitter. I appreciate all of the support, makes my day! Honored by all the wonderful followers.
FTC Required Disclosure: This site is an Amazon affiliate, and purchases made through Amazon links (including linked book covers) may result in my receiving a small commission (at no additional cost to you). Additionally this site is a Powells Books affiliate, and purchases made through the linked book covers may result in my receiving a small commission (at no additional cost to you).
© 2013 by Debbie Alvarez of The Styling Librarian. All rights reserved. You can also follow me @stylinlibrarian or at my Styling Librarian Page on Facebook.