Styling Librarian #IMWAYR It's Monday What Are You Reading?
Thanks to: TeachMentorTexts  and Unleashing Readers for the inspiration! Thanks to Jen and Kellee for the meme! Enjoying books week by week… I decided to spread out what I'm reading recently over a few weeks… so this isn't everything but I've enjoyed them all!
Recently Celebrated:

Belches Burps and Farts by Artie Bennett
Upside Down in the Middle of Nowhere by Julie T. Lamana – Realistic Fiction – 5th grade and up – Knew when I picked this book I'd be going on a rocky ride. Opening line- loved: "I was on my tippy-toes, bouncing up and down on the first step of the bus, stuck behind my second cousing, Danisha, and her melon-sized butt…." This is a gorgeous book that brings you through a beautiful loving family packed with energy and personality. Now, this story takes place in 2005 in the Lower Nines of New Orleans when Hurricane Katrina hits. Our main character, spunky Armani, has to learn to be brave as her family is torn apart. There is so much heart-ache in this book that you must be a brave reader to go through it. Goodreads Summary: "Armani Curtis can think about only one thing: her tenth birthday. All her friends are coming to her party, her mama is making a big cake, and she has a good feeling about a certain wrapped box. Turning ten is a big deal to Armani. It means she's older, wiser, more responsible. But when Hurricane Katrina hits the Lower Nines of New Orleans, Armani realizes that being ten means being brave, watching loved ones die, and mustering all her strength to help her family weather the storm. A powerful story of courage and survival, Upside Down in the Middle of Nowhere celebrates the miraculous power of hope and love in the face of the unthinkable."

Echo by Pam Munoz Ryan – Realistic/Historical Fiction/Fantasy – Release Date March 2015- I think I need to think about this novel for a long time. Loved it. Highly recommended. Will share my thoughts in detail closer to the release date.
Goodreads Summary: "Music, magic, and a real-life miracle meld in this genre-defying masterpiece from storytelling maestro Pam Muñoz Ryan.
Lost and alone a forbidden forest, Otto meets three mysterious sisters and suddenly finds himself entwined in a puzzling quest involving a prophecy, a promise, and a harmonica.
Decades later, Friedrich in Germany, Mike in Pennsylvania, and Ivy in California each, in turn, become interwoven when the very same harmonica lands in their lives. All the children face daunting challenges: rescuing a father, protecting a brother, holding a family together. And ultimately, pulled by the invisible thread of destiny, their suspenseful solo stories converge in an orchestral crescendo.
Richly imagined and masterfully crafted, ECHO pushes the boundaries of genre and form, and shows us what is possible in how we tell stories. The result is an impassioned, uplifting, and virtuosic tour de force that will resound in your heart long after the last note has been struck."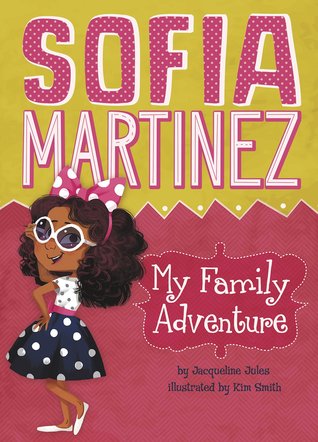 Sofia Martinez series – My Family Adventure by Jacqueline Jules – Release Feb, 2015 – Realistic Fiction- Early Chapter Book – 1st grade and up! – will share my thoughts closer to the release date. Wonderful spunky character that Freddy Ramos's fans will enjoy. Goodreads Summary: "Follow 7-year-old Sofia Martinez as she deals with her family and daily adventures."
.
.
Want more book ideas and reviews? – Yes, I'm quite brief, but a prolific reader!  Please visit me at Goodreads: http://www.goodreads.com/user/show/1941055-the-styling-librarian Also, please follow this blog through email updates – (do so to the right of this blog post), my Facebook page, comment, or meet up with me on Twitter. I appreciate all of the support, makes my day! Honored by all the wonderful followers.
FTC Required Disclosure: This site is an Amazon affiliate, and purchases made through Amazon links (including linked book covers) may result in my receiving a small commission (at no additional cost to you). Additionally this site is a Powells Books affiliate, and purchases made through the linked book covers may result in my receiving a small commission (at no additional cost to you).
© 2013 by Debbie Alvarez of The Styling Librarian. All rights reserved. You can also follow me @stylinlibrarian or at my Styling Librarian Page on Facebook.