Styling Librarian #IMWAYR It's Monday What Are You Reading?
Thanks to: TeachMentorTexts  and Unleashing Readers for the inspiration! Thanks to Jen and Kellee for the meme! Enjoying books week by week… I decided to spread out what I'm reading recently over a few weeks… so this isn't everything but I've enjoyed them all!

Celebrated these two books:

Spaghetti Smiles by Margo Sorenson,
illustrated by David Harrington
Picture Book: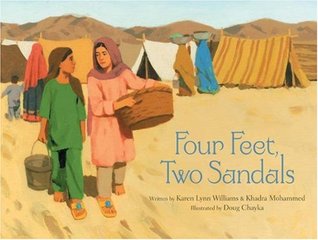 Four Feet, Two Sandals by Karen Lynn Williams & Khadra Mohammed, illustrated by Doug Chayka – Loved this book. Perfect connections to studies on refugees, caring for others, risk taking, life comparisons… simply beautiful. Well worth the read, reread and more. Good book for 4th grade and up even though it could be shared with younger ages as well. The idea of losing family members might lead to a discussion… Goodreads Summary: "When relief workers bring used clothing to the refugee camp, everyone scrambles to grab whatever they can. Ten-year-old Lina is thrilled when she finds a sandal that fits her foot perfectly, until she sees that another girl has the matching shoe. But soon Lina and Feroza meet and decide that it is better to share the sandals than for each to wear only one. As the girls go about their routines washing clothes in the river, waiting in long lines for water, and watching for their names to appear on the list to go to America the sandals remind them that frie ndship is what is most important. Four Feet, Two Sandals was inspired by a refugee girl who asked the authors why there were no books about children like her. With warm colors and sensitive brush strokes, this book portrays the strength, courage, and hope of refugees around the world, whose daily existence is marked by uncertainty and fear."
Non-Fiction Book I enjoyed after my son bought it for me at my school's book fair:
Dolphins – National Geographic Kids by Melissa Stewart – Level 2 – Great information, love the facts shared and how this book was organized. Goodreads Summary: "Everyone loves the smile on a dolphin's face. Though smart enough to become theme park tricksters, dolphins are first and foremost wild mammals. Melissa Stewart's lively text outlines our responsibility to conserve their natural environment. This high-interest book also offers an interactive experience to boost awareness of these adorable creatures."
Audiobook I enjoyed:
The Rites and Wrongs of Janice Wills by Joanna Pearson – Young Adult- Aww… really enjoyed this audiobook. Clueless girl gets a clue. Loved the friendships, the situations, the competition, and the parent relationships as well. Nice to listen to an entertaining, thoughtful book… Goodreads Summary: "For anyone who's ever survived a rite of passage or performed a mating dance at Prom . . .
The Japanese hold a Mogi ceremony for young women coming of age. Latina teenagers get quinceaneras. And Janice Wills of Melva, NC … has to compete in the Miss Livermush pageant.
Janice loves anthropology–the study of human cultures–and her observations help her identify useful rules in the chaotic world of high school. For instance: Dancing is an effective mating ritual–but only if you're good at it; Hot Theatre Guys will never speak to Unremarkable Smart Girls like Janice and her best friend, Margo; and a Beautiful Rich Girl will always win Melva's annual Miss Livermush pageant.
But when a Hot Theatre Guy named Jimmy Denton takes an interest in Janice, all her scientific certainties explode. For the first time, she has to be part of the culture that she's always observed; and all the charts in the world can't prove how tough–and how sweet–real participation and a real romance can be. Funny, biting, and full of wisdom, this marks the debut of a writer to watch."
Special advanced readers copy I'll share my official review of later…
How to Speak Dolphin by Ginny Rorby – Release Date May 26, 2015 – Biting my tongue but this book is the PERFECT PARTNER book to Rules by Cynthia Lord! Goodreads Summary: "Lily loves her half-brother, Adam, but she has always struggled with him, too. He's definitely on the autism spectrum–though her step-father, Don, can barely bring himself to admit it–and caring for him has forced Lily to become as much mother as sister. All Lily wants is for her step-father to acknowledge that Adam has a real issue, that they need to find some kind of program that can help him. Then maybe she can have a life of her own.
Adam's always loved dolphins, so when Don, an oncologist, hears about a young dolphin with cancer, he offers to help. He brings Lily and Adam along, and Adam and the dolphin–Nori–bond instantly.
But though Lily sees how much Adam loves Nori, she also sees that the dolphin shouldn't spend the rest of her life in captivity, away from her family. Can Adam find real help somewhere else? And can Lily help Nori regain her freedom without betraying her family?"
Want more book ideas and reviews? – Yes, I'm quite brief, but a prolific reader!  Please visit me at Goodreads: http://www.goodreads.com/user/show/1941055-the-styling-librarian Also, please follow this blog through email updates – (do so to the right of this blog post), my Facebook page, comment, or meet up with me on Twitter. I appreciate all of the support, makes my day! Honored by all the wonderful followers.
FTC Required Disclosure: This site is an Amazon affiliate, and purchases made through Amazon links (including linked book covers) may result in my receiving a small commission (at no additional cost to you). Additionally this site is a Powells Books affiliate, and purchases made through the linked book covers may result in my receiving a small commission (at no additional cost to you).
© 2013 by Debbie Alvarez of The Styling Librarian. All rights reserved. You can also follow me @stylinlibrarian or at my Styling Librarian Page on Facebook.