Styling Librarian #IMWAYR It's Monday What Are You Reading?
Thanks to: TeachMentorTexts  and Unleashing Readers for the inspiration! Thanks to Jen and Kellee for the meme! Enjoying books week by week… here's another one to celebrate. Pretty special novel- reading week. I was in the middle of numerous books at once and then completed them and then picked up other novels. I treasured every reading moment…
Picture Book:
Mr. Flux by Kyo Maclear + Matte Stephens – If you've ever wanted to have a book that introduced and specifically talked about change and the impacts change can have on others, this is a brilliant picture book to grab. I really enjoyed the concept, the illustrations, the community portrayed, and more. Reminded me of many other books connected to change but I was especially impressed with how this book specifically focused on how change can be acceptable and possible in life and not something to fear and avoid. The illustrations are quite intriguing and add an extra layer to the picture book as well. Quite the different, original picture book! Goodreads Summary: "Martin and his neighbors eschew change until eccentric Mr. Flux moves in and shows them that change can be big or little or even fit inside a box, and not at all scary. A tongue-in-cheek tale loosely inspired by the 1960s art movement known as Fluxus."
Novels:
Brown Girl Dreaming by Jacqueline Woodson – 5th grade and up – Historical Fiction/Memoir/Novel in Verse – Gorgeous novel, loved every treasured word. I don't think a book review can do this novel justice but I will say that I understand and agree with all the attention and accolades this novel is receiving presently and can only hope to see many more coming Jacqueline Woodson's way. My favorite quote- below- really shows the power not only of having diverse books in your selections for children but additionally the importance of having picture books available and unquestioned for children to borrow… This book is a little haunting and very powerful…
CONGRATULATIONS TO Jacqueline Woodson on the National Book Award win! So thrilled at this well deserved award!
Favorite quote: p. 228- "If someone had taken that book out of my hand and said, You're too old for this maybe I'd never have believed that someone who looked like me could be in the pages of the book that someone who looked like me had a story."
Goodreads Summary: "Raised in South Carolina and New York, Woodson always felt halfway home in each place. In vivid poems, she shares what it was like to grow up as an African American in the 1960s and 1970s, living with the remnants of Jim Crow and her growing awareness of the Civil Rights movement. Touching and powerful, each poem is both accessible and emotionally charged, each line a glimpse into a child's soul as she searches for her place in the world. Woodson's eloquent poetry also reflects the joy of finding her voice through writing stories, despite the fact that she struggled with reading as a child. Her love of stories inspired her and stayed with her, creating the first sparks of the gifted writer she was to become."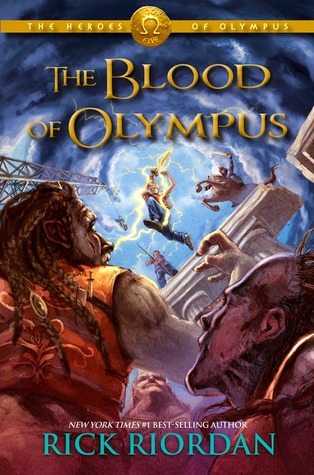 Heroes of Olympus – The Blood of Olympus by Rick Riordan – 4/5th grade and up – Fantasy – Read this quite fast. Enjoyed finishing this series, it is such a relief to finish one. I couldn't believe how many characters and action scenes were being juggled at once during this book… honestly felt a little overwhelmed keeping up with them all but it was worth the read! Goodreads Summary: "Though the Greek and Roman crewmembers of the Argo II have made progress in their many quests, they still seem no closer to defeating the earth mother, Gaea. Her giants have risen—all of them—and they're stronger than ever. They must be stopped before the Feast of Spes, when Gaea plans to have two demigods sacrificed in Athens. She needs their blood—the blood of Olympus—in order to wake.
The demigods are having more frequent visions of a terrible battle at Camp Half-Blood. The Roman legion from Camp Jupiter, led by Octavian, is almost within striking distance. Though it is tempting to take the Athena Parthenos to Athens to use as a secret weapon, the friends know that the huge statue belongs back on Long Island, where it "might" be able to stop a war between the two camps.
The Athena Parthenos will go west; the Argo II will go east. The gods, still suffering from multiple personality disorder, are useless. How can a handful of young demigods hope to persevere against Gaea's army of powerful giants? As dangerous as it is to head to Athens, they have no other option. They have sacrificed too much already. And if Gaea wakes, it is game over."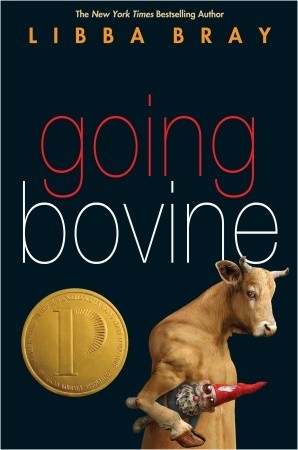 Going Bovine by Libba Bray– Audiobook- High School and up – Audiobook read by Erik Davies- this book brings you on quite the wild wacky rollercoaster ride that was quite unexpected. I found this book quite upsetting but brilliant. I had no expectations when I began listening to this book. I only knew it was one I've meant to read for years and was thrilled to find as an audiobook through my library. How Libba Bray kept this book flowing so well during the different plotlines and ideas is beyond me. I'm simply a huge fan. Wow. Goodreads Summary: "All 16-year-old Cameron wants is to get through high school—and life in general—with a minimum of effort. It's not a lot to ask. But that's before he's given some bad news: he's sick and he's going to die. Which totally sucks. Hope arrives in the winged form of Dulcie, a loopy punk angel/possible hallucination with a bad sugar habit. She tells Cam there is a cure—if he's willing to go in search of it. With the help of a death-obsessed, video-gaming dwarf and a yard gnome, Cam sets off on the mother of all road trips through a twisted America into the heart of what matters most."

The Madman of Piney Woods by Christopher Paul Curtis – mature 5th grade and up – Released Sept 30th, 2014- This book is sticking with me. I loved returning to Buxton, Ontario, Canada in connection with Elijah of Buxton but was honestly drawn in by the alternating chapters from two different community's boys and how different (and similar) their lives were to one another. I loved how one character is working hard to impress and get himself published in the local newspaper and is rejected and taught writing lessons through the editor of the paper. Really good that he isn't just accepted on the first try of writing after hearing how good he is as a writer for years. There are many upsetting, brilliant scenes in this book and I honestly felt a little cheated by the end because I wanted more from the interactions between two characters. I think I'll need to reread Elijah of Buxton and then The Madman of Piney Woods to fulfill those needs. Brilliant, brilliant, brilliant.
Favorite quotes: "Right, our memories are always in the process of falling apart; they're constantly fading. Keep that in mind when people tell you about the past. Your friends aren't necessarily being malicious or trying to frighten or deceive you.
"Once you commit something to print, you are, in effect, chained to it. It is always available to be looked at again and traced back to you."
"There is a great deal more responsibility required when using the written word."
Goodreads Summary: "Benji and Red couldn't be more different. They aren't friends. They don't even live in the same town. But their fates are entwined. A chance meeting leads the boys to discover that they have more in common than meets the eye. Both of them have encountered a strange presence in the forest, watching them, tracking them. Could the Madman of Piney Woods be real? "
All the Answers by Kate Messner – Middle Grade and Up- Realistic Fiction/Fantasy- Released in January 2015- will share my personal thoughts then! Goodreads Summary: "What if your pencil had all the answers? Would you ace every test? Would you know what your teachers were thinking? When Ava Anderson finds a scratched up pencil she doodles like she would with any other pencil. But when she writes a question in the margin of her math quiz, she hears a clear answer in a voice no one else seems to hear.
With the help of her friend Sophie, Ava figures out that the pencil will answer factual questions only – those with definite right or wrong answers – but won't predict the future. Ava and Sophie discover all kinds of uses for the pencil, and Ava's confidence grows with each answer. But it's getting shorter with every sharpening, and when the pencil reveals a scary truth about Ava's family, she realizes that sometimes the bravest people are the ones who live without all the answers…"
Want more book ideas and reviews? – Yes, I'm quite brief, but a prolific reader!  Please visit me at Goodreads: http://www.goodreads.com/user/show/1941055-the-styling-librarian Also, please follow this blog through email updates – (do so to the right of this blog post), my Facebook page, comment, or meet up with me on Twitter. I appreciate all of the support, makes my day! Honored by all the wonderful followers.
FTC Required Disclosure: This site is an Amazon affiliate, and purchases made through Amazon links (including linked book covers) may result in my receiving a small commission (at no additional cost to you). Additionally this site is a Powells Books affiliate, and purchases made through the linked book covers may result in my receiving a small commission (at no additional cost to you).
© 2013 by Debbie Alvarez of The Styling Librarian. All rights reserved. You can also follow me @stylinlibrarian or at my Styling Librarian Page on Facebook.