Styling Librarian Special Guest Blogger – MyFriendLucy
A little while ago I came across this blog- myfriendlucy and was inspired. Loved the idea of sharing a favorite picture book a day for the whole year. I invited Lucy to be my first guest blogger because I was so inspired. So without further ado… the lovely Lucy sharing about her top books and more:
myfriendlucy – 1 year 365 picture books
Hello everybody and welcome, I'm Lucy from myfriendlucy. Pull up a chair, a cushion, whatever you need to get comfortable. A few months ago I came up with the hare-brained scheme that I would review one picture book a day for a year. I had no blogging experience, and had read very few blogs regularly, so it has been something of an exciting challenge!
Working as a children's librarian for many years and now selecting children's book for a massive library network in New Zealand, means I'm constantly on the look-out for new and great picture books. And boy am I finding them. So many colleagues and blog-followers have shared with me their childhood favourites, which has been a wonderful blog-bonus I hadn't anticipated.
There have been several other great blog spin-offs:
twitter conversations with authors and illustrators I have loved for years
the chance to immerse myself in the amazing creativity that exists in the world
my inner (and outer) librarian has revelled in the opportunity to categorise the books I'm reviewing in useful ways. Say for example you are an endpapers-fanatic, I now have a category for this, so you can feed your addiction!
The gorgeous Debbie, who invited me here today, suggested I come up with the top five books I have reviewed so far. Argghhh! This is going to hurt. My blogging policy is that I only share fantastic books, (I figure everyone can find their own bad books without me) how do I choose the best? I've decided to go for my top five most original picture books published in 2014.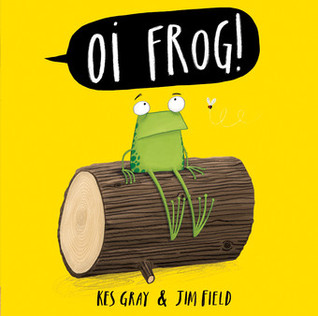 Oi Frog by Kes Gray
The adventures of Beekle the unimaginary friend by Dan Santat

Dangerous by Tim Warnes
The wonder by Faye Hanson
This book just ate my dog by Richard Byrne
Blown away by Rob Biddulph (one bonus one for luck)
Thanks so much Debbie for inviting me along today. One of the best things about blogging is discovering how welcoming the blogging community is. If you've ever thought about giving it a go, do it, I say.
Nice to meet you, hopefully see you again soon.
Lucy
**Thank you Lucy, thrilled to welcome you!
Debbie's Info: Please consider visiting me at Goodreads: http://www.goodreads.com/user/show/1941055-the-styling-librarian Also, please consider following this blog through email updates – (do so to the right of this blog post), my Facebook page, comment, or meet up with me on Twitter. I appreciate all of the support, makes my day! Honored by all the wonderful followers.
FTC Required Disclosure: This site is an Amazon affiliate, and purchases made through Amazon links (including linked book covers) may result in my receiving a small commission (at no additional cost to you). Additionally this site is a Powells Books affiliate, and purchases made through the linked book covers may result in my receiving a small commission (at no additional cost to you).
© 2013 by Debbie Alvarez of The Styling Librarian. All rights reserved. You can also follow me @stylinlibrarian or at my Styling Librarian Page on Facebook.