Styling Librarian #IMWAYR It's Monday What Are You Reading?
Thanks to: TeachMentorTexts  and Unleashing Readers for the inspiration! Thanks to Jen and Kellee for the meme! I've been pretty productive on the reading front… enjoying the time I have with books although my pile of to-be-read books isn't shrinking as rapidly as I'd hoped. Big surprise. I keep adding to the pile!
Special share of this book:

Ruby Goldberg's Bright Idea by Anna Humphrey,
illustrated by Vanessa Brantley Newton

Crow's Revenge – Keeper of the Realms Series by Marcus Alexander – Fantasy, Mature 5/6th grade and up – Enjoyed the pacing of this suspenseful, adventurous book about a girl who has a lighthearted approach to life but is also in a tough situation every day with a person monitoring her family's money after her parents disappear- reminds me of Count Olaf from Lemony Snicket's Series of Unfortunate Events. The book takes an action packed turn when our character steps into a new world and makes new friends who might be able to help her be a hero in many ways. This is really a dark book but I really enjoyed the read. The biggest frustration for me was how the book concluded. Made me go pick up the sequel instantly.
Grabbed a few snippets to share:
p. 47- "The pit erupted as a tide of taut muscles and serrated teeth flashed in the air. The sinuous predators were long in body, grey and worm-like. Slime-covered scales festered along the length of their bodies and ragged dragonfly wings hummed as they beat powerfully against the air."
p. 56 – "Then the air began to shimmer around the stump. One by one the Tremen raised their heads and, still holding on to the tree, broke into song. Their warm voices rose and fell, echoing around the greenery of the forest. As the song grew in volume and in strength, Charlie could smell the faint aroma of freshly cut grass intermingled with cherry blossom and lavender."
Goodreads Summary: "I've just had a flesh-eating giant tearing around my house and now I'm in this strange land I don't know anything about'!
Before she can untangle the mystery that will save Bellania, Charlie Keeper needs the answer to a life-changing secret her guardian, the dastardly Mr Crow, has been keeping from her …Just who is Charlie Keeper?"
Mutation by Roland Smith – Adventure- 4/5th grade and up – finale to series! I couldn't wait to finally read what happened with this series, Roland Smith does not ever disappoint. I enjoyed reading how favorite characters from different books joined and helped one another in a fantastic adventure. It was a little heartbreaking to finish this series but I'm thrilled to have it to share with students! Really appreciated the incredible ways that Roland tied all the mysteries he'd revealed throughout the rest of the books into this novel. Mutation certainly can be read as an individual book but what anticipation it was to finally get to enjoy the conclusion! I loved the characters, adventure, mysteries, and creative tech gadgets as well. What a fantastic scientific, animal rights, exciting, well done series… Highly recommended.
Goodreads Summary: "Monsters of legend come to life! The final thrilling title in Roland Smith's popular series. Marty and his best friend, Luther, have managed to rescue Marty's cousin Grace from the clutches of the nefarious pseudo-naturalist Noah Blackwood, but their most dangerous mission lies ahead of them. Marty's parents have been missing in Brazil for months and their trail has all but run cold. With time running out, Marty and the Cryptos Island crew race off for Brazil — where they discover that Noah Blackwood has twisted the natural order of things beyond their wildest, most terrifying dreams."
Ghost Knight by Cornelia Funke – Fantasy/Horror – 4th grade and up – Finally finishing up reading the Hong Kong Battle of the Books selections for this year. Honestly, I was surprised I hadn't read this Cornelia Funke book yet. I'm a huge fan of her novels. I could tell I was picking up quite the classic ghost story mixed into present day with a little mix of a coming of age story and family angst as well. I do so enjoy when I can enjoy a character who begins as an annoying one and develops into a character I enjoy. This mix of murder, ghosts, and love was quite perfect. Haven't read a good ghost story in a while and really enjoyed the historical connections that Cornelia added in there as well. Goodreads Summary: "Eleven-year-old Jon Whitcroft never expected to enjoy boarding school. Then again, he never expected to be confronted by a pack of vengeful ghosts, either. And then he meets Ella, a quirky new friend with a taste for adventure…  Together, Jon and Ella must work to uncover the secrets of a centuries-old murder while being haunted by terrifying spirits, their bloodless faces set on revenge. So when Jon summons the ghost of the late knight Longspee for his protection, there's just one question: Can Longspee truly be trusted?"
Hong Kong: Recipe for Adventure by Giada De Laurentiis – My son and I had so much fun reading this book! We enjoyed the premise with magical food that allows you to travel to another location to live there and explore. I enjoyed the attitudes of the brother and sister who have learned to go with the flow and try to experience new things during their adventure whether they're learning to fish, cook, make special wishes, learn about different cultures, or try new foods. My kiddo loved how the kids explored different areas around Hong Kong that we were familiar with. Warning, this book could start to make you drool… there are a few recipe cards at the end of the book as well! Goodreads Summary: "When Zia Donatella comes to live with the Bertolizzi family, little do Alfie and his older sister Emilia know what's in store for them. Zia Donatella is determined to show the kids how a home-cooked meal is better than even the best take-out pizza or burrito. And when Zia's plan actually transports Alfie and Emilia to famous food cities around the world, they learn first-hand how food cannot only take you places but can also bring you back home."
My kiddo shared his thoughts:

Listened to:
Mary Poppins by P.L. Travers – Fantasy – Classic – All ages – really enjoyed reading this book (with my ears)… surprised I never read it before and loved learning where Disney strayed from the book and felt like I glimpsed new spin off movie listening to different chapters that weren't used in the movie. I didn't really 'get' the father growing, etc. I also wonder how much I'm missing from the rest of the series. Probably will find time to enjoy them soon. Goodreads Summary: "It all starts when Mary Poppins is blown by the east wind onto the doorstep of the Banks house. She becomes a most unusual nanny to Jane, Michael, and the twins. Who else but Mary Poppins can slide up banisters, pull an entire armchair out of an empty carpetbag, and make a dose of medicine taste like delicious lime-juice cordial? A day with Mary Poppins is a day of magic and make-believe come to life!"
Snuck in another adult book-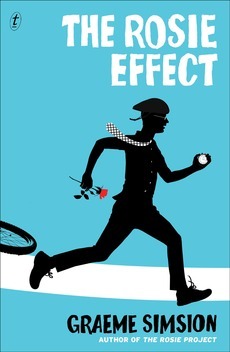 The Rosie Effect by Graeme Simsion – adult, realistic fiction – I read this book in one sitting. Couldn't stop. Chuckled through it. Enjoyed all the twists, turns, and complications that popped up through this book. There were many tough situations that popped up throughout the book that really surprised me but all felt true to the situation and characters, so I just sat back and enjoyed the whole thing. Just released. Recommended!
Goodreads Summary: "THE ROSIE PROJECT WAS COMPLETE BUT I WAS UNPREPARED FOR THE ROSIE EFFECT. GREETINGS. My name is Don Tillman. I am forty-one years old. I have been married to Rosie Jarman, world's most perfect woman, for ten months and ten days.
Marriage added significant complexity to my life. When we relocated to New York City, Rosie brought three maximum-size suitcases. We abandoned the Standardised Meal System and agreed that sex should not be scheduled in advance.
Then Rosie told me we had 'something to celebrate', and I was faced with a challenge even greater than finding a partner.
I have attempted to follow traditional protocols and have sourced advice from all six of my friends, plus a therapist and the internet.
The result has been a web of deceit. I am now in danger of prosecution, deportation and professional disgrace."
Want more book ideas and reviews? – Yes, I'm quite brief, but a prolific reader!  Please visit me at Goodreads: http://www.goodreads.com/user/show/1941055-the-styling-librarian Also, please follow this blog through email updates – (do so to the right of this blog post), my Facebook page, comment, or meet up with me on Twitter. I appreciate all of the support, makes my day! Honored by all the wonderful followers.
FTC Required Disclosure: This site is an Amazon affiliate, and purchases made through Amazon links (including linked book covers) may result in my receiving a small commission (at no additional cost to you). Additionally this site is a Powells Books affiliate, and purchases made through the linked book covers may result in my receiving a small commission (at no additional cost to you).
© 2013 by Debbie Alvarez of The Styling Librarian. All rights reserved. You can also follow me @stylinlibrarian or at my Styling Librarian Page on Facebook.