Styling Librarian Saturday Book Share: Interview and Somebody on this Bus is Going to be Famous
"Pull up a chair, it's a Saturday Book Share".
Here's to celebrating books that strike my fancy every week!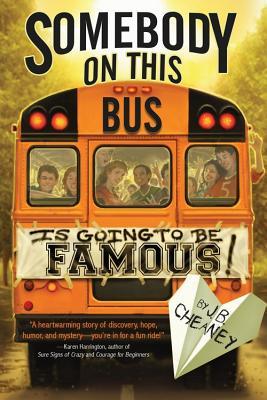 Somebody on this Bus is Going to be Famous by J.B. Cheaney – Interesting mystery slowly revealed and solved with little clues, incidents, and long not-so-forgotten incidents told through varying perspectives. Sometimes when there was a switch of character voice in chapters I was quite frustrated and there was a huge bit at the end of the book that wasn't resolved. But as life is, this is… you don't get all your questions answered and you keep on going. Really enjoyed this read, recommended! More of a 6th-8th grade read vs elementary school selection with middle schooler's perspectives throughout the story but overall this was quite fascinating. Quote I snagged: "Mr. Cavendish in the fourth grade was always making her stand up and read her reports because he thought they were so good. So she started writing crummy ones, just to make him stop."
J. B. Cheaney image from Goodreads
I was honored to have the chance to interview J.B. Cheaney and get a few questions answered about this wonderful book, here is the interview:
I loved how you changed from character to character through the book and developed the storyline throughout. It reminded me of A View from Saturday by E. L. Konigsburg. How did you plot out the story? Did you decide how each child would reveal bits before you wrote the chapters?
The View from Saturday helped to convince me that a story like Somebody on This Bus was possible. Still, I knew writing a novel with nine (count 'em—NINE!) main characters would present some unique challenges. I had two versions of the manuscript turned down before Sourcebooks accepted a third version, so obviously the challenges took some time to work out.
I'm a Bottom-up, as opposed to a Top-down, writer. Instead of plotting out the whole story, I just start with a first chapter and see where it goes. This takes more time than the more logical approach, because it involves a lot of pushing forward, backing up, rethinking, and starting over again. I used to think there had to be a more efficient way—and there is. But this is my way. This is how I get to know the characters, and characters drive the story for me, more than the other way around.
Still, after I've written and rewritten enough chapters to get about halfway or two-thirds through, I usually have to stop and do some evaluation. That's where the charts, graphs, and maps come in: for SOTB, I drew a chart of every character's "month" (each character has one long-ish chapter, occurring during one month of the school year, to tell their individual story), showing what happens to them as well as to other characters at the same time. I also drew a timeline of the narrative and added arcs (a different color for each character), showing their main goals and when those goals are fully or partially satisfied. I don't know how helpful that was, but it looks cool. Finally, I "interviewed" all of them, asking the same questions of each and writing answers in their distinctive voices. You always discover things about your characters this way, and once you do, you find opportunities to layer telling details into the main narrative.
Did you have to draw a map of the bus and where each student sat? There were many action sequences that made me create a map in my mind and I wondered how you kept up with them all.
I hope your maps agreed with the action! For the most part I just had a general idea of where everyone sat, but for the snake incident and the collision incident I did have to draw a diagram to make sure that what I was describing made logical sense.
Do you have key writing tips for children or adults? 
Nothing original, but the first is to just write. I learned more by doing it than by any class or book or article, helpful as those may be for specific challenges. The second key tip is to pay attention to what's going on around you. I like to tell my writing students that we can't improve on God—the real world and real people are much more fascinating than anything we can dream up. All we have to do is learn to observe and appreciate them.
Are there any authors or books that you liked as a child that you still read now? 
Not so much, but only because I don't have the time. Like most writers, I read voraciously as a child. Two pivotal books of my childhood were The Sword in the Stone, by T. H. White, and The Silver Sword, by Ian Serraillier. Both are still in print, I'm happy to say. The first showed me how alive and lively fictional characters could be, and The Silver Sword is the first novel that I can remember actually shaking me with the power of a story. (I wrote about that experience here.) Interesting that the word "sword" appears in both titles, but not significant of anything.
Have you read any children's literature books recently?
All the time! I'm one of the reviewers at RedeemedReader.com, a children's book review website I co-founded with Emily Whitten.
Oh, and Debbie, you forgot to ask me if I'm working on another children's novel. I'll soon begin the editing process for my next novel to be published by Sourcebooks/Jabberwocky, which is scheduled to appear next August. The title is . . . well, we're still working on that. The novel is about Hollywood during the silent movie era, specifically during the last year of World War I. I'm excited about it and can't wait to see the cover designs.
Publisher's thoughts: "Somebody on This Bus Is Going to Be Famous is told through the perspective of nine middle schoolers trying to solve the mystery of the abandoned bus stop on the route they share. Part detective story, part tale of self-discovery, this funny and touching novel by an award-winning author is destined to be a modern classic." Somebody on This Bus is Going to Be Famous By J.B. Cheaney
Sourcebooks Jabberwocky
September 2014 ● ISBN: 9-781-4022-9297-2
Hardcover/$16.99 ● Ages 10 – 13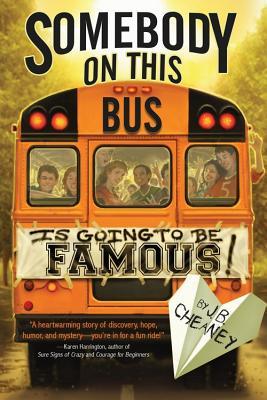 Who's it going to be? Spencer's the smart kid. Shelly's the diva. Miranda's the scaredy-cat. Matthew's just average (so far). In fact, there's nothing about any of the nine middle-schoolers on Mrs. B's bus route that screams "fame."  But before the end of the year, somebody on this bus is going to be famous. Every morning, their school bus waits at an empty bus stop. Nobody ever gets on. Nobody ever gets off. And Mrs. B refuses to answer questions about it. Strangest of all, it's Bender the bully who decides to investigate the mystery. But it will take all nine students to find out the truth, for each of them has a clue to the mystery that will change their lives forever.
B. CHEANEY has published four children's novels, includingThe Playmaker, My Friend the Enemy, and The Middle of Somewhere. She is also a senior writer and blogger for WORLD and co-writer of RedeemedReader.com, a website focused on children's literature. She lives in Flemington, Missouri. Learn more at www.jbcheaney.com
About Pull up a chair, it's a Saturday Book Share: I've had many books I review that I just want to feature. Simple and easy, celebrate a new book encounter. So that's what Saturday Book Share is about for me, celebrating books! Perhaps some days I'll share the book with a short reading of a portion. Or perhaps other days I'll just share a glimpse of the book.
Want more book ideas and reviews? – Yes, I'm quite brief, but a prolific reader!  Please visit me at Goodreads: http://www.goodreads.com/user/show/1941055-the-styling-librarian Also, please follow this blog through email updates – (do so to the right of this blog post), my Facebook page, comment, or meet up with me on Twitter. I appreciate all of the support, makes my day! Honored by all the wonderful followers.
FTC Required Disclosure: This site is an Amazon affiliate, and purchases made through Amazon links (including linked book covers) may result in my receiving a small commission (at no additional cost to you). Additionally this site is a Powells Books affiliate, and purchases made through the linked book covers may result in my receiving a small commission (at no additional cost to you).
© 2013 by Debbie Alvarez of The Styling Librarian. All rights reserved. You can also follow me @stylinlibrarian or at my Styling Librarian Page on Facebook.