Styling Librarian Author Interview with Kathryn Erskine
I feel so lucky that I have this blog for expressing my love of books, life, and adventures. I am especially lucky to be able to celebrate favorite authors. It was incredibly special to connect with Kathryn Erskine on Facebook over the past two years and when I found out she was willing to be interviewed on this blog, wow, I was so honored… so here is a celebration of Kathryn's newest book and an interview! Enjoy!
Website:  http://www.kathrynerskine.com
Blog:  https://kathyerskine.wordpress.com
Facebook:  https://www.facebook.com/kathy.erskine
Twitter:  https://www.twitter.com/KathyErskine
Happy Book Birthday to The Badger Knight!
Here are my thoughts about Kathryn Erskine's latest book treasure:
Imagine being born with something that distinguishes you from others. Something that others think might make you evil. Can you escape this thing you're born with? No. Can you get others to look beyond? Not most people… Then you learn that you can't trust family members and avoid getting to know them, even ones you've never spoken with you avoid because you assume they will treat you poorly…
I sat and thought about this as I read The Badger Knight by Kathryn Erskine. Kathryn created an incredible character, Badger, who lives in the middle ages and has albinism. He runs from home to join the war on a quest to find his best friend and help him with the fighting. Along the way he learns about war, ethics, friendship, and grows as a person. I think this is a perfect book that fits for fifth grade and up. If students are studying about the middle ages, this is the book that will capture and pull them into the story and also their research. I appreciated being pulled back into the past with the dialogue, setting, and various elements of the story. I cannot imagine the amount of research that Kathryn put into this magnificent book. I will just appreciate and recommend it to many, many readers. If you are a fan of The False Prince by Jennifer Nielsen or Ranger's Apprentice by John Flanagan, you'll love this fantastic book and get caught up in it as quick as I did! Also, I found this book made me think quite a bit about Karen Cushman's historical fiction wonderful creations…
Here were a few quotes that I enjoyed:
"I bend over and clutch my knees as I gasp for air. I sound like a yelping dog. Father looks away. As always, he gives me time for the air to return to my lungs."
"Unlike me, the fly is free, and mocks me by rubbing its legs together…"
"Good Aunt says that's nonsense, the idea that nature can hurt us, but if some plants are powerful enough to cure diseases, why can't some start them?"
And now, drumroll…. an interview with the wonderful Kathryn Erskine:
What was your favorite childhood book memory?
There are so many … the first paperback book series, on animals, which my mother bought whenever I went grocery shopping with her in South Africa (yes, they were bribes), the Enid Blyton adventures I read on the train in England, the Swallows and Amazons books I took into our beautiful walled garden in Scotland, the Nevil Shute mysteries I read in my grandmother's wisteria tree … I still love finding nooks where I can read.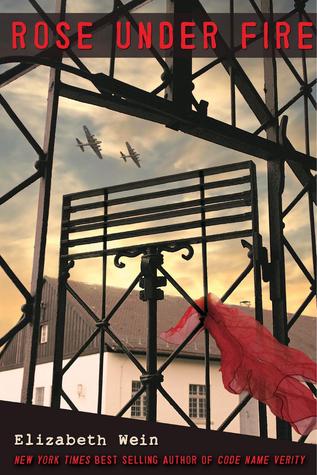 Have you read any children's literature books recently?
I was lucky to be a judge for the Golden Kite Award this year so I believe I read over 400 books just for that. There were many wonderful books, and I particularly loved the winner and honor book, Tim Federle's Better Nate than Ever and Elizabeth Wein's Rose Under Fire. Lately, I've been reading a lot of novels in verse which means I have a huge pile of Margarita Engle's books–so beautifully written!
**I love reading Margarita Engle's books! Brilliant creations, every one!
Do you still have any of your books from when you were a child?
We moved around so much that I had to give most of my books away. I do have a few old books like Rupert Bear but others I've re-bought like Swallows and Amazons. It's fun to reread them but books have changed a LOT since I was a kid!
Do you have a key writing tips for kids? Or adults?
Read a lot, write a lot, and pursue your craft. Pursuing your craft means attending classes and writing conferences to improve your writing — and also to improve your chances of meeting agents and editors who may be interested in your work. At the very least you'll learn more about the industry. A particularly nice bonus is meeting a network of children's writers who will become some of your best friends. Pursuing your craft also means having a trusted reader, or preferably a critique group, to give feedback on your writing, and to support you through what can be crazy times. Finally, pursuing your craft means don't give up! Be determined. If you really want to this, you can.
Do you have a new book being released in the next year?
Yes, The Badger Knight releases August 26, 2014, and I'm very excited about it! I love the Middle Ages — it's almost like fantasy — and it's an adventure story that was really fun to write. It's historically accurate which meant I had to (really, I just had to) do research in England and Scotland. There is great online information, too, but nothing beats actually being there.
Did you always plan on a writing career or if not…?
I actually never thought I could be a writer even though I've always loved writing. (When I was in elementary school, I thought all the authors were already dead. I know. There were obvious gaps in my logic.) I became a lawyer because of the research and writing elements, and the analytical challenges. I figured writing would be something I did when I retired. When my mom passed away in her 60's, I decided I should do what I really wanted because you never know what can happen. I was fortunate (thanks to my husband) to be able to stay home with the kids, live frugally, and pursue a writing career.
**I agree, you never know what can happen, carpe diem.
What truly influences you as a writer?
People and what they go through every day… maybe they're bullied, have a disability, or are dealing with difficult family issues — we all have something, despite how happy everyone appears on Facebook (sometimes I call it "Face-Saving Book"). I feel for them, especially young people, and want them to feel heard and understood as well as give them some hope.
**I agree, Facebook certainly can create a façade of happiness where some are suffering quietly.
If you weren't a writer, what occupation would you be working in?
I'd want to be a librarian! I love reading and research almost as much as writing!
*Do you have any favorite topping you like on your pizza? 
Black olives, fresh tomatoes, something green like basil or spinach, and lots of cheese … I was allowed to pick more than one, right?
**OF COURSE!
Sentences to finish if you don't mind:
The best advice I've received for my profession was….
-put all your energy into writing the best story for young people that you possibly can. That means working at your craft, doing the research, understanding the industry, and ignoring reviews, awards, and any other distractions.
The habit I never break for my writing practice is…
-to steer clear of habits. I like to stay fresh and open and spontaneous; otherwise, I fear I'll get in a rut and that's very adult-like rather than child-like and I want to nurture my inner child.
If someone had told me…
-that it would take ten years to get a book published by a major publishing house, I probably would have given up writing. I'm so glad I stuck with it! I learned a lot along the way and met some great people in the children's writing field who are true friends.
**So glad that you didn't hear that from anyone, love your book treasures!
Why do people always assume…
-authors are rich and have oodles of free books to give out and lots of spare time to donate? I do donate both books and time, and I enjoy that, but I also need time to write and some payment to make a living. Kids are stunned when they hear that my share of that $16.99 hardback is about $1.15, and of the paperback is much less.
Debbie, you forgot to ask me…
…if I like traveling, especially for school visits. Yes! I thoroughly enjoyed a trip to Guam a few years ago to visit schools and do workshops. Last year I spoke at a school in Scotland where my friend teaches. Next spring I hope to visit a school in Italy my friend's son attends. Singapore and New Zealand are definitely on my list. I hope to meet you at some point!
**I hope to meet you at some point as well! Author visits are always the highlights of my school year.
Many thanks for this interview, Debbie!
Thank you Kathryn!
To connect with Kathryn, visit these:
Website:  http://www.kathrynerskine.com
Blog:  https://kathyerskine.wordpress.com
Facebook:  https://www.facebook.com/kathy.erskine
Twitter:  https://www.twitter.com/KathyErskine
If you enjoyed this post, please consider following my blog through email updates – (do so to the right of this blog post), my Facebook page, comment, or meet up with me on Twitter. If you wish to read other author interviews, please visit this page: http://thestylinglibrarian.com/authors-celebrated/ I appreciate all of the support, makes my day! Honored by all the wonderful followers.