Styling Librarian #IMWAYR It's Monday What Are You Reading?
Thanks to: TeachMentorTexts  and Unleashing Readers for the inspiration! Thanks to Jen and Kellee for the meme! Love when I get a little time to read… but sometimes I read so much that I'm overwhelmed… There's just picture books to share today, sorry, I've been reading novels but… here's a few of the books I enjoyed lately:
Celebrated this past Saturday: 
Virginia Wolf by Kyo Maclear, illustrations by Isabelle Arsenault
I had a fantastic time visiting a few local children's bookstores with my sister here in Portland, Oregon during our holiday. I absolutely adored visiting Green Bean Bookstore. Wonderful place to visit, dangerous (in a good way) place to shop because there are so many fantastic things there! Also visited the fabulous bookstore- A Children's Place- amazing. I loved sitting down in their aisles and reading picture book after picture book. And buying many as well! (Too much fun!) My thoughts on the books below are really brief…
Shall post more about both stores in my Sunday updates soon enough.
Here are some of the books I loved reading at those bookstores:
Naked! by Michael Ian Black, illustrated by Debbie Ridpath Ohi – MY FAVORITE TEAM! Just loved this book, FINALLY reading it was such a celebration. I loved how many times my sister and I both laughed aloud through the book! Highly recommended. Goodreads Summary: "After his bath, the little boy begins his hilarious dash around the house – in the buff! Being naked is great. Running around, sliding down the stairs, eating cookies. Nothing could be better. Unless he had a cape…"
Ninja! by Arree Chung – Awww. Just loved how this book ended. Enjoyed the rest as well but seriously, such a special book! Goodreads Summary: "A ninja must be strong, courageous, and silent! He creeps through the house on a secret mission. There may be obstacles! But have no fear—a true ninja can overcome all challenges."
This is a Moose by Richard T. Morris, illustrated by Tom Lichtenheld – Get this book. Read this book. Laugh your way through this book. Sure, I really love moose… but loved the pacing, transitions, and concepts. Fabulous illustrations as well! Goodreads Summary: "MOOSE? Yes, Moose! When a movie director tries to capture the life of a moose on film, he's in for a big surprise. It turns out the moose has a dream bigger then just being a moose–he wants to be an astronaut and go to the moon."
Rules of Summer by Shaun Tan – Intriguing. Thought provoking. Different. Shaun Tan is brilliant. So glad this book was preordered. Goodreads Summary: "Combining humour and surreal fantasy, Shaun Tan pictures a summer in the lives of two boys. Each spread tells of an event and the lesson learned. By turns, these events become darker and more sinister as the boys push their games further and further."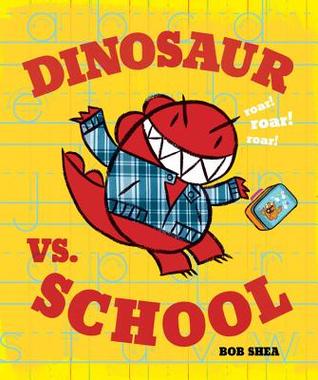 Dinosaur Vs. School by Bob Shea – HAH! Of course Dinosaur Vs. School! This reminded me of so many preschoolers who are simply in their own world and not ready for a school community. Hilarious. Goodreads Summary: "Dinosaur is starting preschool today. ROAR! There are new friends to meet, dress-up outfits to wear, glitter and googly eyes to paste, musical instruments to play, and snacks to eat. What's not to like? But then, oh, no! It's Dinosaur vs. Clean-up Time! Fortunately, when friends work together, EVERYONE WINS!"
Help! We Need a Title! by Herve Tullet – Just enjoyed every bit. Not a 'Press Here' but hilarious and fantastic approach to writing a book and having your characters speak out. Goodreads Summary: "Someone has been opening this book… I think they're looking for a story! The characters are still only sketches, there's a setting and a few ideas about colour, but who can they turn to for the story? It's not long until they go after the author and disturb him in the middle of his work…"
The Grudge Keeper by Mara Rockliff, illustrated by Eliza Wheeler – so touching. Loved the community, the story, the conclusion. Goodreads Summary: "No one in the town of Bonnyripple ever kept a grudge. No one, that is, except old Cornelius, the Grudge Keeper.
Ruffled feathers, petty snits, minor tiffs and major huffs, insults, umbrage, squabbles, dust-ups, and imbroglios-the Grudge Keeper received them all, large and small, tucking each one carefully away in his ramshackle cottage. When a fierce wind blows through Bonnyripple, the residents are forced to rescue Cornelius and deal with their various disputes."
Oliver and his Egg by Paul Schmid – Good to read another Paul Schmid book, different and special. Lovely ending. Goodreads Summary: "In this follow-up to Oliver and his Alligator, Oliver spots a rock on the playground. But it's not just any rock-he's sure it's a dinosaur egg. And once it hatches, he has the best new friend he could ask for. They sail to a deserted island and even launch into outer space. But as great as it is to travel with his dinosaur alone, Oliver realizes that it is even more fun when all of his friends bring their imaginations along for the ride!"
Three Bears in a Boat by David Soman – Beautiful and peaceful. Goodreads Summary: "Three bear siblings break their mother's favorite blue seashell, and rather than tell her, they decide to set out in their sailboat to find her a new one. On their quest they encounter salty sailors, strange new islands, huge whales, and vast seas but no blue seashells. When a treacherous storm suddenly blows in, the three bears find themselves tossed about in their little boat, far from Mama. What will become of their search, and what will it take to bring them safely home?"
Maple by Lori Nichols – what a cute character to read! Goodreads Summary: "When Maple is tiny, her parents plant a maple tree in her honor. She and her tree grow up together, and even though a tree doesn't always make an ideal playmate, it doesn't mind when Maple is in the mood to be loud—which is often. Then Maple becomes a big sister, and finds that babies have their loud days, too. Fortunately, Maple and her beloved tree know just what the baby needs."
The Numberlys by William Joyce, illustrated by Christina Ellis – Been waiting to see when this book would come out for a few years, enjoyed The Numberlys app a while ago. Loved the adaptation to book! Goodreads Summary: "Once upon a time there was no alphabet, only numbers; Life was fine. Orderly. Dull as gray paint. Very numberly. But our five jaunty heroes weren't willing to accept that this was all there could be. They knew there had to be more. So they broke out hard hats and welders, hammers and glue guns, and they started knocking some numbers together. Removing a piece here. Adding a piece there. At first, it was awful. But the five kept at it, and soon it was artful! One letter after another emerged, until there were twenty-six. Twenty-six letters and they were beautiful. All colorful, shiny, and new. Exactly what our heroes didn't even know they were missing. And when the letters entered the world, something truly wondrous began to happen: Pizza! Jelly beans! Color! Books!"
Flight School by Lita Judge – Aww… creative way of telling this story, enjoyed the illustrations as much as the text. Goodreads Summary: "Although little Penguin has the soul of an eagle, his body wasn't built to soar. But Penguin has an irrepressible spirit, and he adamantly follows his dreams to flip, flap, fly! Even if he needs a little help with the technical parts, this penguin is ready to live on the wind."
Morris Micklewhite and the Tangerine Dress by Christine Baldacchino, pictures by Isabelle Malenfant – THIS BOOK SHOULD BE ADDED TO YOUR SELECTIONS if you want to provide an opportunity for diversity discussion… I'd partner it with the novel The Boy in the Dress by David Walliams. Good story about a boy who loved to dress up in this tangerine dress and dealt with his classmates ridicule… loved the mom in this story. Goodreads Summary: "Morris is a little boy who loves using his imagination. He dreams about having space adventures, paints beautiful pictures and sings the loudest during circle time. But most of all, Morris loves his classroom's dress-up center — he loves wearing the tangerine dress. But the children in Morris's class don't understand. Dresses, they say, are for girls. And Morris certainly isn't welcome in the spaceship some of his classmates are building. Astronauts, they say, don't wear dresses. One day when Morris feels all alone, and sick from the taunts of his classmates, his mother lets him stay home from school. Morris reads about elephants, and puts together a puzzle, and dreams of a fantastic space adventure with his cat, Moo. Inspired by his dream, Morris paints the incredible scene he saw, and brings it with him to school. He builds his own spaceship, hangs his painting on the front of it and takes two of his classmates on an outer space adventure."
Okay, Andy! by Maxwell Eaton III – I really love this author's creations. Read so many books by him. This one is a HILARIOUS new early chapter book. Goodreads Summary: "Andy, a crabby alligator, is a reluctant friend to Preston, a young coyote pup. Find out what makes Andy even crabbier! They spend lots of time not catching rabbits, falling over cliffs, and trying to decide the difference between an owl and a bear. A perfect bridge between picture books and text-heavy chapter books."
Boom Snot Twitty by Doreen Cronin, illustrated by Reenita Liwska – cute book, surprised it didn't really stick with me well though. Enjoyed the illustrations as I always do with all pictures by Reenita Liwska.  Goodreads Summary: "Boom!
Snot… Twitty? Three unlikely friends, and three different ways of being in the world. This simplest of stories is a fable for life."
The Worm by Elise Gravel – Non-fiction picture book – Great voice and information throughout this book about a worm! Goodreads Summary: "The second in a series of humorous books about disgusting creatures,The Worm is a look at the earthworm. It covers such topics as the worm's habitats (sometimes they live inside other animals), its anatomy (its muscle tube is slimy and gross), and its illustrious history (worms have been on earth for 120 million years). Although silly and off-the-wall, The Worm contains real information that will tie in with curriculum."
Bugs in my Hair! by David Shannon – Yuck. Too close to home. Yuck. Brilliant book. Yuck. So it is all about lice. You'll learn a lot, but simultaneously be itching… and thinking about it later will also make you itch.
Dragons Love Tacos by Adam Rubin, illustrated by Daniel Salmieri – HAH. I want to read this book aloud to classes! Fabulous one. Goodreads Summary: "Dragons love tacos. They love chicken tacos, beef tacos, great big tacos, and teeny tiny tacos. So if you want to lure a bunch of dragons to your party, you should definitely serve tacos. Buckets and buckets of tacos. Unfortunately, where there are tacos, there is also salsa. And if a dragon accidentally eats spicy salsa . . . oh, boy. You're in red-hot trouble."
Birds of a Feather and Out of Sight and The Open Ocean by Francesco Pittau, illustrated by Bernadette Gervais – All three of these books are absolutely gorgeous and packed with fascinating facts. They're large books with movable parts. They also will be your book that readers will pour over and obsessively learn random facts… fantastic books, wish I could afford the luggage space to bring these back to Hong Kong now. They'll be on an order sooner than later for my library. Goodreads Summary for Birds of a Feather: "This lush, oversized book about birds features a variety of interactive guessing games and special features, including more than 40 lift-the-flaps and more than 15 pop-ups, plus intriguing facts about each bird, providing readers with hours of educational entertainment. With elegant, graphic illustrations, Birds of a Feather is a feast for the eyes as well as the mind."  Goodreads Summary for Out of Sight: "In this big, beautiful, astonishing book, more than 50 animals are hiding. In elegant drawings and graphic, eye-catching layouts, Out of Sight will enthrall children with the amazing variety of the animal kingdom." Goodreads Summary for The Open Ocean: "Guess a sea creature from its silhouette, shell, or scales— and just lift the flap to discover the answer! This lush, oversized book about marine life features a variety of guessing games and special features, and provides hours of educational entertainment. With elegant, graphic illustrations, plus intriguing facts about each animal, learning about ocean life has never been so fun or interactive."
Don't forget to visit your local, independent bookstores, they're wonderful and fantastic to support!
Want more book ideas and reviews? – Yes, I'm quite brief, but a prolific reader!  Please visit me at Goodreads: http://www.goodreads.com/user/show/1941055-the-styling-librarian Also, please follow this blog through email updates – (do so to the right of this blog post), my Facebook page, comment, or meet up with me on Twitter. I appreciate all of the support, makes my day! Honored by all the wonderful followers.
FTC Required Disclosure: This site is an Amazon affiliate, and purchases made through Amazon links (including linked book covers) may result in my receiving a small commission (at no additional cost to you). Additionally this site is a Powells Books affiliate, and purchases made through the linked book covers may result in my receiving a small commission (at no additional cost to you).
© 2013 by Debbie Alvarez of The Styling Librarian. All rights reserved. You can also follow me @stylinlibrarian or at my Styling Librarian Page on Facebook.