Styling Librarian #IMWAYR It's Monday What Are You Reading?
Thanks to: TeachMentorTexts  and Unleashing Readers for the inspiration! Thanks to Jen and Kellee for the meme! This is a busy week. Flying out in another week. Goodness knows what reading will actually occur! I was in the mood to randomly read some of the picture book collection, especially since some books were returning from hibernating in my colleagues classrooms for the year and visiting my students' homes to have a little rxr time on the library shelves for the summer… So, sharing some oldie but goodie picture books this week!
Celebrated: Serafina's Promise by Ann E. Burg  on my Saturday Book Share– this novel in verse set in Haiti is highly, highly recommended!
Dear Scarlett by Fleur Hitchcock – this is part of Hong Kong Battle of the Books so I wanted to set aside time to read it asap. Happy to encounter the mystery. Appreciate the formatting and also title headings. Funny how much I fall for names on the titles. Enjoyed this book but I did have a deja vu moment at the beginning of reading the book… reminded me so much of Jeremy Fink and The Meaning of Life by Wendy Mass: Just before his thirteenth birthday, Jeremy Fink receives a keyless locked box–set aside by his father before his death five years earlier–that purportedly contains the meaning of life. There are quite the dramatic events throughout the books! I couldn't believe I was reading a few times and also thought this book is a really good example for students of what happens when you take action instead of first thinking through… Also, there are many fascinating elements that add up to a lovely tied up tight conclusion. I was quite surprised by some of the teacher interactions and also how much Scarlett was able to do in a short span of time… but loved reading this book! Goodreads Summary: "A funny, moving and absorbing story about a young girl's attempts to learn more about her dead father through the objects she finds in a cardboard box he's left her.  Scarlett and her friend, Ellie, go on a sometimes hilarious, sometimes scary, journey of discovery, following the clues and always remembering to 'keep looking up'. Was Scarlett's dad a thief? Was he a spy? And what does it mean to be his daughter?"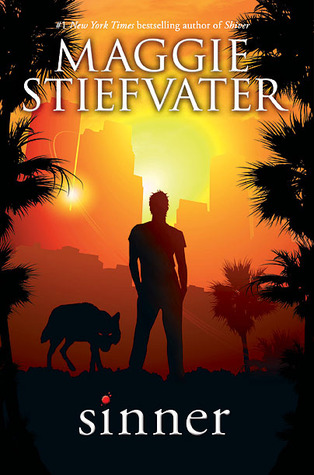 Sinner by Maggie Stiefvater – 10th grade and up – Release date: July 1st- Fantasy/Realistic Fiction – Couldn't stop reading this book. Loved going back into the world of the Shiver Trilogy following Cole St. Clair. His struggles to overcome his past life actions and bring his career back after disappearing for over a year. His experience and Isabel's perspective in varying chapters was refreshing. Goodreads Summary: "A standalone companion book to the internationally bestselling Shiver Trilogy. Sinner follows Cole St. Clair, a pivotal character from the #1 New York Times bestselling Shiver Trilogy. Everybody thinks they know Cole's story. Stardom. Addiction. Downfall. Disappearance. But only a few people know Cole's darkest secret — his ability to shift into a wolf. One of these people is Isabel. At one point, they may have even loved each other. But that feels like a lifetime ago. Now Cole is back. Back in the spotlight. Back in the danger zone. Back in Isabel's life. Can this sinner be saved?"
Forgot to write my thoughts about this books over a month ago, must rectify:

The Riverman by Aaron Starmer – Realistic Fiction/Fantasy/I can't explain, 5th grade and up – For those readers who love complicated stories. Yes. This one. SUCH A GOOD BOOK. It was interesting to read through, puzzle over, and sit in awe at the end of the story. How the collective storylines were tied together was pretty incredible.
Goodreads Summary: ""To sell a book, you need a description on the back. So here's mine: My name is Fiona Loomis. I was born on August 11, 1977. I am recording this message on the morning of October 13, 1989. Today I am thirteen years old. Not a day older. Not a day younger." Fiona Loomis is Alice, back from Wonderland. She is Lucy, returned from Narnia. She is Coraline, home from the Other World. She is the girl we read about in storybooks, but here's the difference: She is real. Twelve-year-old Alistair Cleary is her neighbor in a town where everyone knows each other. One afternoon, Fiona shows up at Alistair's doorstep with a strange proposition. She wants him to write her biography. What begins as an odd vanity project gradually turns into a frightening glimpse into a clearly troubled mind. For Fiona tells Alistair a secret. In her basement there's a gateway and it leads to the magical world of Aquavania, the place where stories are born. In Aquavania, there's a creature called the Riverman and he's stealing the souls of children. Fiona's soul could be next. Alistair has a choice. He can believe her, or he can believe something else…something even more terrifying."
Special Picture Book visits:
Just like Tonight by Amber Stewart & Layn Marlow – 2009 – Lovely little bedtime book with a father bear telling his little one about the day he was born… to comfort him with his bedtime worries. My favorite part of this book was the gorgeous endpages with little forest creatures. This book begs to be read aloud for a bedtime with a little loved one.
Sailing Home by Colin Thompson and Matt Ottley – 1998 – This was a curious, interesting book which has a really rainy day, with enough rain to wake up in the morning to the house floating in the middle of the water with no land in sight. Fascinating situations the family floats into, solves, and adventures around… I honestly had a difficult time suspending my questions locked in reality about water, food supply, and toilet functioning… but love the concept and can see how students could be quite inspired to write their own story in connection to this one. Fantastic illustrations. Appreciated seeing this at the end, "Dedicated for all those suffering from drought."
Sam and his dad by Serge Bloch – 2011 – Touching and hilarious book that I honestly expected as soon as I noticed this book on the shelf. Happy to read after I read his other books recently. Loved that this book celebrated not only Sam and his dad but simply celebrated family time and special moments through a day.  Goodreads Summary: "When I grow up, I want to be like my dad. Sam's dad is an artist, and Sam's life is full of creativity, exploration, and adventure. Serge Bloch's semiautobiographical picture book shows life through Sam's eyes, as he plays with his little brother, goes to the park, visits a farm, and goes on holiday—all in the company of the long-suffering but affectionate Dad he loves so much. This beautiful picture book captures the little details that excite a child's imagination and the quirky ways they interpret the adult world. It's a book any child can see themselves in and relate to."
Daddy, Could I have an elephant? by Jake Wolf, pictures by Marylin Hafner – 1996 – boy, there are so many books like this- ask for the extreme and tone yourself down to get an acceptable pet like a dog… from elephant to dog, how can a parent say no? Enjoyed the book with the dad's creative responses and humor embedded throughout.  Goodreads Summary: "Tony's idea of the perfect pet is a little unusual. An elephant? How about a 20-foot python? Father and son simply can't agree–until Tony comes up with a choice that's just right."
Pig on a Swing by Jenny Nimmo, illustrated by Caroline Uff – 2003 – Cute little book from Jenny Nimmo who I look at as a solid fantasy novel writer, so enjoyed finding a picture book by her! Cute little repetitious story about playtime at a park with a single child who gets a little help from mom with imagination to have a little fun including climbing with a bear and swinging with a pig.  Goodreads Summary: "When Tim and his mother go to the playground, no one is there. Without anyone to play with, Tim wants to go home. "Wait," says his mother, "I think I can see—what can it be, sitting on the swing?" Tim looks at the swings. What was there? Was it a pig? Yes, a pink pig! Sitting on a swing! Join Tim as he swings with pigs, seesaws with kangaroos, and more in this riotous cavalcade of animals."
Want more book ideas and reviews? – Yes, I'm quite brief, but a prolific reader!  Please visit me at Goodreads: http://www.goodreads.com/user/show/1941055-the-styling-librarian Also, please follow this blog through email updates – (do so to the right of this blog post), my Facebook page, comment, or meet up with me on Twitter. I appreciate all of the support, makes my day! Honored by all the wonderful followers.
FTC Required Disclosure: This site is an Amazon affiliate, and purchases made through Amazon links (including linked book covers) may result in my receiving a small commission (at no additional cost to you). Additionally this site is a Powells Books affiliate, and purchases made through the linked book covers may result in my receiving a small commission (at no additional cost to you).
© 2013 by Debbie Alvarez of The Styling Librarian. All rights reserved. You can also follow me @stylinlibrarian or at my Styling Librarian Page on Facebook.